Studying Abroad: European & British History in London
The Florida State University history department has a strong relationship with the FSU London Study Center. The FSU London Study Center facility, comprising a series of interconnected eighteenth-century Georgian row houses one block from the British Museum, provides an ideal context for the study of British and European history, politics, and culture. Beautifully restored historic interiors are fitted with state of the art technology, comfortably accommodating the educational, housing, and social needs of over one hundred and fifty students at a time. There are three primary ways to take history classes at the FSU London Study Center.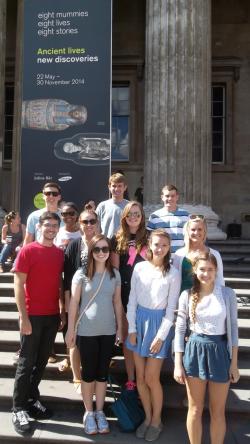 As part of the Broad Curriculum Program, most every fall and spring semester one history course, focusing on British history, is taught at the FSU London Study Center. Both the director and the assistant director of the FSU London Study Center are British historians, and have designed courses that use the city as a textbook, with students spending much of their time out and about on academic excursions to sites of history, culture, and commemoration.
Most summers a faculty member from the main FSU history department travels to London to teach a course, also as a part of the Broad Curriculum Program. The theme of these courses varies by professor, but they are also designed to take advantage of the museums, libraries, and historic sites of London. 
Finally, when interest and enrollments are sufficient, a faculty member from the main FSU history department will lead a group of students for a full fall or spring semester in London. These semester-long programs are designed to allow history majors to take at least four upper-level history classes in London, including their senior seminar. Students will be shown how to use the collections of the British Library and the National Archives to research their senior seminar paper. Designed to provide a unique opportunity to engage in primary research, attend small classes, and conduct multiple academic site visits, this program will immerse students in the history and culture of Britain and Europe. The emphasis on conducting original research and the collaborative dynamic fostered among the participants will introduce students to ways of working more usually associated with graduate school. This is an ideal program for those considering graduate school in the humanities, careers in law, research, or any field where an exceptional writing sample is required.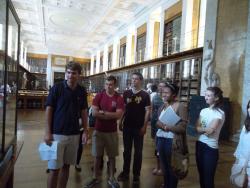 Students interested in participating in a semester-long program should speak to Prof. Upchurch about choosing a target semester, or seeing if one has already been identified. The program cannot run with fewer than ten students at a time, and arrangements need to begin two semesters in advance to secure space in the London Study Center. Interested students will be asked to help recruit other students, in order to ensure sufficient enrollments. Tuition for a semester-long program in London is usually set for all students (both in-state and out-of-state) at the current out-of-state tuition rate.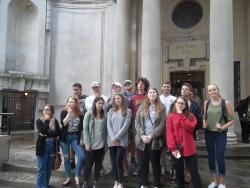 For more information on specific Broad Curriculum courses in any given semester, and for more information about London Study Center programs in general, contact:
Florida State University International Programs
A5500 University Center (850) 644-3272
For more information on history programs in London, including the semester-long program for history majors, contact:
Associate Professor, British History Florida State University
113 Collegiate Loop, 401 Bellamy Bldg.
Tallahassee, FL 32306-2200