#Seniorseminar: Ryan Karcher & "The Kaiser-Sultan Bond"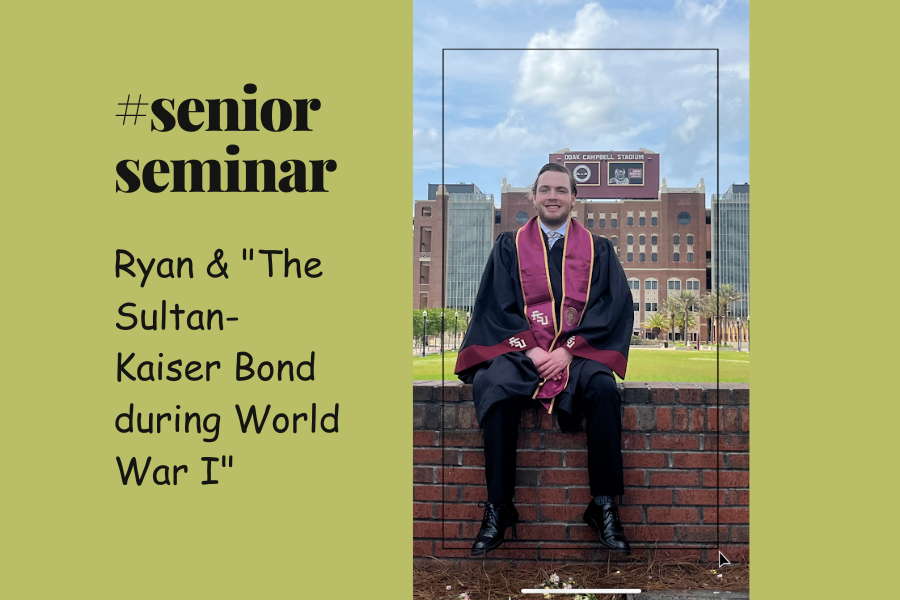 Tell us about yourself!
Florida State had always been my dream school since I was young. I did not get in the first time and went to USF instead. I worked very hard during my freshman year and was able to transfer to FSU. Then Covid happened. That meant that I did not get the classroom experience until my junior year.
Going into college, I wanted to be a dentist, but six weeks into my freshmen year at USF, I realized that science was not for me. I reached back to my middle school dream of becoming a lawyer. For that, I decided on Political Science, and then History, as my two majors. However, after working on a political campaign in the Fall of 2022, I realized that law was not for me. This opportunity opened up my eyes to the world of campaigning, which I fell in love with.
I graduated from Florida State in the spring of 2023. I can say with confidence that this institution is the best in the nation, and I could not be more thankful of FSU.
Why did you take this senior seminar?
I have always been interested in both world wars. I took classes on Weimar and Nazi Germany with Dr. Nathan Stoltzfus and World War II with Dr. Rafe Blaufarb, and I thought it would be nice to branch out. So, I took the senior seminar on World War I and the Middle East with Dr. Nilay Özok-Gündoğan, about whom I had heard great things.
What is your senior seminar paper about?
The title is "The Kaiser-Sultan Bond," and it focusses on the economic, political, and military relationship between the Ottoman Empire and Germany before and during World War I. I lay out how Germany persuaded the Ottoman Empire to join the war.
I have always loved military history and I have also been fascinated by German history. Initially, I had hoped to focus only on the military relationship between the German and Ottoman empires during the war. But then I had a consult with Dr. O right around spring break, and after I told her what I had researched so far, she suggested taking a more long-term perspective. That led me to work on the period from the 1880s onward. It is in the 1880s that the military, economic and political bond between the two empires began.
What sources did you use for your paper?
The hardest part of the paper was getting sources. I used both primary and secondary sources. They had different challenges. A lot of the problems with the primary sources had to do with language. I do not read Ottoman Turkish or German. So many of the primary sources I had initially hoped to consult were not accessible to me. Many of the secondary sources were older, and while I liked their narrative style, new primary material has become available. That meant that although they covered my exact topic, I did not always agree with their conclusions. This was because the newer primary sources that were unearthed revealed more information.
What really helped my work was reaching out to Adam Beauchamp, the librarian for History. Dr. O had organized a library session with him early in the semester. But then I met with Adam personally a few weeks later, and he showed me how to access many resources online. Adam helped me refine my searches and that was enormously useful. I had sent him a brief description of my project in advance of the meeting, and he put together materials that proved useful for my work. He even showed me how to request books on Interlibrary Loan, something I had not done before. Like everybody else at Florida State, Adam was concerned about helping me, a student, succeed.
How did you organize the writing process?
In the beginning, I would spend evenings watching documentaries on the relationship between Germany and the Ottoman Empire. That helped me get a base line for the paper. Then I encountered some problems, because of my initially narrow focus on the military aspect. For the first two months, I was wrestling with how to write a twenty-page paper on a purely military theme. But then I had my meeting with Dr. O in which we decided to expand the focus of my paper, and after that writing was not a problem.
I divided my paper into different sections and worked on one section for a week. Then I took that section to Dr. O, spent the next two days editing it based on her feedback, and moved on to the next section. In this way, I finished my paper two weeks before it was due, and I had time enough to read through it multiple times (silently and aloud!) and edit it thoroughly. I let other people read it too, my roommate, my girlfriend, and students in my class. After every read I got feedback from a different perspective, and in the end the paper came together great. I used 30 sources in total and had 60 footnotes altogether. This is the biggest school project that I have done so far, and I am proud of what I did.
At the end of the class, Dr. O complimented me on meeting with her five or six times during her office hours. Those discussions were really crucial to my success in her class. I wanted to write the best paper I could and talking with Dr. O made that possible.
How did the presentation help you with your senior seminar project?
I was very fortunate that I was taking a speech class at the same time with Mr. Mark Zeigler. During the semester, I worked on an informative and a persuasive speech for his class. I did really well in writing and delivering those two speeches. That gave me the needed confidence for my presentation in the senior seminar.
Additionally, Dr. O had required us to do a presentation on our primary sources early on in the semester. She gave us five minutes to talk about our primary sources. I had prepared only lightly – and when my time was up, I had not even finished talking about the first source. Everybody in the class took much longer than the assigned time. I remembered that when it came to the project presentation at the end. We were given 10 minutes for the final presentation (plus one minute grace period) – and I did it in 10 minutes and five seconds.
I believe the reason why I managed to deliver my speech well was practice. I practiced repeatedly, for my speech class too, and I learned to manage my speaking time most effectively. Being precise in the wording of my presentation – and doing well – gave me confidence in my paper. I drove everybody around me crazy though by practicing so much.
What advice would you give students who are about to start their senior seminar?
My advice to other students: meet regularly with your professors. If your professor does not know your name, there is a problem. If they do not know a little bit about you, there is a problem. I have reached out to every professor I had at FSU and formed connections. Professors are a great resource while you are in their class – but also afterward. You never know when you might need a reference letter. If you have worked with them and gone to office hours, then they know you and your work, and they will be able to write a good letter of recommendation for you.
Additionally, meet with Adam Beauchamp from the library. He will help you with finding sources – whether they are online, in a different library or here at Florida State.
Secondly, don't procrastinate. Don't leave things to the last week or two. If you leave things too late, you will be rushed and stressed, and you will not be able to think about your paper and review it to make it a really good piece of analysis and writing. If you start early, you can finish early, and that can be a huge boost.
Thirdly, make sure you have completed your research by week ten. To write a twenty-page paper you will need to take a lot of notes and put together a lot of information. Get that done early and leave yourself the last third of the semester to write the paper.
Don't treat this paper as a chore or burden. Be passionate about the work you do – and you will do well. If you find something you love, it will not seem like work to you.