#SeniorSeminar: Cassandra & "'L'état c'est moi ?" Enlightened Absolutism and the Maupeou Reforms of 1771"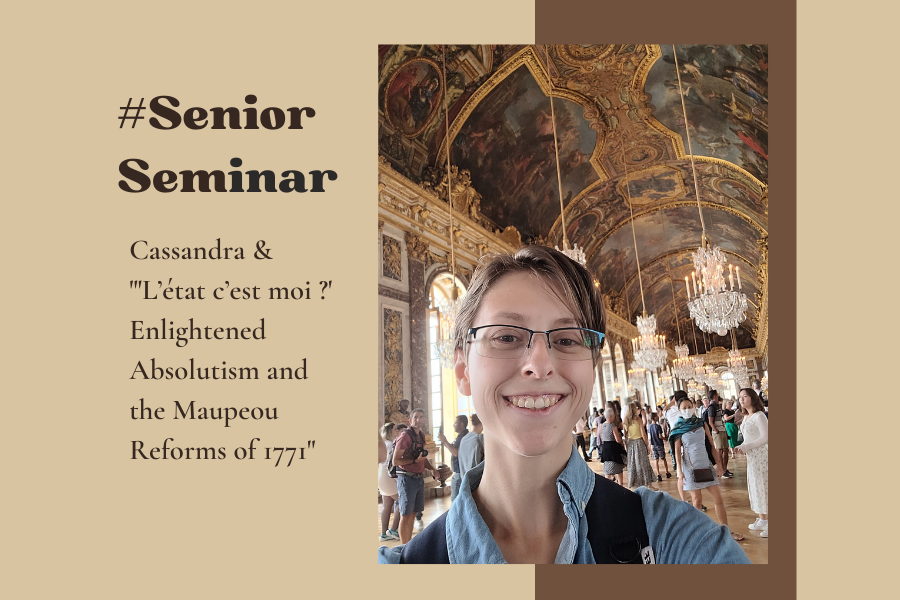 My name is Cassandra Lanigan. I am a recent graduate from FSU's Department of History, with minors in classics and French. I am 21 years old and was born and raised in Tallahassee. I love studying history, my favorite time periods are tied between the Roman Republic and 17th-18th century France.
Why did you choose this senior seminar class?
I spent the summer of 2022 studying in Paris and loved seeing all of the history in the city for myself. I had taken a course at FSU on the French Revolution with Dr. McClive the semester before and seeing paintings and locations that I had studied in class was fascinating. I chose the seminar on Claudine Rouge's disappearance in 18th century France because it would give me a chance to explore more complex themes in early modern French history, and because I loved Dr. McClive's class on the French Revolution.
What is your project about?
My project is titled "'L'état c'est moi ?" Enlightened Absolutism and the Maupeou Reforms of 1771." In the project, I explore the connections between a series of government reforms occurring near the end of the reign of King Louis XV and enlightened absolutism.
What is your argument?
I argue that the Maupeou Reforms were an attempt by the monarchy to appeal to an enlightened population driven by modern concepts of liberty and democracy. The Reforms should be considered an attempt at enlightened absolutism as they combined the ideal of the "divine right of kings" with new understandings of representative power in the government.
How did you decide on your senior thesis topic? 
Deciding on my topic was quite a process. I knew that I wanted to examine something within the French legal system at the time but I had a hard time pinpointing a specific topic. I also had a keen interest in The Enlightenment and the political upheavals in Europe occurring during that time period. I was reviewing notes from my previous class on the French Revolution and noticed that the Reforms occurred in the middle of the Claudine Rouge trial we were focusing on in class. While doing background research for the Reforms, I came across the term "enlightened absolutism" and wanted to explore the connection between the two.
How easy was it to get started with the project? What did you do first?
Getting started was a bit intimidating. I had never done a project of this size before and did not know how to start. But Dr. McClive gave us a lot of tips and showed us different ways to begin our projects and was ready to answer any questions we had. We would review documents from other historians in class and discuss what worked for their paper and what did not. We started out with basic research on a surface level and identified sources that would be most helpful to us, and from there we would construct a basic outline. I started by identifying specific quotes that I knew I would use in the larger argument, and then compiling them into a detailed outline showing my big ideas, sections, paragraphs, and transitions. Dr. McClive gave us a lot of freedom with the actual structure of our outline, which was a great help to me for my project.
What sources are you using for your project?
I had a total of 18 sources for my project. Of them, 11 were primary sources and 7 were secondary sources. Most of my primary sources were from edicts given by Louis XV which showed the exact functions of the Reforms, then I had sources from Jacques-Benigne Bossuet, Frederick the Great of Prussia, Louis-Adrien Le Paige, Montesquieu, and Rousseau to discuss contemporary concepts of enlightened absolutism. Finally, I had archival documents provided by Dr. McClive showing the court proceedings of the Claudine Rouge trial and a series of letters by Voltaire also discussing the trial.
For my secondary sources, I relied a lot on Colin Jones' book The Great Nation: France from Louis XV to Napoleon 1715-99 to give background information on the Reforms and their effects. Then I used works from Annelien de Dijn, Arlette Farge, David Hudson, Isaac Kramnick, H.M. Scott, and René William Thorp to discuss The Enlightenment, enlightened absolutism, and reactions to the Reforms.
A lot of my sources I found on JSTOR, but most of my primary sources came from Dr. McClive or a database containing significant documents pertaining to French history that were translated into English. Three of my sources were also physical books from the FSU library or that I had bought online. Finally, some of them required a long search through Google and different databases I found online.
What was the biggest surprise you uncovered while you were doing research?
The biggest surprise to me was how little scholarship there was connecting the Reforms to enlightened absolutism. What I could find was in French, but it would only contain passing mentions of the Reforms and did not give much information beyond a surface level definition.
How did you stay on top of things?
I worked a part-time job on top of attending school full-time, so I had to find ways to divide my time between the two. I will be the first to admit there was some procrastination on my part, but I would work on my project bit by bit throughout the semester. An hour or two here, a longer session on weekends if I could, whenever I could find the time. What helped the most was having Dr. McClive there to keep us all accountable for meeting our deadline.
How hard was it writing such a long paper?
This was the biggest project I had ever done at the time and getting started was a little intimidating. Doing an extremely detailed outline was one of the best things I have ever done for myself, as I already had my topic sentences, quotes, and analyses of evidence done, I just had to put it all together in a way that was coherent. My initial approach to writing everything down is to get everything in my head onto the paper, so that does include some "word vomit" occasionally, but I was able to organize it and put things together from there. I like to think of writing as putting together a puzzle – there's so many smaller pieces that go into making a coherent argument and you know you have all the pieces, but it takes time and patience to put it together, so that it makes sense to everyone else.
Was giving the presentation a challenge?
The presentation was one of the most entertaining parts of the project. It let me put everything down in concise bullet points in the simplest words I could manage so that everyone would be on the same page. Doing the presentation before finalizing my project was a huge help to me, especially when it came to writing the conclusion. It let me see my strongest and weakest points, as well as identify the reasons why my readers should care about my argument. As Dr. McClive put it, your conclusion has to be this big, "So what?" moment.
A bit of a nerdy moment from me, but I also enjoyed doing the presentation because I got to use pictures that I had taken in France over the summer of the people I was talking about in my paper.
Overall, would you say the process of completing your project was more fun or stressful?
I would say it was more fun than stressful. I loved getting to examine small details up close and engage in a larger historical discussion about the time period and different concepts I explored. The more stressful moments were mostly my fault, as I had put off too much to do at one time or another due to being tired from work or school. I deal with stressful moments by taking a step back for 10-20 minutes or so, going on a walk or going to get coffee, and coming back with a new perspective on whatever was stressing me out.
What advice would you give to students who are about to take their senior seminar?
My advice would be to not procrastinate. I know it is super easy to do as you think you have the whole semester to finish it, but 15 weeks can go by in the blink of an eye and suddenly you have a 10k word paper due in 3 days. If you're putting it off because you're nervous about how it will turn out or you don't know how to start, talk to your professor to identify your problem areas and get an outside perspective. Above all else, communicate with your professor. They are there to help you and answer any questions you may have at any point throughout the process.
If you could go back to the beginning of the last semester, what would you do differently?
If I could go back to the beginning of the last semester, I definitely would have gotten more of a head start on finding sources. I found a lot of my sources within the last 3 weeks of the deadline, which set me back with writing as I had to analyze every source to ensure it would be useful to me.
Any last words?
Dr. McClive had a writing technique we did in class called the "pomodoro technique." Basically you write in increasing time increments of 10, 15, 20, 30 minutes with a short pause in-between each segment to reflect on what you did. The whole class agreed that it was helpful to have those bursts of intense writing in addition to in-class workshops.