The Law School Experience: Christina Portuallo (FSU BA in History 2021)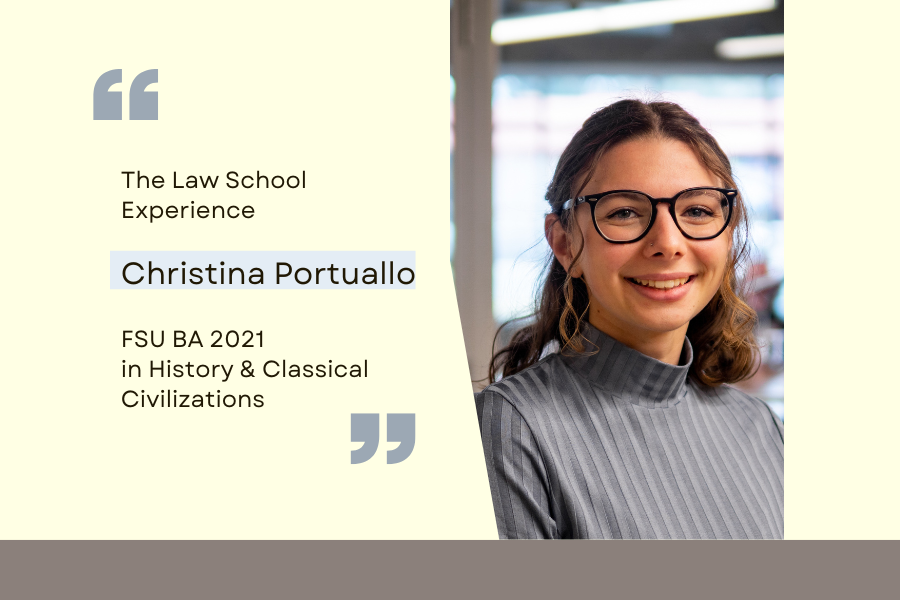 Tell us a bit about yourself!
My end goal has always been to go to law school. I participated in teen court in middle and high school and that got me interested in the law and being a lawyer.
I had been told that it did not matter what specific major I picked at college, but that it should be one that helped me improve my reading and writing skills. I had always enjoyed history, and history comes with a lot of reading and writing, so I felt I could do something I really liked and improve the skill set I needed for law school.
I double majored in History and Classical Civilizations; Greek history is my real special interest. What I liked about the History major at FSU is that it made me take history classes from around the globe – I feel like I did a little bit of everything.
Right now, I want to become a civil rights lawyer for a non-profit organization. I got an internship with the ACLU in North Carolina this summer. That is my dream job. Maybe one day I will get to work for them!
What undergraduate research did you do?
I wrote an Honors in the Major thesis. I took Dr. Renfro's class on mass incarceration and that changed my world view completely. It opened the topic of criminal justice reform to me. For my Religion minor, I took a class on Religion, Prisons, and Abolition, and the professor mentioned that the history of women's prisons was very understudied. I was casting around for a topic for my HITM project, and I thought – this is perfect, I will work on that. My project was on the largest women's prison in Florida.
Covid disrupted my research plans a bit. Instead of interviewing people, I had to rely on social media posts and connections. I found people who had posted about their experiences, and I used that material for my paper.
What brought you to FSU law school?
I applied to five different law schools, but I knew I wanted to do public interest law. That is one of the areas in which FSU is strong. It also has the reputation of being not too competitive. In law school, everyone is ranked, and all the grades are given on a curve, so we are essentially all competing against each other. It was important to me to have a supportive environment.
How different is law school from undergrad?
It was a big adjustment in the beginning. In every course, we have only one exam. The entire grade for the whole semester is based on just that exam. There are no quizzes or checkpoints along the way. You have to hold yourself accountable for studying throughout the semester, because you cannot cram a semester's worth of material into studying just before the final exam. Figuring that out was a big adjustment. People always say: Law school is a marathon not a sprint.' And that is true.
I treat law school as a 9 to 5 job. I will be 'at work' between those hours, either in class or in the library studying. By dinner time, I am usually done, and I can focus on self-care. I have learned to be consistent in my study habits, so that I do not feel overwhelmed by the amount of stuff to do.
Now that I am in 2L, I have more digression over which classes to take. In 1L you take all the required classes, in 2L you have freedom to choose. But you need to include classes that prepare you for the Bar exam – which is in the summer after you graduate from law school. So, in 2L you still need to take classes that you might not like – but you need them for the future. It can be hard sometime to get motivated for legal topics that I am not interested in.
In addition to pure lecture classes, we have also 'Clinics.' We have a public interest law center, and, in the clinics, we work for real clients for free. In addition to regular lectures and reading, we thus get hands-on experience working with clients. I have done two clinics so far. One was on Elder Law. There we worked for older people who needed help with their wills or powers of attorney. The other was on Children, and that was hard.
You won the 'Raising the Bar Professionalism Plus' prize. Tell us about that.
This was an FSU law school wide initiative to help students reflect on what it means to be a professional. In our classes, we learn how we can apply the law. This initiative asked what it meant to be a lawyer. We were asked to explain how and what we had learned about professionalism. Through my work in the two legal clinics and other professional research, I have come to understand so much better what it means to be a professional.
In undergrad I always thought that professionalism was networking and how you present yourself. And those are part of being a professional. But through the pro bono work in the clinics, I have come to realize that professionalism is meeting the needs of your clients and doing the best work that you can for them and the legal community. Professionalism is thus context dependent, adult clients will have different needs from children.
What advice would you give others who are considering law school? And maybe also yourself?
Because of Covid, I went straight from undergrad into law school. Looking back, I wish I had taken a year out to work in the legal field and got some practical experience. Looking at my peers, I think that those who took time out are doing a little bit better. Going to law school is a huge commitment, a very expensive commitment, so it would be good to have some law-related work experience first to see if law school is even where you want to be. Covid made it harder to think about breaking out of the learning chain in order to get a job.
Any final thoughts?
I really enjoyed my time in the FSU History department. It was such a great prep for going into law school. On all levels: reading, writing, and content. The reading I did was really helpful for law school. Because in law school you read a lot. The amount of reading I did in my history classes prepared me very well for law school.
History also prepared me for writing. You have to be able to write well in a concise manner, and the History degree helped me with that too.
Additionally, knowing the history of a country or region has provided me with the context of many of the laws I have been studying. Knowing about social movements in history has allowed me to understand how the law reflects those movements. And I also know how the law was applied – and not just what it says.