Honors in the Major Project: "Daily Life and the Conditions at Lowell Correctional Institution from 1956 to Today," Christina Portuallo and Dr. Paul Renfro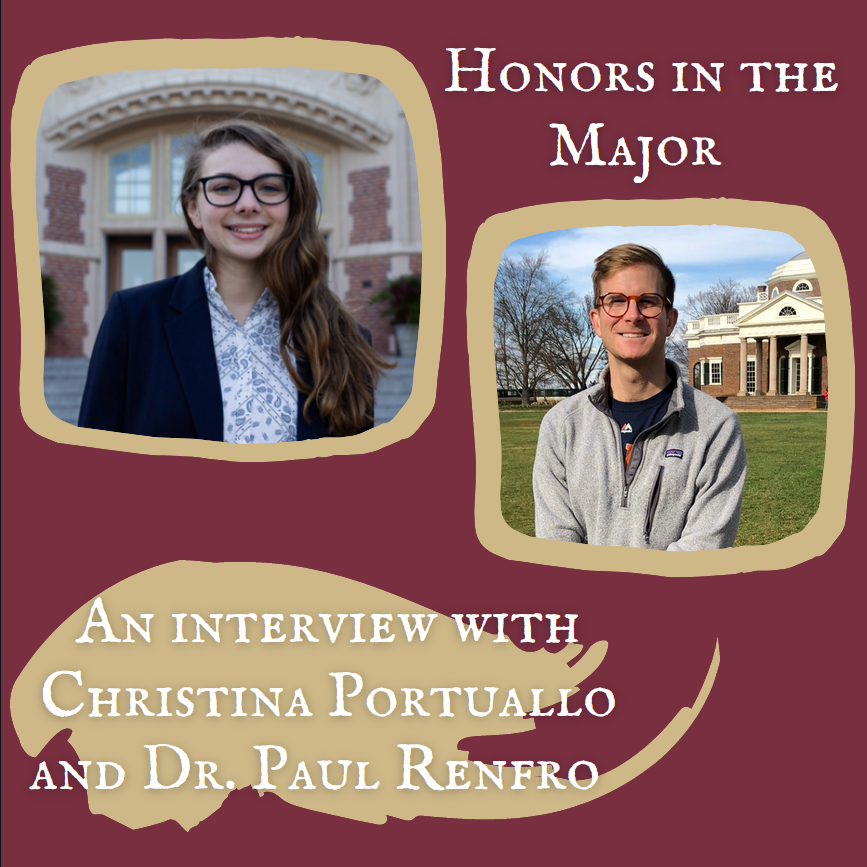 Christina Portuallo was introduced to the Lowell Correctional Institution and its questionable history in Dr. McTighe's undergraduate class on mass incarceration. This marked the beginning of her long journey of research on the history of women's prisons in the United States. Working closely alongside Dr. Renfro, Christina set out to gain a better understanding of the daily lives and conditions of the women housed at the Lowell Correctional Institution, raising questions about "…instances of mistreatment that have occurred throughout [the facility's] history that have been forgotten or buried," as well as the unique challenges presented to incarcerated women of color and queer women. In recent years, the Lowell Correctional Institution has come under fire from a number of news networks for abuse and administrative misconduct, and through the research for her Honors in the Major project (HITM), Christina aims to "shed light" on the facility's deplorable conditions and "bring awareness to the historical roots of those abuses," showing how they have evolved over time.
            Thus far, Christina's experience with her project has not been without its setbacks. The COVID-19 pandemic has taken a toll on her research, preventing her from traveling to visit the prison in person and closing valuable archives that she hoped to have been able to utilize. However, by using Dr. Renfro as a resource, she has been able to locate alternative material from the FSU libraries, especially Special Collections. Dr. Renfro points out that this pandemic may "encourage [researchers] to look elsewhere [or in] places they might not have looked." Additionally, Christina describes the women's prison history as a "really understudied" topic and has had to contend with a startling lack of sources and prior research conducted by others on the subject. However, she finds great enjoyment in her work and knows that her contributions may someday help to facilitate change. She treats her project in the same way as she would a class, working on it at a scheduled time every week. Christina has also decided to extend her project from two to three semesters because of the pandemic. By giving herself more time to research and write, she believes she will produce a stronger thesis and possibly even give herself the opportunity to record oral histories with the women at the Institution after the pandemic.
            Next year, Christina plans to attend law school and hopes that completing this project will help to improve her writing skills. Her main goal for the project is, of course, to contribute to the study of women's prison history. She decided to work with Dr. Renfro because she knew that gaining insight from an expert in the field would lend a more historical perspective to her research. She hopes her work will prompt society to reflect on its past mistakes and promote change for the future.
            When asked what advice she would give to students considering an Honors in the Major project, Christina emphasized the importance of being passionate about your topic. Given that her project has required an abundance of research and planning, Christina said that having a topic that you are passionate about is "what's going to make you want to keep going." She believes that being a driven person is necessary for the completion of an Honors in the Major project because it requires self-discipline and self-motivation. She also said that she wishes she had "started on certain parts of her research earlier." Despite the numerous challenges that she has faced, however, Christina encourages the pursuit of HITM projects, because it is often the work of dedicated researchers that ushers in positive and revolutionary change.