Revisiting Grad School - Professors' Edition: Dr. Matt Mewhinney (FSU Modern Languages and Linguistics)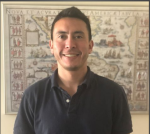 Dr. Matthew Mewhinney is an assistant professor of Japanese Language at the Department of Modern Languages and Linguistics. He received his BA and MA from University of California, Santa Barbara in 2006 and 2009, respectively. He completed his PhD degree in Japanese Language from University of California, Berkeley in 2018. Dr. Mewhinney joined FSU in 2019.
What is your primary research interest?
I'm very interested in questions of literary craft, what artists throughout history have done with words. My current research focus is on the culture of the literati, a group of elite poet-painters. I look at their artistic production and how that tradition rises and falls from eighteenth- to twentieth-century Japan. One of my goals as a scholar is to break down the boundaries between different genres and to get to the heart of the literary experience.
What was your experience in graduate school?
A PhD takes a long time. I entered the doctoral program in the Department of East Asian Languages and Cultures at UC Berkeley in 2012 and graduated in 2018. It was a program not in history, not in literature, not in comparative literature but in language and cultural study. I was broadly interested in East Asian cultures, film, but mainly literature.
I progressed through the program quite smoothly. I did three years of coursework and took my qualifying exams in my fourth year. My fifth year I spent in Japan—as a Fulbright Fellow—where I wrote most of the dissertation. I came back for my sixth year, on a fellowship, and finished the dissertation. During that year, my advisor felt that I should apply for jobs too, and I did.  I taught at Boston University for a year as a Visiting Assistant Professor, and then I came here to FSU.
Did you ever consider exploring other career options?
Yes, but still within the field of education. From an early age, I've wanted to teach. I did teach middle school right after I got my master's in 2009. I was teaching middle school Chinese, since I had double majored in Chinese and Japanese at UC Santa Barbara. And then I went to Japan, where I taught English to people of all ages. I think it's important to have multiple career options. If one job doesn't pan out, move to another. That sort of practical, pragmatic way of living life is important to keep in mind no matter what one does.
Why did you come back to academia?
For the intellectual freedom. This is probably one of the best jobs in the world: I get paid to read, to think, to write, and to teach. And I'm also constantly learning; every day brings something new. Teaching offers me the greatest opportunity for creativity and allows me to become the artist that I want to be.
Over the course of your PhD career, what were some difficult moments, and how did you overcome them?
I almost dropped out my first year. My program at UC Berkeley was intense. I was constantly being questioned about my ideas. At times it felt like a sparring room. There was a certain amount of competition, but I was more trying to learn the ring and become a better fighter, which took a lot of hard training. The training was not physical, it was mental. Seminars were traumatic in a way. I went in, gave a presentation, and people would start critiquing my ideas. I learned quickly to develop a thick skin. It made me a much stronger thinker, more confident in my ideas and the way I present them to the field today. It was about how to become an academic and how to engage with polemics.
How did you deal with your qualifying exams?
It was at the end of my fourth year that I had my exams, which were divided into four written parts. After that, I had my orals with my committee professors. I thought they would ask me questions about my written responses. But that wasn't the case. It wasn't based on what I had written, but on what I had left out. I passed the written portion of the exams with flying colors; I knew my stuff. But during my oral exams, when I was put on the spot, I just couldn't think of the answers. I thought that I wasn't going to pass, but I did in the end.
At that time, I was not very articulate when put on the spot, but it was good training. In teaching, you're always on the spot. When students ask you questions, sometimes you don't know the answer. One of the examiners told me that this was the last test that I had to take, which was true only in an academic sense. After all, life throws trials and challenges at you all the time.
How did you arrive at your dissertation topic?
My dissertation topic was on the rise and fall of the literati culture in Japan from the eighteenth to the twentieth centuries. This was a time when patronage for poets and artists declined, and they produced art for art's sake. They became more independent thinkers.
I was always interested in the father of modern Japanese literature, Natsume Sōseki (1867-1916). He was a novelist and a poet. He wrote Chinese poems, which I translated into English. By using Chinese characters, Sōseki was writing for the entire Chinese reading audience, even though he wasn't conscious of it. It got me thinking beyond Japan and made me wonder what he might have been saying to readers across East Asia.
The ancient literati culture had begun in China and over the centuries spread throughout the whole East Asian region, including Korea and Japan. Sōseki lived at the tail end of that tradition. I wanted to learn more about that literati culture and its history; that's what started the project.
What was it like to be a Fulbright fellow in Japan?
Japan was great. It was a very different environment over there. I was at Waseda University, where I worked with Dr. Ikezawa Ichirō, who is a specialist in classical East Asian literature. I had some great conversations with him. He influenced the two chapters in my dissertation on the Edo period in the eighteenth and nineteenth century.
I've visited and lived in Japan for short stints since high school—anywhere from studying abroad for a few months to working or researching there for a few years. "Japan" is not a monolith, and I learn something new—about the country, people, language, culture—with each visit. As a scholar of Japanese literature, I enjoy any archive that brings me closer to the writer's life and creative process. I have also enjoyed multiple visits to the museums that memorialize particular writers.Perhaps my favorite is The Natsume Sōseki Memorial Museum (Sōseki Sanbō Kinenkan), which is the first museum solely dedicated to the life and works of Sōseki. The City of Shinjuku built the museum on the site where Sōseki's house one stood. There's even a replica of his study! It's cool.
Japanese literature and research aside, I think my favorite "archive" in Japan is the Japanese restaurant. The Japanese prepare everything so well with such fine attention. I have eaten at some of the best restaurants in the United States and none compare to the quality I have encountered in Japan. Whenever I think of Japan now, I think of its food and what I want to eat the next time I'm there.
My year on Fulbright was intense and productive, but it was also a lonely year. I only write well when I am alone. That's something to think about – the loneliness aspect of the profession. You write a dissertation, a book manuscript, and make revisions, and often you have to do that alone.
My other advice is that, before you go on fieldwork, you must have a clear idea of what your project is about, so you have a direction or question to pursue. Although the project might change, the initial germ of that idea will get you started.
Who, or what, were you most grateful for that encouraged you in your PhD degree?
The Department of East Asian Languages & Cultures at UC Berkeley did its best to help us foster self-cultivation. We all took courses outside the department—I worked with scholars in English and Comparative Literature.  We weren't just some professor's student; we were asked to emerge as independent scholars. Sometimes you needed your peers to help you get there. That intellectual encouragement, in a group with people who were interested in the same subject or similar questions, was essential.
I was part of a Chinese poetry reading group, and I could turn to the group and say, 'Hey, let's read a poem together. Let's talk about this one line, let's talk about this one word, what does it mean in this context?' Those peers of mine knew me in a way that nobody else did. They knew what I was intellectually capable of, how I thought about a poem or a work of literature. These really rich and intellectual friendships made my academic journey more enjoyable.
How does being a researcher and writer complement your teaching?
In teaching, I'm interested in having students think about how creative processes affect writers and the ideas they generate. There are no fixed answers. Students need to look at the creative process from all angles. There are great moments in the classroom when the conversation is lively and engaging, when students talk and respond to the material. That's incredibly gratifying and rewarding for me as an instructor.
As an academic, you don't often have that many opportunities to discuss your work directly, unless you are at a conference. Most of the communication with your field is mediated through books or articles in journals. This makes academia a profession in which you have to be self-reliant. Teaching is a great antidote, because you can engage with minds in the classroom.
If you could go back in time and talk to your pre-grad school self, what would you tell yourself?
Personally, I would have told myself to focus more on things that ground you. After getting your PhD, your life may not be stable. You might bounce from one institution to another, as a visiting lecturer or as an adjunct. You may hope to find a tenure track position but those are extremely rare and might take some time to get. Make sure you have one solid foundation outside of school. For instance, your book may not get published, the class could have gone horribly wrong, but you go back home to a family, to those people and things that ground you.
There is one piece of advice I received from a professor while writing my dissertation. She told me: 'In graduate school, if life gets in the way, let it.' That counsel, to let life get in the way, is a terrific piece of advice. Balance is good in graduate school; focus on your studies and career, but let life get in the way. At the end of the way, life is there waiting, why not engage with it?
Do you have any advice for graduate students who are about to enter the job market?
Get advice from professors in your department. Talk to senior professors who have experience with hiring committees. They have looked at hundreds of cover letters, statements of purpose, writing samples and teaching statements - whatever the application requires. They will have listened to many job talks too. Ask them for advice, for feedback on your own material. When you craft your job talk, make sure to make your topic palatable and engaging to a wider audience who are not all experts on the subject.
And if you don't get short listed, that's not on you. The hiring committee just wanted someone different. You can't take that personally.
My advice for students in coursework is to try to become independent thinkers. Absorb from your teachers, peers, and other scholars, but at the end of the day, it's really about emerging as your own scholar. As long as you have the encouragement to do that and the resources to do that, then you're in good shape.