Natural Disasters, Infectious Diseases, and Revolutions: FSU History Alumna Dr. Cindy Ermus talked to Marina Ortiz
---
Natural Disasters, Infectious Diseases, and Revolutions: FSU History Alumna Dr. Cindy Ermus talked to Marina Ortiz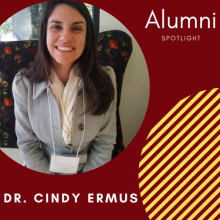 Dr. Cindy Ermus researches disasters. For Ermus, this covers natural disasters, infectious diseases, and even political events. This year, she returned to Tallahassee to attend the Consortium on the Revolutionary Era (CRE), where she gave a talk that positions revolutions as disasters. However, the trip to Tallahassee was more than just an opportunity to present her scholarship—it was a reunion. Ermus graduated with her PhD in History from Florida State University almost six years ago and returning to Tallahassee was a nostalgic experience for her. "From the moment I stepped out of the airport into my ride to the DoubleTree, I was already nostalgic. I remembered the roads and the route back to the center of town and everything," she reflected.
            Her time at FSU not only prepared her for her career as a professional historian but also introduced her to lifelong friends and supportive mentors. When asked about favorite memories and experiences at FSU, Ermus said it was the people she met that stood out the most in her mind. The community she found at FSU made her graduate school experience a positive one. With fellow FSU alumni and friend Bryan Banks, she co-founded the open-access online journal Age of Revolutions, now a five-year old project. Ermus also met her husband at a history student and faculty potluck while she was in the second year of her master's and he was in the first year of his PhD. 
            Ermus said FSU prepared her for the job market and the transition from student to professor in numerous ways. The extensive research she did while in graduate school prepared her for writing and publishing, and the experience she gained in the classroom as a TA proved to be invaluable. On teaching, Ermus said: "Having the teaching experience was key. I know that really helped me on the market." Although she came into the program at FSU with the intent of studying France, she eventually evolved into a historian of the French Atlantic. She credits broadening her research focus as an important means for marketing herself on job applications. Ermus says that although the job market is extremely difficult, her fellow graduate students in the Institute on Napoleon and the French Revolution have all done very well for themselves and found jobs. She counts herself fortunate to have found a tenure-track job her first year on the market. Though she began her tenure-track career in Canada, she eventually ended up at the University of Texas at San Antonio, where she currently teaches.
            Because of her experience in the classroom, Ermus says the transition from graduate school to working in the profession went very smoothly, although one of the more challenging aspects was adjusting to service and committee work. When reflecting on the job market Ermus had advice for current graduate students. To have an advantage in a very difficult market, she recommended applying early. Applications are strengthened with a good cover letter and letters of recommendation that come from a diverse set of professors from various institutions. Publishing and teaching while in grad school is also important. In addition, Ermus also encourages graduate students to think outside the box in terms of how they can apply their degree to a career. "There's a lot of really rewarding ways of using your degree, not just necessarily in the tenure track," she said. In this current job market, she stresses the importance of being flexible.
Ermus encourages history students to get involved with the digital humanities. Across the profession, the demand for a digital history background is growing, and Ermus says that having this experience can make job candidates more competitive. As one of the co-founders of Age of Revolutions, Ermus has extensive experience working with the digital humanities. Age of Revolutions grew out of her interest in the revolutionary era and was created with the intent of making a public-facing, open-access platform for scholarship. It not only serves the public interested in history, but also provides a critical vehicle for scholars to publish their work in a peer-reviewed, professional format on an accelerated timeline compared to that of other journals.
In addition to working on Age of Revolutions, her own research centers on disasters. Ermus sees the value and necessity of studying disasters. She began focusing on disaster in her master's program, where she discovered records about a fire that took place in Spanish colonial New Orleans. Over time, Ermus began to look at disasters in a broader sense. "I realized early on that we should expand disasters to include political events like revolution, as well as disease and plague, which is what I'm looking at now for my book manuscript." During a time of frequent natural disasters as well as the current pandemic, Ermus's work is timelier than ever. She became interested in disasters in large part because of her upbringing. She grew up in Miami amidst ruinous hurricanes and frequent fires in the Everglades. Growing up in what she calls a "capital of disaster" sparked her interest, and lack of scholarship on the topic drove her to pursue it further.
Ermus gave her talk "Revolution as Disaster" at the CRE in late February. The conference served as a platform for emerging and established scholars to present and get feedback on their scholarship. Presenters then had the opportunity to submit their papers to Age of Revolutions for publication. Ermus encourages FSU history students to "definitely keep up with AgeofRevolutions.com and consider contributing!"