Internship Experience: Taylor Aspinwall, MA Student, Public History
---
Internship Experience: Taylor Aspinwall, MA Student, Public History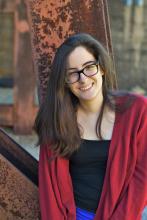 My name is Taylor Aspinwall, and I'm a Master's student in FSU's Public History program. My research focuses on interactivity in museum spaces. 
Where did you do your internship and why?  
I did my internship at the Tallahassee Museum because they merge history with environmental conservation. I really enjoy being outdoors, and I have had previous experience working as an environmental educator, so this opportunity was perfect for me!
How did you find out about your internship? 
I found out about the internship by emailing their education coordinator.  I asked if they had any available internships, and I had to fill out an application to indicate what position I was most interested in.
What did you do during your internship? What did a regular day look like?
I am known as a Conservation Education Intern. I primarily work with their education department, creating programs for their Summer Camps, Home School Programs, and Day Camps. In addition to these duties, I also get a chance to be hands-on and work with the education animals by giving daily animal encounters to the public. These education animals are ones that are native to Florida and are very important to Florida's ecosystem, such as the Indigo snake, Florida Pine Snake, and the opossum. Giving the public a chance to get up close and personal with these animals helps the public's awareness of these animals and their conservation status overall, as many have a threatened or protected status.  
What sort of training did you receive during your internship?   
The main training that I received during my internship centered around how to safely handle the education animals. Working with animals can sometimes be tricky because they are living beings and knowing how to properly handle each one of them is very important.
What surprised you about your internship?   
I think what surprised me the most was how much growth I've experienced during my time at the museum. While I did come in with previous experience and knowledge relating to reptiles, I have had to expand my knowledge even more to include mammals and birds. In addition to this, I have also noticed an increase in my confidence while speaking in public.
What was the hardest part about your internship? Obstacle, challenges?   
I think the hardest part about my internship was learning how to scale educational programs to different age groups. While it sounds simple, you really have to know where kids are developmentally to determine what would be the best activity for them to grasp the concept that the program centers around.  
What was the most rewarding aspect of your internship? What did you get out of the internship?  
The most rewarding aspect of my internship is working with the public. Especially with the daily animal encounters, I interact with the public a lot, and it is so rewarding to watch guests from ages two to 92 get excited about learning about these animals. It's really rewarding to see guests be really engaged, wanting to know more. Being a key player in helping foster interest in the environment is truly fulfilling.
What advice would you give to other students about this internship – and also your past self? 
I would say get as much experience as you can. The job market and life in general is interdisciplinary, so if you have even the slightest interest in something but you don't really know how it fits into a history/public history degree, go ahead, and take the chance. You may find yourself learning new skills, while also developing older skills, that can relate to any job you may be interested in in the future.
How does the internship help with your career goals?  
My goal is to go into museum education, particularly at a natural history museum. Many natural history museums have live animals, so being able to have hands-on experience will help me in the long run. Museum educators have to be comfortable working with the public, so any practice to speaking to the public also helps.