Interning at the Florida State Archives: Interview with Kiri Raber and Rhiannon Turgel-Ethier, PhD students
---
Interning at the Florida State Archives: Interview with Kiri Raber and Rhiannon Turgel-Ethier, PhD students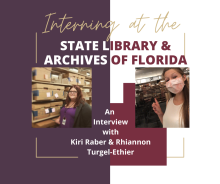 Both Rhiannon Turgel-Ethier and Kiri Raber, graduate students in the History department, did internships at the FL State Archives as part of their Public History minor field. Both are on the PhD track and will be spending a lot of time in archives as researchers trying to find the right documents for their dissertation projects. For both, this internship was a defining experience as it allowed them to work behind the scenes in an archive, learning how research facilities work.
"I gained a lot from this internship both as a public historian and as an academic historian. I got to understand how the 'back end' of the archive works," said Rhiannon, while Kiri found, "It made me realize how much archivists know about their archive. "I now have a better understanding on how important it is to open a dialogue with the archivists."
The internship involves 320 working hours which Rhiannon and Kiri spread out over three months. Interns move through four different stations: collections management, reference desk, photo archive, and Florida Memory, a digital outreach program of the State Archives. During her time at collections management, Kiri got to catalogue the 'Hudson-Cason-Ives-Love-Wilson' family letters, a collection of letters from the 1910s with correspondents living across the state of Florida. Rhiannon processed the material donated by the Tallahassee Women's Club spanning the period from 1906 to 2017. This included minutes from meetings, membership lists, scrapbooks with newspaper clippings, flyers, and many, many recipes. They catalogued the material, provided a description of each object with the date when it was created, and indicated the names of people mentioned.
For both Kiri and Rhiannon, cataloguing required interesting research but was also labor-intensive. People appearing in the documents had to be traced through old directories and sites like Ancestry.com or FindAGrave.com. "It could become a rabbit hole," said Kiri, "tracing people, finding their birth and death dates." "Because most of the women went by their husband's names, identifying their dates was like detective work," said Rhiannon. "Sometimes it took me a whole day to find all the information necessary for just one document."
When working in the reference section, Rhiannon and Kiri were the 'face of the archive.' Besides shadowing archivists giving tours to the public, they were involved in answering phone calls and emails and responding to document requests. Calls for information might come from a member of the public trying to find records relating to a relative but could also be from attorneys asking for documents needed in court. "I felt I had to get a new wardrobe while working in this public facing position," said Rhiannon. "My week at the reference desk was the most fun of the entire internship." Kiri remembered that timelines to fulfill customer requests were tight: "You had only 24 to 48 hours to fulfill a request: to find the information, go through the boxes to locate the specific document, copy and send it off."
Their time in the photo archive also centered on requests from patrons. Kiri and Rhiannon worked with the photos from Florida Memory, from which clients requested printed copies. Both received training in Adobe Photoshop to be able to touch up pictures and make them look natural. "I was not allowed to touch up a person or to remove material from a picture," explained Kiri. Additionally, Rhiannon and Kiri worked on different photo collections housed in the archives, scanning and saving original prints for future digitization.
The final station of their internship was at Florida Memory. Kiri and Rhiannon both got to reach back to the records they had processed in the beginning while at collections management and make them available on the Florida Memory website. "It was neat to oversee material from the acquisition stage to making it public," said Kiri. "I felt I had come full circle."
Kiri also digitized material from Governor Caldwell's administration, 1942-46. Specifically, she focused on the lynching of Jessie James Payne in 1945, a young Black man from Madison County, and the backlash the slow response from Caldwell to the lynching provoked. Florida Memory only held eight records on cases of lynching in Florida before the records of Jessie James Payne were added; bringing more to the eyes of the public was an important task. "Digitizing these records was heart wrenching and very frustrating as well. It was really hard to see the foot-dragging."
">
Some of the challenges Kiri and Rhiannon faced had to do with the nature of the internship: they worked five days a week, usually 30-hour weeks. "It was an adjustment just having the weekends off and being at work every day of the week," said Rhiannon. "As a grad student I tend to work seven days a week, but I have flexibility on how to structure my workday." But the advantage was that when they left the archive, they were also done with work for the day.
Rhiannon confessed to being slightly overwhelmed by the amount of responsibility given to her the first week at the archive. But in the long run that also built confidence, and the freedom and liberty she had in making decisions about records she was handling made her feel empowered. "I was excited to go to the archives. I had learned about archives and archive management in class, and now I could actually do something."
Both Kiri and Rhiannon came away with a new understanding of the work of an archivist. Given all the labor they put into providing full descriptions of each document they processed, they see archivists as 'researchers on the other side' as well as 'keepers of collective memory.' Kiri felt that knowing what goes on behind the boxes in the archive will make going off on research less intimidating. Rhiannon adopted the archive's method for classifying documents for her research pictures. "This will help me when I get to write my dissertation."
To their fellow graduate students, Rhiannon and Kiri's advice is "when you are in an archive on research, talk to the archivists. They are your friends."
">