International Education Month with FSU History: Joshua Hamburger in Valencia, Spain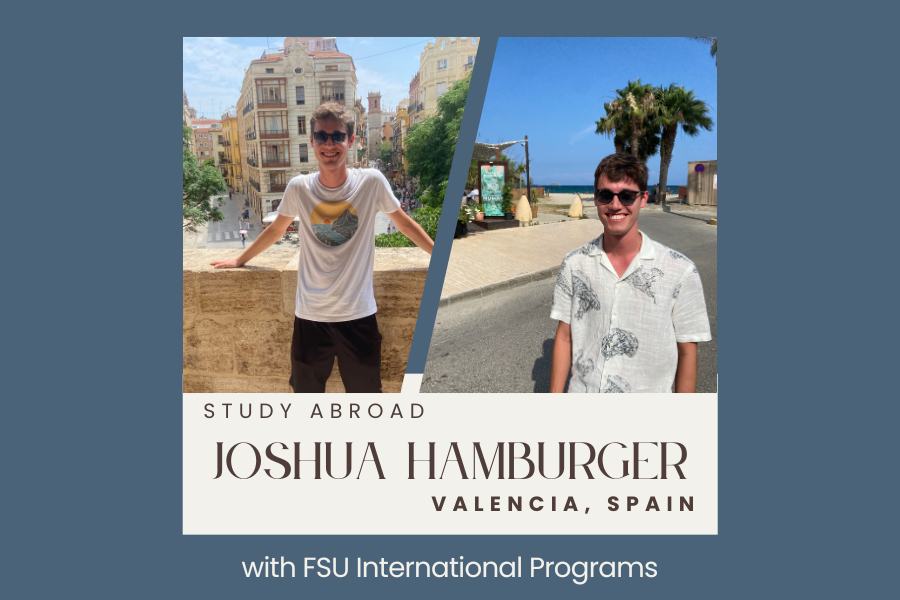 Tell us about yourself.
My name is Joshua Hamburger, I am from Miami. I am a History major and a Communications minor. I first got interested in History in high school. I took part in a study abroad program to Israel. I learned about Israel's history, and then we went to different historical sites, it was a very immersive experience. Ever since, I have been interested in History.
What I really like about the History major is that we are learning the history of many distinct parts of the world. The breadth of the major has allowed me to study topics that I knew nothing about.
What got you interested in studying abroad in Spain?
I was interested because I wanted to explore my Hispanic heritage side more. I grew up visiting my mom's family in Bogotá, Colombia and I wanted to continue developing my Spanish while learning new Spanish cultures in Valenica.
I spent six weeks at FSU's Valencia Study Center taking two classes for academic credit. One was a history class on the Spanish civil war taught by Dr. Ben Dodds. The other course was on Interviewing taught by Dr. Laurie Lawrence. Each class meeting lasted 3 hours and 45 minutes. The class sizes were small, so we could interact with the instructors, and in both my classes we spent class time learning lessons while going to places in Valencia, such as the City of Arts and Sciences. We were able to immerse ourselves in the class and the city.
For the Spanish civil war class especially, we were able to go to local sites that dealt with that topic. Among other places, we went to various museums that preserved valuable remnants of family's belongings such as torn clothing, letters, and more. Being able to study these primary sources allowed me to understand the somber, but valuable history of families affected by the Spanish Civil War. While we were in Spain, there were general elections, and it was interesting connecting our history class topic with the events of the day.
What did you do outside of class?
We went on excursions with the study center to Tarragona, Barcelona, Peñíscola, and nature sites like a waterfall. I had no scheduled classes on Fridays, so it was possible to visit other places over the weekend. It was really easy to go to Madrid by train, that only took around two hours. A lot of my friends flew to other countries over the weekend, to Morrocco or Amsterdam. For many this was the first time in Europe, and so they really wanted to see all of it! I flew to Ibiza and Mallorca. You had to learn to balance your coursework with the opportunity of traveling every weekend.
I loved walking around Valencia because everything there is within walking distance. We lived close to the school, and the shops and restaurants were right there. We went to eat out most evenings, and all the restaurants had outdoor seating. Even on weekday nights, the tables were full, and with the winding roads of the old city that opened out into plazas, it was very picturesque. I loved eating tapas, ordering a lot of smaller dishes to share with the people at your table, it was a very social experience, down to dividing up the bill. My favorite dish was patatas bravas, I had that at every restaurant and compared the different versions. I loved grilled octopus too. The other dish I really took to is paella. That was so delicious.
I enjoyed the very different eating culture. We would sit at the table for 3 to 4 hours, eating and talking. The whole lifestyle was different. Dinner was typically later at 9pm, but there was a long siesta at lunch time during which many restaurants and shops closed. The atmosphere was very relaxed, and we could really enjoy Valencia.
What surprised you?
I was surprised how friendly everybody was. I speak Spanish but I am still learning. The study center is right next to the Serranos Gate that was part of the old city wall and built in the 14th century. Toward the end of my stay, I decided to climb the monument and while I did that, I met Spanish students at a local university, and we got talking. They were friendly, and it was a great moment for me to chat with local people.
You certainly did not need to know Spanish to have a good time in Valencia. Many Spanish citizens in Valenica know English and most restaurants had menus in English. The study center offered Spanish language classes and that is a great place to start your language learning.
Coming back was hard. Not just the jetlag but also being nostalgic over the fun time and amazing memories made with the other students. I went to Spain with one friend, but I made more while there. The people I roomed with are now some of my closest friends.
What advice would you give to other students who are thinking about studying abroad?
I'd say, have a clear budget in terms of money and time. Do some planning about the places you want to visit. And work out in advance how much you can spend on meals and trips.
Be ready to get out of your comfort zone. You will meet may, many new people, so even if you don't go with a friend, you will hang out with a lot of people who will become your friends. You'll be going out there with other FSU students, which means you all share the Tallahassee campus experience and can explore a new country together.
While it is fun and easy to travel within Europe, I had set one weekend aside to just explore Valencia. And I think that is important too. Valencia has so many things to do, the aquarium in the City of Arts and Sciences, the beaches, the historic sites.
If you could go back in time, what would you do differently?
If I could go back, I'd do the 12-week summer semester rather than just six. Actually, if I could redo things, I'd spend a year in Valencia. I would take the time to explore different parts of Spain and learn more about the various regional cultures. Six weeks was good, but longer would be even better.
Fun fact?
I was in Valencia when both Barbie and Oppenheimer came out. I did Barbenheimer, so first I saw Barbie and then Oppenheimer the next day. They were showing it at a local movie theater in English with Spanish subtitles. In Oppenheimer there was a scene where the movie referenced the Spanish civil war. That was a crazy moment for me. Here I was sitting in a movie theater in Spain, watching the film together with local people from Spain, while I was also taking a class on the Spanish civil war. That was a 'wow' moment.