International Education Month with FSU History: Ashley Krupa (Summer 2023)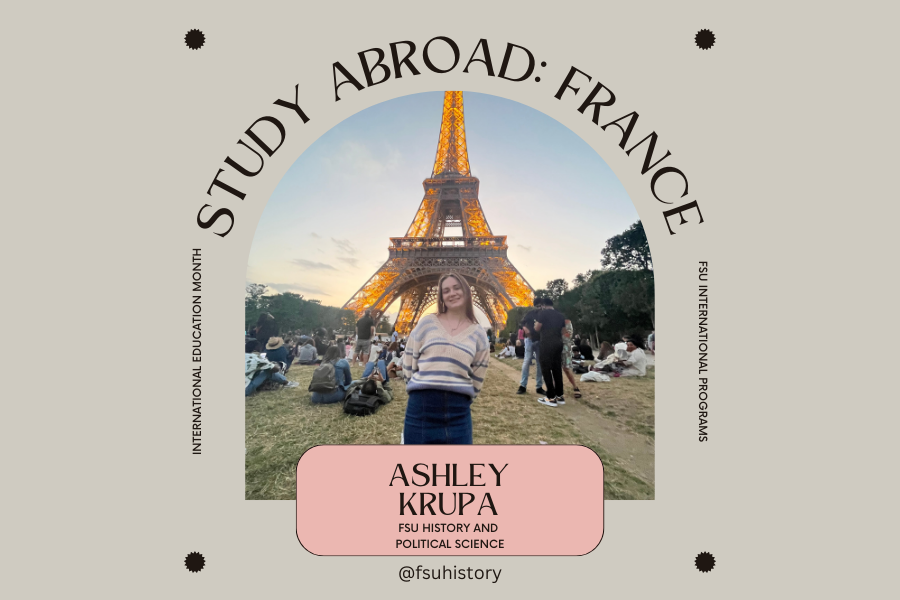 International Education Month with FSU History: Ashley Krupa (Summer 2023)
My name is Ashley Krupa. I'm from Orlando, Florida. I am a Junior, pursuing a dual degree: History major and a French minor and Political Science major and Law Enforcement Intelligence minor. History felt like a natural choice to me. I have always loved history and learning about it, even in high school. Continuing to study the subject in college seemed like the best choice for me. Additionally, a history degree works with my career goals and allows me various opportunities in other fields, as well.
Tell us about the study abroad program you were in!
I took the Intensive French Program, which meant I spent the entire month of July in France studying the French language. My classes were held at the Catholic Institute of Paris as FSU does not have a study center in France. I was in a class with a few other FSU students from my program.
What drew you to this specific program?
I am getting a minor in French, so taking language classes in France helped a lot. But as for History, I love the French Revolution. I've studied it in depth. Going to France was always something that I wanted to do. Being able to go now with FSU and see everything was cool.
That being said, language study in France was honestly not my initial plan. My original plan had been to study abroad in Prague. That's the program I applied for. But I did apply fairly late, probably a week or two after the application portal opened, which meant that I did not get into the Prague program.
However, that was one of the best things that ever happened to me. I went to France instead, which is how I ended up deciding to get a minor in French. The credits that I now have make that track much easier for me.
How was the "studying" part of studying abroad?
We went to class Monday through Friday from 9:00 AM to 12:00 PM. Then on Tuesdays and Thursdays, we also had sessions from 2:00 to 5:00 PM. I was in the same class for 21 hours a week with the same professor. However, my class was relatively small. We were only six students.
What were some of your favorite outings and excursions?
One of my favorite artists of all time is Monet, and one of the trips with the program was to his house. For one entire Friday afternoon, we went to Monet's house. We saw all of his works. We also got to see his Lily Pond Flower Garden, and it was absolutely beautiful. It was something I would have never thought to do on my own. It was so incredible.
Did you need to know any French in order to participate?
No! You don't need to know any French to get into this. We were all divided among our levels, so some of us were almost fluent speakers; they were on a much higher level than me. But some people were brand new to French and had never spoken French before.
I took Elementary French 1 and 2 here at FSU in last fall and spring. Then I went and studied abroad and got credits for two more classes while I was there. So, technically, I did have a little baseline, but nothing too crazy. Nothing that Duolingo can't teach you!
What was one thing that surprised you about the program or getting to study abroad?
I think there was a bit of cultural shock, but not too much! I made a game out of it: I started a list on my phone with weird things that I thought Europeans did. They don't have fitted sheets in the dorms!
Do you have any plans for after undergraduate? Did studying abroad help you make any decisions?
I am still working on figuring out what to do after undergrad! I do want to work in government, for example in the intelligence sector.
This trip was more for fun – and language learning! Part of my future goals are being able to travel for work and/or work in international fields. I think this program really helped me start to get used to other countries and cultures.
Do you plan on participating in FSU's International Programs again in the future?
Yes, hands down! I would like to do it again. I did just recently apply for the Croatia Program, so fingers crossed. That program is studying and learning about the EU and NATO's impacts in Eastern European countries.
Do you have any advice for students who are thinking about studying abroad?
Do it. Just do it. It might seem scary at first. And it is pricey. You look at the options and ask yourself, "How am I going to pay for this? How is this going to fit into my academic plan? Is this even worth it?" But it is. Going on one of these trips is hands down one of the best experiences you'll ever have.
What advice would you give yourself if you could go back in time?
Don't be afraid to go places on your own. Yes, obviously be careful, there might be pickpockets. That can happen anywhere. But if you go out during the day and have a sense of where you are going, enjoy exploring on your own. You're in a foreign country with lots of things to do, so don't be afraid to just do that.
To learn more about Florida State's International Education Month events and information, visit: https://global.fsu.edu/iem
For more on International Programs and Opportunities, visit: https://international.fsu.edu/