Identity Across Continents: Dr. Nilay Özok-Gündoğan talked to Kendra Jade Evers
---
Identity Across Continents: Dr. Nilay Özok-Gündoğan talked to Kendra Jade Evers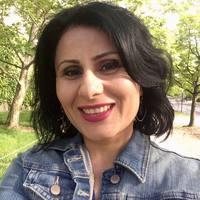 Dr. Özok-Gündoğan was "born to a Kurdish-Turkish family from Van, a city known for its huge lake and odd-eyed cats in eastern Turkey." She grew up in Izmir, Turkey, where she described her early education as a state-approved narrative that minimized the identities of non-Turkish citizens such as her own Kurdish people. The difference between what she learned at home and what she was told at school led her to see the problems in the Turkish education system. 
As she moved on in her studies, she experienced something of a culture shock. That culture shock revealed itself most when she returned to Turkey – not as a student but as a teacher. She found that many of the teaching methods she had built up during her time in the United States did not work in a Turkish setting as students were not expected to participate in their own education.  
Dr. Özok-Gündoğan loved being home, despite teaching twenty-four hours a week in topics such as English, Ottoman language, and also her specialties of Middle East Studies and Ottoman History. Unfortunately, the actions of the Turkish government led her to leave her home a second time, this time without much hope of returning. This, she says, led to the United States becoming her home.  
Academic Career 
Dr. Özok-Gündoğan first majored in political science and international relations at Bogazici University in Istanbul. She moved on to attend the rest of her school in the United States, receiving her Ph.D. at Binghamton University. She is completing her book, tentatively titled Venerable Friends, Formidable Enemies: Kurdish Nobles and the Ottoman State in the Long Nineteenth Century.    
Lessons Learned 
Dr. Özok-Gündoğan was raised in a nation that was attempting to control its own narrative, to erase the atrocities committed against entire people groups. Turkish nationalism colored the teaching of history; Armenians, Kurds, and other minorities were not acknowledged.  
When asked about her journey as a minority in every country that has served as her home, Dr. Özok-Gündoğan answered that she did not see her life as the experience of a minority - rather, "[being a minority] is not the major thing that defines my identity. My life and my experiences are more complex than that - and that's how I look at history." 
Congratulations
Just recently, Dr. Özok-Gündoğan was awarded the Stephen Risley Fellowship in the College of Arts and Sciences to help her with her next research project. As Dr. Özok-Gündoğan explains: "The title of my project is "War making, State making, and Mining: The Social History of the Keban-Ergani Mines in the Ottoman Empire, 1720-1830." My second book project provides the first comprehensive historical account of a mining area, the Keban-Ergani mines located on the eastern edge of the Ottoman Empire. Beginning in the 1720s, these mines, rich with copper, gold, and silver reserves, supplied the early modern Ottoman state's vital fiscal and military needs.
My book will be the first monograph in the English language on this specific mine area that became the lifeblood for two of the most important sectors of the Ottoman imperial state –the mint and the military – for over a century. The manuscript will provide a case study for comparative global histories of mining as a holistic enterprise that not only stood at the heart of the imperial economy but also shaped the lives of the local populations drastically."