Honors in the Major Project: "The Legacy of World War II Defense Bonds on Post-War Saving," Jacob Bloch and Dr. Kurt Piehler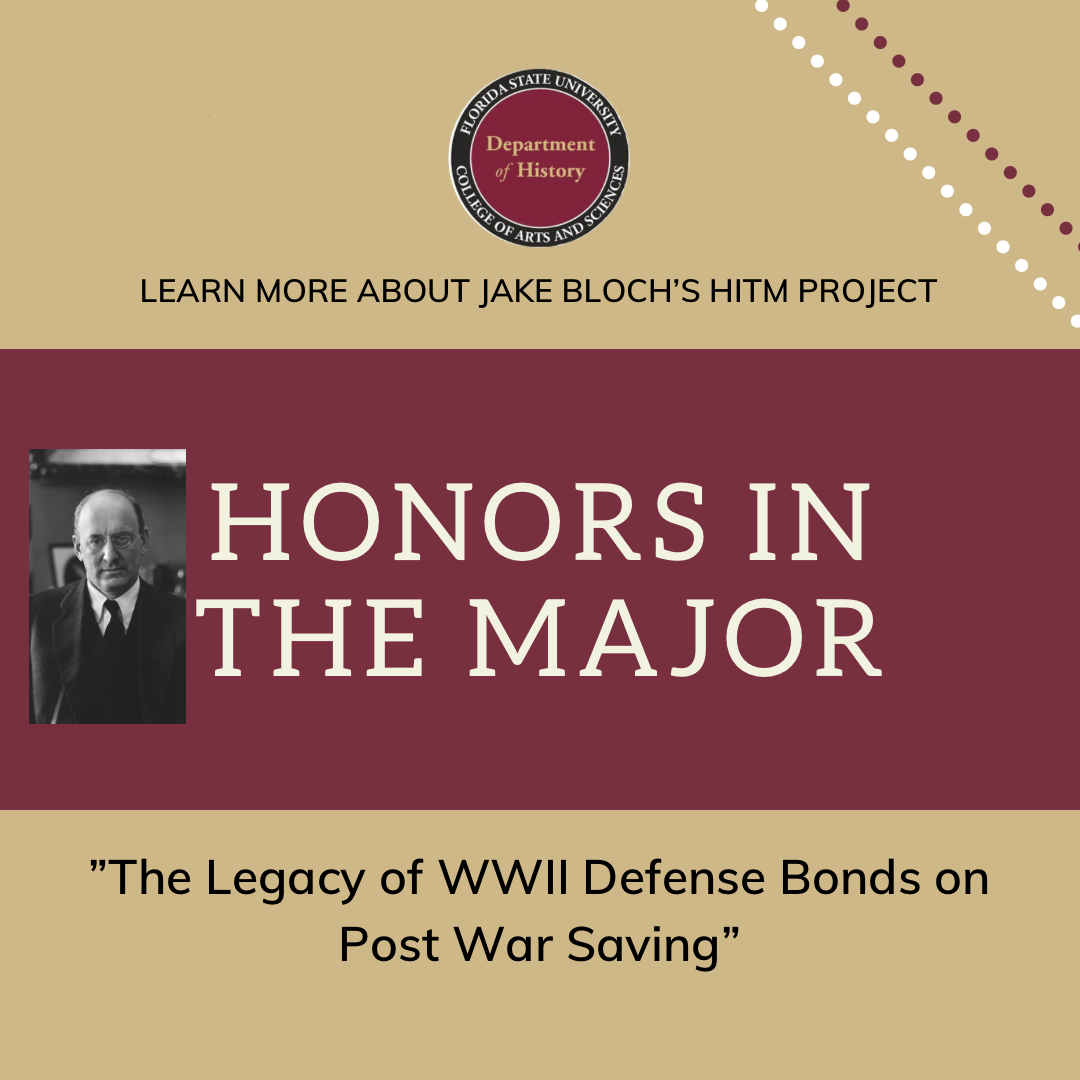 We've all missed out on something due to the Coronavirus Pandemic. A family vacation, a summer job, but what about the chance to study at Harvard over the summer? Jake was supposed to spend a couple weeks this past Summer poring over the archives of the Harvard Business School to do research for his History Honors in the Major (HITM) project. His thesis originally investigated how WWII helped small businesses such as Polaroid and Lehman Brothers become economic powerhouses. Due to the COVID-19 outbreak however, Harvard shut down and Jake had to shift his topic. Much of the research he was planning to do was with documents that had not yet been digitized, making it impossible to do the research from afar. However, his new topic is similarly interesting and pertains to his area of academic focus
Jake is now studying the influence that WWII savings bonds, in particular series E bonds, had on post war savings. As the United States was entering World War II, it was also going through the Great Depression. At the time the Secretary of Treasury was Henry Morgenthau. He worked with the Federal Reserve to create Series A-D bonds in 1935. Jake has found that these bonds worked as a way to help the American people save their money, invest it, and spread the newly created public debt. He further explained that Morgenthau was hoping to encourage the American public to save and invest through bonds during the war and even integrate the bonds into the long-term economic system. At the point of actually entering the war, the U.S. started issuing series E bonds to fund defense spending. The series E bonds continued to be issued until 1980 and took 20 years to mature. "I'm still looking into how effective this post-war saving was and whether Morgenthau's goal was met: if the American public, and not just wealthy investors and banks, would invest in bonds during an American economic boom, such as the 1950s," Jake explained.
His faculty advisor for the project is Dr. Piehler, with whom he had done the senior seminar the year before. Jake wants to enter the finance field after undergraduate. He is a senior history major who has enough credits to graduate early but is instead taking the year to prepare himself further for his future career through his HITM thesis. Jake believes, "History helps you to analyze and look into the deeper meaning of things, and economics helps you with numbers. So, I wanted to combine the two." He satisfied both of his passions when deciding on a research topic. Currently, the argument of his thesis is, "Henry Morgenthau, influenced by the New Deal and the failure of Liberty Bonds of World War I, created a new saving bonds program for the average American to become educated, invest, and more patriotic. This program had lasting effects on the savings and overall investment of average Americans during the postwar era."
 There is no doubt that the impossibility of collecting physical data this past summer was a disappointment. Dr. Piehler "really mourns" that Jake was unable to take advantage of such a great opportunity. Despite this bump in the road, Dr. Piehler has continued to work with Jake, helping him to adjust to the new COVID reality and find a superb new project that can be accomplished digitally. One of Jake's most useful sources thus far is Henry Morgenthau's diaries. These papers, digitized as a part of the FDR Library, provide him with great insight into Morganthau's thought processes. Another source he has found very helpful is a book called "Paying for a World War: The United States Financing of World War II" by Jarvis M. Morse. "This book provides in depth background and reasoning behind the bond program and why it was implemented, which has really helped me pick a direction and learn more about the war bond effort," he noted.
Time management has been Jake's biggest struggle so far in the research process. Though he has described the research process as "fun," he stresses the importance of self-discipline and structuring your timeline for research. But he knows that the challenge of writing a thesis, of being a full-time student with other classes, with other deadlines, is great training that will help ready him for what he lies ahead. 
Jake gives 3 main pieces of advice to students considering doing an HITM project. 1) focus on that tricky time management. He suggests allowing yourself the whole summer before your senior year to research. You will likely not have other classes going on, so can devote your full attention to research. 2) find a topic you are interested in. "It is a lot easier to write a thesis on something you're interested in versus two pages of something you are not," he says. 3) pick the right advisor for the project, "Make sure your advisor is someone you can talk to connect with and reach out too." It is clear he and Dr. Piehler have a strong relationship. This is crucial to the success of your project.
The process of creating an Honors in the Major thesis is often long and grueling. Add a pandemic to the mix, and things get even more complicated. Despite the circumstances, with the support of Dr. Piehler, Jake Bloch is creating a great project. A project that will teach him invaluable lessons about research and help him stand out as he applies for jobs in the finance field.