Honors in the Major project: Ethan Dubroff on "Choosing Sides: Why America Joined the Allies In World War I"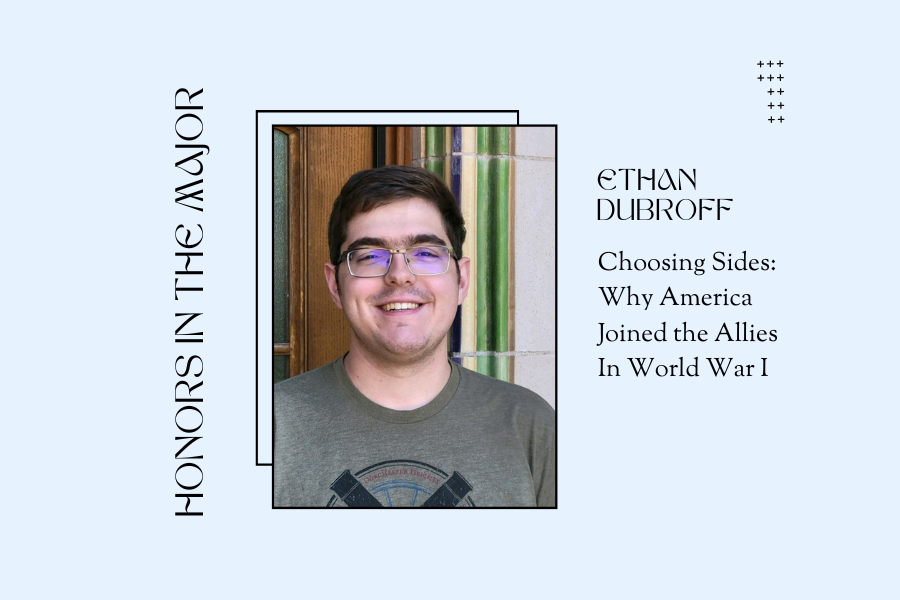 In my project, I ask why the United States ultimately joined the Allies instead of the Central Powers. My focus was on the perceptions that America and Americans held concerning the combatant nations, as well as how these perceptions changed and evolved during the course of the war, ultimately leading to US entry on the side of the Allies. In the end, the Allies maintained a good reputation among most Americans, while the Central Powers – especially Germany – grew to fill the position of an adversary to the United States, to the point that most Americans viewed Imperial Germany as being the greatest threat to American democracy in that age.
Can you describe some of the initial steps involved in deciding to pursue an Honors in the Major project? 
Since I hope to pursue my masters and possible PhD, I knew I wanted to participate in the Honors in the Major program so I could get more experience with larger research projects and thesis defense, but I really didn't know where to start.
How did you decide on your research topic? 
I actually had some trouble thinking about what topic/subject I wanted to research originally. I asked my advisor for recommendations, and one suggestion was looking into something with the French. I then came up with the idea of the American and French relations during World War I, but as I was researching, my topic grew and expanded, and I ended up focusing on how American perceptions of the Central Powers, Allies, and America's position in the wider world influenced our entry into WWI.
How did you choose your advisor?
A couple of semesters before I was planning to begin HITM, I was considering a few different professors to ask to advise me for my project. At the time I happened to be enrolled in my senior seminar with Dr. Blaufarb. We were supposed to be meeting with him one-on-one to discuss our papers for the class, but instead we discussed Honors in the Major, and at the end of the meeting I had my advisor. At this point, I'd had three classes with Dr. Blaufarb, and I'd enjoyed each one...and he knew my work. He gave me some advice on how to get started and we discussed possible topics as I had no idea where to start.
Did your conversations with your advisor lead to any changes or revisions to your research topic?
Early in my research semester I kept in touch with Dr. B as my research was progressing, and we discussed how my topic could expand and the direction I was drifting. Overtime, my topic changed from a study of how the connections America had with the French influenced our entry into World War I, then the German and French connection, and finally to how America's perceptions of the combatants affected their ultimate decision.
What sources are you using for your project?
I used an assortment of both primary and secondary sources for my research. Most of the primary sources I'm using are actual manuscripts and records of Congress from that time-period. Other than those, I've mostly used secondary source texts.
Were you nervous to take "the leap" on such a big project?
Yes. Absolutely. It was kind of scary, but I decided to do it anyway. I'd never done anything this large before, and while I had the guidance of my advisor, it was mostly self-directed work. It definitely got easier once I got to writing, but a full semester plus summer break of research really helped.
How do you stay on top of things? How often do you work on your project? Meet with your advisor?
I work on my project around four to five days a week. During the first semester I would carve out a few hours a day to dedicate to research and outlining. Now that I'm in my defense semester I try to write a few pages a day. I give myself deadlines to help stay on top of things, as that helps me remember to keep on working. I've had a few meetings/zoom sessions with my advisor throughout, but I try to send copies of my progress from time to time, just to make sure I'm still on the right track and for suggestions and advice
Do you find it challenging to balance your Honors in the Major project along with your other classes?
Sometimes, definitely. It can get hectic when multiple assignments are due in a week, but that's where a schedule of sorts has been a huge help.
What role did your mentor play? Your committee?
My mentor played the role of an advisor, helping me understand what I needed to do, giving advice on my research by suggesting avenues I could explore and places to look, as well as helping me figure out my path forward and what is expected along the way. My committee also helped me early on by recommending sources that I could use.
Overall, would you say the process of completing your project is more fun or stressful? How do you deal with some of the stressful moments that arise in the research process?
Overall, I'd say that it has been more fun than stressful, but having my work reviewed is definitely a bit nerve wracking – what if it's not good enough? What if I have to rewrite twenty pages?! I dealt with these stressful moments by sending my draft to my advisor periodically so I could be sure I was on the right track. Also, checking through my document and re-reading it again and again before submitting helped me to smooth out any trouble spots. Nothing is so rewarding as hearing back from your advisor that your paper is good as is!
How do you think completing an Honors in the Major project will help you in 5 years? 10 years?
What I've learned will greatly help me in the future, as it has provided me with a strong foundation for the work ahead of me as I pursue my master's degree and potentially my doctorate. Beyond just my future academic goals, however, this project helped me improve my research abilities as well as my time management – not to mention the good work habits I picked up along the way.
What goals did you have in mind when you initially set out to complete this project? Have they changed at all during the course of your research?
My initial goal was to see what was waiting for me if I continued in the study of history and what an advanced degree would require of me. My goal never really changed, but I really have a much greater appreciation for the amount of work and organization it takes to produce even a fifty-page thesis.
What advice would you give to students currently contemplating an Honors in the Major project?
Research early and use any time you have to get ahead. Maybe start the project in the fall, that way you have all of Fall, all of Summer, and all of Spring to finish the project. Also check in with your advisor often!
If you were to start your Honors in the Major project over today, what would you do differently?
I'd utilize more of the resources that are available to us on campus. I'd first talk to Adam Beauchamp (the History department's research librarian) at the Strozier library for advice on finding sources, and I'd schedule more meetings with the writing center for help with tricky citations or wordsmithing. I would probably also improve my work schedule and visit the library often to help me focus on working (study rooms are great!). Finally, I'd make better use of that summer between my prospectus and defense semesters!