History Major Spotlight: Anne Tirrell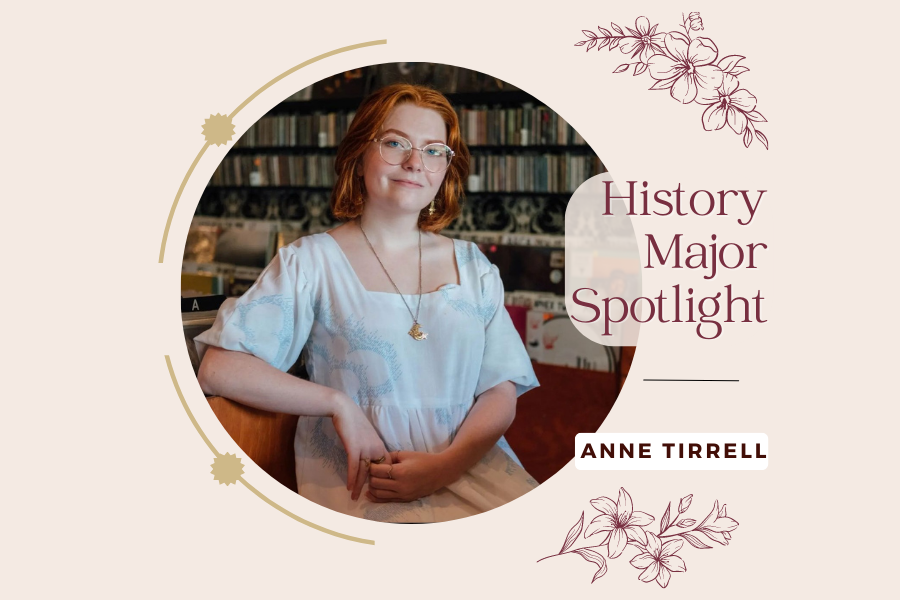 History Major Spotlight: Anne Tirrell
Hi, I am Anne, and I am a senior studying Political Science and History. I have been interested in history all my life- my grandfather was a history teacher, and built a culture of curiosity that led me to want to examine the "why"s of the world through historical analysis. I love collecting vintage tchotchkes, and I enjoy thrifting, upcycling, hikes, and karaoke with my friends at the Bark. I have a sizable record collection of classic rock and indie music (I was recently given a first pressing of Let It Be that I'm very excited to listen to). I also love baseball in the same way that a flower might love the sun.
What is your favorite period of history?
My favorite period of time to study is the latter half of the 20th century, concentrating on American perspectives. Topics I tend to enjoy interrogating include the evolutions and perceptions of politics, popular culture, film, music, and sports.
How is history at the university level different from high school?
History at the university level asks much more of its students than at the high school level. The latter often asks students to memorize, but the former asks its students to interrogate everything they encounter. Seeing the sinews of the world as interwoven in a way that everyone can interpret differently, rather than a series of facts and rote recitation, made history so much more personal than it had been before, and drove me to study the topic more deeply.
What is your second major?
My second major is Political Science. As one of the areas I focus on is political history, I find having a working knowledge of political theory helps to better put certain decisions into their respective contexts. It, along with my historical studies, has helped me to gain a deftness with research that will assist me with my eventual goal of becoming an archivist or librarian.
What made you choose to come to Florida State University?
I chose Florida State primarily because of its location. I wanted to study at a place where I'd be close to home, but I would have the opportunity to learn how to be my own person beyond the confines of my childhood home. The campus is also absolutely beautiful to explore- especially in the spring, when everything comes alive, and in the fall, when the world is just beginning to breathe its last.
What internships or volunteering activities have you done so far?
I volunteer at a variety of organizations on campus; I spend most of my time helping out at the Askew Student Life Cinema. I've also recently been getting more involved with FSU Sustainable Campus and their events. Getting involved and helping facilitate learning and appreciation of everything from film to the environment helps me to feel more connected to the community as a whole.
My internship, which involves open-source intel aggregation and analysis at the DIAL Lab, helps me to utilize the writing and research skills I've honed through my experience with the History Department and apply them to reports that have a real-world impact on policy and decision making.
Are you involved with any clubs?
I am most active with the ASLC. I love both film and film analysis, and I gain a deeper appreciation for many of the films we show through an understanding of the historical contexts they were made in. For example, we voted to show "Dr. Strangelove, or How I Learned to Stop Worrying and Love the Bomb" (1964), a Stanley Kubrick classic, and knowing it was made in the midst of Cold War era nuclear anxieties makes the humor land all the better. Films about major historical events also help to both educate and entertain, presenting potential collaborative opportunities with organizations such as the History Club, and spreading a deep-seated appreciation for history to the general student body.
What was the best thing about coming to FSU and being a History major?
By far the best thing about coming to FSU have been the friends I have been able to make while here. They've encouraged me to be the best version of myself.
The opportunity to know and work with like-minded friends and peers in the History Department, with whom I can both share my research and passions and learn from in turn, is something I am incredibly privileged to have. The vast amount of support and resources that stem from the History Department have been invaluable to me, helping my work- and my confidence in it- to blossom to its full, beautiful potential.
What advice would you give to students coming to FSU?
When living on my own, the single hardest- the most rewarding thing- thing I had to learn to do is to approach people as myself. The right people will enjoy you for you.
Never be afraid to take a chance on yourself. If you see an opportunity to grab your comfort zone by its seams and tear it apart- grab it tight and pull.
What would you do differently if you could go back in time?
I would take more time to study the things I truly cared about and take advantage of the resources available at FSU, rather than letting opportunities pass me by due to time constraints or lack of confidence in my work. I would also make more time for being with my friends, and enjoying the moments of nothing I hold so dear now.
And finally, how do you know about things to do at FSU?
I find things to do by walking a lot. I put music on my IPod and wander and see what I can discover, whether that be posters for events or seeing people gathered on Landis. Most of the enriching things I have done required me to take a chance on something I'd vaguely heard about, or garner the bravery to talk to people I admired at events or in classes. There are so many like-minded people who want to learn and grow like you do- all you have to do is meet them.