Historian Ryan André Brasseaux delivers FSU's 2021 James P. Jones Distinguished Lecture in American History
---
Historian Ryan André Brasseaux delivers FSU's 2021 James P. Jones Distinguished Lecture in American History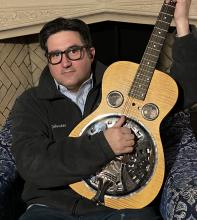 The Department of History at Florida State University is pleased to announce Ryan André Brasseaux, dean of Davenport College at Yale University, will deliver the 2021 James P. Jones Distinguished Lecture in American History.
Brasseaux will present, "Louisiana Saturday Night: Representing Cajun Music in America after World War II," which explores the development of Cajun musical experience as the genre spread across the U.S., at 3 p.m., Friday, March 26, 2021.
Brasseaux earned a B.A. in anthropology from the University of Louisiana at Lafayette and an M.A. in anthropology from Louisiana State University before going on to complete a doctorate in American studies from Yale University. He specializes in vernacular American music, culture and politics in French North-America, and public humanities, and has written extensively on the history of Cajun music and on the history of Francophone North America. He is a frequent collaborator, performer, producer, and liner-note contributor for the Grammy Award-winning Cajun band, Lost Bayou Ramblers. He is the author of over forty articles, encyclopedia entries, and book reviews, and three books, including the Oxford University Press title, "Cajun Breakdown: The Emergence of an American-Made Music." Brasseaux's latest book, "French North America in the Shadows of Conquest," was published by Routledge in 2021.  
"Louisiana Saturday Night" traces the distinct musical paths forged by folk revivalist Dewey Balfa, cosmic Cajun Doug Kershaw, and Creedence Clearwater Revival during the 1960s as they interpreted the Cajun experience for a national audience. Each act embodied three cultural impulses that shaped the way audiences consumed the genre following World War II: musicians who recalibrated and rejuvenated the genre at the local level; homegrown performers who transcended the confines of French Louisiana to translate Cajun culture for a national audience; and musical outsiders who imprinted an imagined Cajun culture in America's national songbook. 
About the lecture series
The James P. Jones Distinguished Lecture in American History is an annual event that connects a prominent scholar of U.S. history with FSU audiences and honors the memory of Jim Jones, beloved teacher and scholar in the Department of History who served the university for 57 years.