Working for Urban Archaeology Corps: An Interview with Toby Cherry (BS 2022)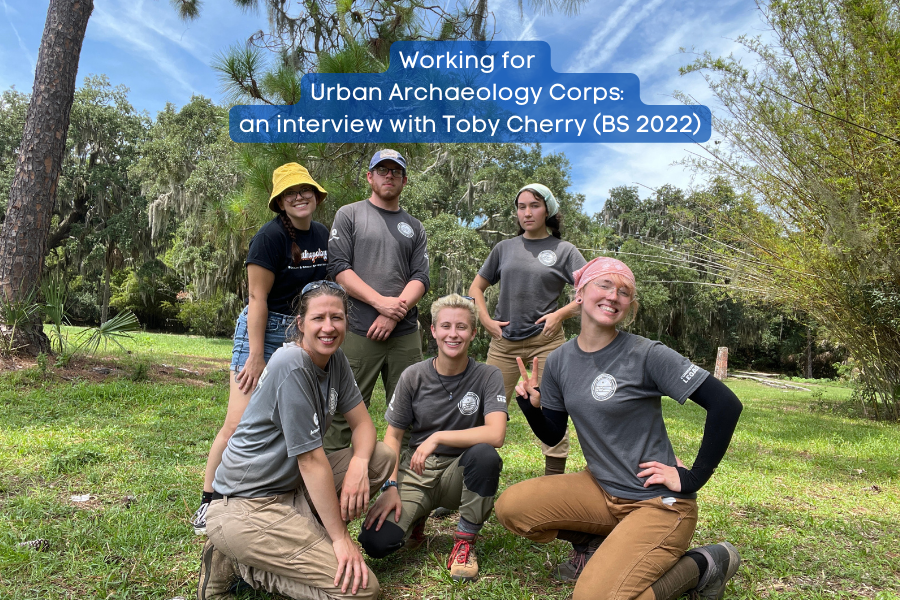 I graduated from Florida State University in Spring 2022 with a Bachelor of Science in Interdisciplinary Social Sciences and Anthropology and a minor in History. Currently, I'm working as a Staff Archaeologist at PaleoWest in Tallahassee, Florida.
Graduation was looming and I hadn't figured out what I was doing afterwards. Every day was generally the same: class, studying, and endless hours on job boards. LinkedIn ended up being my best friend in the hunt; I updated my profile and followed non-profits, museums, and governmental agencies related to history, anthropology, and conservation. I must have sent out hundreds of applications and heard back from very few despite my experience and education. In my search, I found an organization called Southeast Conservation Corps, a non-profit affiliate with AmeriCorps, which was hiring for the Urban Archaeology Corps. I quickly applied. Before I knew it, I'd interviewed and been accepted.
The project was on Cumberland Island National Seashore (CUIS) in Georgia. Our crew of eight worked and lived together in housing provided by the National Park Service for two months – with hardly any cell service and no Wi-Fi. During the weekdays, we drove an old van 30 minutes down rickety dirty roads to our site at Old House Creek, where we began the aptly named Old House Creek Project. We were supervised and trained by Michael Seibert, the Chief of Resource Management for CUIS and fellow FSU alumnus. Our training consisted of Michael showing us how to map our grid and perform a shovel test that was compliant with state and federal laws – 30 cm across, 100 cm down, and circular (not square!). Section 106 compliance is essential in archaeological investigations. We mapped and plotted our grid by hand, which spanned about two football fields, before setting off to start the Phase I investigation. Though instead of the manicured field at Doak Campbell, we were in nearly untouched woods, complete with spiders, armadillos, and thick patches of palmettos that we fought through only to find palmetto roots as thick as my arm in the middle of shovel test pits.
After being sent to an isolated island to do manual labor for two months with seven strangers, scarce access to my loved ones at home, and our singular monthly trip to the mainland, I was surprised by my adaptability. It sounds like a modern nightmare, but instead, it was a dream. For the first time in a long time, I had the opportunity to slow down to enjoy what I was doing and where I was at. There were no looming deadlines, upcoming quizzes, or discussion posts that I forgot about until the day after it was due. I wasn't able to mindlessly scroll through Instagram or binge watch Bridgerton. Instead, I filled my time by exploring the island with my newfound friends. The highlights of Cumberland Island were visiting the ruins and learning the island's vast history, taking the 15-minute walk to the beach to either swim during the day or witness the unlimited stars in the night sky, and reading at the dock while fearful little crabs and inquisitive raccoons wandered around. Collectively, we all loved watching the feral horses that ruled the island, even naming our favorites – I'm looking at you, Iago and Stephanie!
My ability to connect on the island was a blessing, but it was brought by my biggest challenge on the island. The lack of cell service meant little contact with my friends and family. I went from seeing them consistently and being easily connected to them to having calls drop while standing still in a spot where I'd just had three bars of service. It was tough and painful being away from my loved ones and missing out on all of the summer happenings, instead working long days while dodging mosquitos as best as I could. It was manageable, thanks to the seven strangers on the crew that became fast friends and confidants. We were bonded by our shared interests and our shared feelings towards the whole internship. We became each other's support systems during our daily chats on the dock. It was a temporary discomfort that was fully worth it.
In the end, it was the most rewarding way I could've spent my summer. We had amazing finds, including a quartz projectile point, a tabby wall, and so many bags of potsherds. The internship gave me the fieldwork experience I needed to get started in my career, but it also gave me amazing friends. I gained confidence in my tenacity and abilities while seeing my education in action. All of this while living on a mystical island, with more magical moments than I could explain. If I could, I would tell my past self that if I can survive Cumberland Island, I can survive anything! It's not a role, or a place, for the faint of heart. It's arduous work in the Georgia heat, in the middle of the woods, while wearing thick cargo pants that only somewhat mitigate getting scrapes, scratches, and thorns. Not to mention the many critters in the woods, from boars to bobcats, but the worst being the ticks. Occupational hazard though, right? Yet if you persevere, you'll have the adventure of a lifetime.
I credit this internship as my first step into my career. In the middle of the internship, I received a call from my now-boss about my application for a position as an On-Call Archaeology Field Technician. Within our 30-minute call, I was offered and accepted the position. Soon after starting, I was promoted to a full-time role as a Staff Archaeologist. Without the fieldwork I did during this internship, I wouldn't have the necessary experience to be an archaeologist. Thanks to this internship, my education, support from amazing professors, and a lot of hard work, I've been able to establish myself in my career field.