Working for FSView: an Interview with Gianna Formica
---
Working for FSView: an Interview with Gianna Formica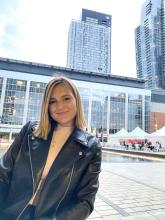 Current social media intern Gianna Formica is majoring in Social Science Education with a minor in French. Having a passion for writing since she was in high school, she plans to focus on journalism in graduate school. She has been writing for FSView since early 2021.
What got you interested in writing for FSView?
I worked for several different publications on campus until I found my place at FSView. I started my time at FSU thinking I wanted to be a social science teacher in school, but slowly came to realize that I wanted to educate a broader public through my writing instead. I saw a notice that the Arts and Culture section of FSView was looking for writers, and I went for it. That was nine months ago, and I am going to continue writing for them until I graduate.
How do you get an article published?
FSView is divided into four sections, News, Sports, Arts and Culture, and Views, which is op-eds. I am very much into cultural history, so writing for Arts and Culture works great for me. The team meets once a week with our section's editor, and that's when we make our pitches and divide up the different topics we are going to work on for the week. Submission deadline to our section editor is Friday afternoon, and once it has been reviewed and approved by the editor-in-chief, it will appear in FSView online on Sunday, and in the print edition on Monday.
What do you tend to write on?
My team members have all different interests, so that there is very little competition to cover the same events or things. Some of them specialize in video game reviews. I prefer reporting on movies and plays. We cover music, cultural moments – both on campus and in the wider world. I went to see 'Spencer' when it came out on Thursday, even though it meant I had to work through the night to have my writeup ready for Friday's deadline to get published right away. Normally, I have more time for assignments.
Our section editor, Emily, is a Warner Bros. Ambassador for FSU. That means that she has been able to set us up to interview a range of movie stars. That has been so fantastic. Last semester, I covered the movie 'In The Heights.' I got to talk to Lin-Manuel Miranda whom I have admired since I was 15! The fact that Emily is an ambassador has opened up opportunities for me to interact with famous actors. That's exciting.
How did Covid affect your working for FSView?
Some of the most difficult moments were during Covid when we were all remote. It was hard to find events on campus to cover for FSView. We had to find things to write about when not that much was happening. Our remit is to cover campus and also Tallahassee, so that students know what is going on in town. Now that we are back in person, there are so many things going on all the time, that it is not difficult to find topics to write on.
How has the experience helped you with your writing?
Working for FSView has allowed me to grow as a writer. I am amazed how much better and more confident I have got. Our articles are at least 550 words long, and I have learned to draw the reader in and hook them to read my whole piece. It is important to write concisely, clearly, and to the point. All our articles need to be timely and relevant. But there should also be a little spice to our writeups! Normally it takes me about four to five hours to complete my weekly story. For every article that we get printed, we are paid $10 – but not every article gets selected.
What advice would you give to other students?
My advice to other students who like writing is: get involved with one of the campus publications. I wrote for HerCampus before I started at FSView, and I am glad for the experience. This is a great way to be part of the FSU community and to give back to it. I want to make other students aware of all the fun cultural events going on around campus, and I enjoy working with the other team members and my editor. I want to urge every student on campus to read FSView: if you want to know what is going on around you, pick up a paper copy, log in to the online version – don't miss out!