What's it like to Teach for America? Del Herman (BA History and Philosophy 2019)
---
What's it like to Teach for America? Del Herman (BA History and Philosophy 2019)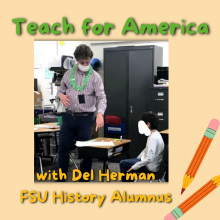 Del Herman is an FSU alumnus who is currently teaching in an Orange county elementary school as part of the Teach for America program. Del graduated from FSU in 2019 with a Bachelor of Arts in Philosophy and History and served as a resident assistant (RA) for three years. Del hadn't planned on teaching third graders during a pandemic, but through this experience, he's found his unsuspected passion for K-12 education.
What is Teach for America?
Teach for America is a two-year program where people who are generally not Education majors (and mostly early 20-somethings fresh out of college) are recruited to become teachers in lower income public or charter schools all around the country.  I often compare it with the Peace Corps. Even the person who founded Teach for America, Wendy Kopp, got the idea after studying the Peace Corps for her senior thesis at Princeton, in which she proposed the idea of the program. The idea is that you teach for two years and then after those two years, you will take your experiences as a teacher and activist out into your further career and will continue to work until One Day when educational inequity, a rampant problem in our country, no longer exists.
How did you find out about Teach for America?
I first learned about it from another RA, who was working with one of the recruiters in the North Florida area. At that time, I was still in between going to graduate school for history and doing Teach for America. In the end, it was my aunt and uncle who convinced me to do Teach for America.
What's it like to do Teach for America?
It's very difficult. It was really challenging for me because I had never had a "real" job before, only as an RA, and that's nothing like being a teacher in a Title 1 elementary school. And at that time, I still didn't really know what I wanted to do with my life, so I was a little lost when I came into Teach for America. I found my first year very challenging with learning how to teach young kids and especially with classroom management—it was very, very hard. But my second year has been really good. I've improved a lot and am enjoying it a lot more, and I feel like I've found my footing. Still, overall, it's very challenging work but it's a great experience to work with students who really need it and be a part of the amazing cause of fighting educational inequity. I'm glad I got this opportunity to look at education through this equity-centered lens. It's given me a unique vision of what teaching and school ought to look like.
Do you get to request where you want to go and teach? Or is it a random assignment?
That's actually an interesting story. I was thinking of doing graduate school in history for a while, but I just didn't really want to be in academia since it wasn't really calling to me at that time. So, I found Teach for America and applied late. The later you apply, the fewer regions are available. So yes, they let you pick your regions, but it's based on the regions' need as well. Then, they place you there and the school district itself hires you, but only if you pass the certification test. I was originally assigned to teach high school social studies in Mississippi, but I was able to convince my recruiter to get me a position in Orlando. The interesting thing about that was I had signed up to be a high school social studies teacher since that was what I studied in college, but the only thing they had in Orlando was elementary, so I stumbled onto elementary education completely by accident.
So, what's the training like? I know you have a degree in philosophy and history, so what was that like training to teach general education?
They have something called "Institute," which is five weeks where you do sessions where you basically learn how to teach, and you teach summer school. So, you teach summer school one day, and then sessions the next day. Sessions might be on something like classroom management or how to teach reading. It was five weeks long, Monday through Friday. But even with this training, it took me an entire year to really learn how to teach young kids.
Because I majored in philosophy, which is the most abstract subject out there, it was a real adjustment going into elementary education where everything has to be very concrete. With young kids, you have to make all instruction very hands-on because they don't have much abstract thinking yet. For example, when we were teaching fractions, I know in my mind that ¼ is less than ½, but they have to get out fraction tiles and actually see/test it to figure that out.
Why did you decide to do Teach for America?
I wanted to make an impact on the world. I had always been a very scholarly person who was very interested in learning and ideas, but another side of myself always wanted to make an impact on the world by changing lives and being part of the bigger picture. Teaching was a natural calling for me because I love learning so much, so that combination led me to Teach for America.
What's something that surprised/challenged you? An obstacle you had to overcome?
I don't think people appreciate how hard it is to teach in a K-12 school. There's a lot expected of you, there's pressure from administrators and parents, and of course it can be very challenging to lead students to success—it's difficult and it requires a lot of stamina, commitment, and training to become good at it.
In what ways have you changed since you started Teach for America?
This experience has made me so much more mature and has exposed me to realities I never imagined. I grew up in a suburb of Orlando, and never experienced poverty. Yet, right now, I have several houseless students in my class. That's not something I had ever experienced before, so to see that so many people live in poverty in our country, the wealthiest in the world, was really a revealing experience.
On a personal level, I think it made me so much more mature because it was such a big challenge and it forced me to live up to it. It also allowed me to find a career because after my first year, I realized this is what I want to do with my life, and it gave me a sense of purpose.
How did your university training help you prepare?
Being an RA definitely helped by preparing me to build relationships, and a lot of teaching is just that. History helped because a lot of the educational inequity that we have in our society are due to historical reasons, inequalities that have existed since the founding of the country. Philosophy, on the other hand, has helped me a lot because it gave me a perspective on what education means. We spend billions on education, have millions of teachers in this country, and we have tons of schools, but we don't spend much time asking ourselves what the point of education is. Why do we do it in the first place? What's important in education? What does a true education consist of? My background in philosophy helped me to think about those questions in a deeper way and create a better classroom environment for my students, even at the third-grade level.
What would you have liked to know before joining Teach for America? What would you tell your undergraduate self?
I would've liked to know how truly difficult it is. Being a teacher is not easy, so I would've liked to know how much commitment it would take, and how hard this work would actually be. I was very naïve going into it.
I think one of my biggest problems in my first year was when something would go wrong, I would feel sorry for myself. So, I would want to tell my undergrad self to not do that but to push through to get the job done. Feeling sorry for yourself doesn't get the job done, and I think if I had stopped that much earlier, I could have been much more successful in my first year with my students.
What do you want to do next after Teach for America?
I plan to continue teaching in Orange County in elementary for several more years because I really do enjoy it. It's definitely not what I would've envisioned for myself a few years ago. I think if somebody would've told me a few years ago that I would be an elementary school teacher, I would've looked at them like they had two heads. I feel like I can do a lot of good through it though, and it brings a lot of purpose to my life. After my elementary career, I'm hoping to move to secondary education, probably as a social studies teacher, but maybe reading or English. I'm hoping to finish my career as a high school AP social studies teacher and spend around 20-25 years in teaching. Hopefully after that I'll make my way to being an instructional coach and then an assistant principal or principal.
Do you have any advice for undergraduate students?
Make the most of your college experience as a student and as a human being: Dive headfirst into your classes. Study what you love. Make that friend. Go on that date. Try new things. Join that club. Being practical and forward looking is important, but don't worry too much about the future: you'll land somewhere. Just enjoy those years because you don't get them back and there is nothing quite like them. Carpe diem to the max!