What's it like to be a Peace Corps volunteer? Branden Johnson, Nepal 2019-2020
---
What's it like to be a Peace Corps volunteer? Branden Johnson, Nepal 2019-2020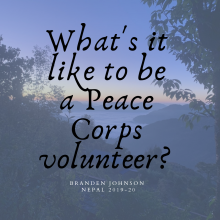 I joined the Peace Corps back in 2018. I departed for Nepal in January 2019 with the intention of spending 27 months teaching English in a little village named Aruchaur in the midwestern part of the country. It was a bit of a shock adjusting to a life without Wi-Fi, washing machines, or hot water, but I was doing reasonably well until the pandemic hit. Unfortunately, because of COVID-19, the entire Peace Corps was suspended globally, and I was sent home in March 2020. I often catch myself asking what the chances were that a once-in-a-century global pandemic would strike right in the middle of my service abroad, but what can you do.
I spent five years at FSU studying international affairs and taking a lot of history classes for both my BA and MA, as I'm nothing if not consistent. I applied for the Peace Corps in March 2018, but I wasn't officially hired until June. After submitting fingerprints and undergoing a battery of medical tests, I received the necessary legal and medical clearances in late 2018 for a January 2019 departure date. My official title was English Education Volunteer. After three months of training, I essentially became a staff member at the school in my assigned village, assisting local teachers in two classes and teaching two other classes myself with the help of a local teacher whose help I greatly appreciated because my Nepali skills were about as minimal as my students' English skills.
I think my stay went reasonably well. It was sort of an uphill battle as it was up to me teach 150 students and I was never really able to master the Nepali language, but I do think I got through to some of my kids. Eating rice and lentils for every meal every day took a bit of a toll on my sanity but after a while I got used to it. My village was carved right into the side of a valley in the Syangja district and an extremely long, steep stone staircase separated my house from the school. Going up and down those stairs six days a week was tough, but it did wonders for my calves.
We were warned about a lot of things that would be different when we arrived in Nepal, and yet there were so many things that did not feel real until experienced firsthand. Squat toilets struck me as completely unintuitive at first, but by the end I was a pro. I think the main thing that I found surprising was how nice most people were. Everyone seemed eager to share their culture and learn about America. Outside of a few sketchy side streets in the cities, I rarely felt unsafe in Nepal.
Without a doubt, the most challenging aspect of life in Nepal was the six-day work week. My one day off was always gobbled up by laundry and other chores and then it was back to work the next day. With the timing of the bus schedules, it wasn't possible to get to the nearest city (Pokhara) where all the amenities were located and return in the same day. I could only ever get away on holidays, although sneaking off on a flight to Delhi during a school holiday for $70 was a blast. I also had a lot of fun teaching the kids how to play American games; there is now a village in Nepal filled with children who are UNO masters.
Ultimately, working in Nepal made painfully obvious to me the extent to which we live in what is, to many people in the world, unimaginable luxury. I own a modern car and live in an insulated home with Wi-fi, hot and cold running water, a washer and dryer, air conditioning, a refrigerator, and multiple televisions. When I returned to America, I was paid a readjustment allowance from the Peace Corps roughly equal to what a teacher in Nepal makes in two years. And yet I would consider myself to be firmly in the middle class and by no means wealthy.
Going to the grocery store for the first time when I got back was a massive shock. I walked around for a long time and then left without buying anything because there were so many options to choose from that I couldn't make a decision. The bombardment of news on TV and the Internet was headache-inducing. The fact that I returned to an America very different from the one I left in 2019 made everything even more surreal. And I have no idea what to say when people thank me for my service, which happens with surprising frequency. I thought that was an honor reserved for the military.
I'm back to living with my parents. Just when I thought I'd finally escaped and become a functioning adult. Right now, the plan is to get a job in the D.C. area and move in with my buddy from the Peace Corps sometime after the election. I've applied to a lot of federal jobs and not heard anything back, but I also haven't been explicitly rejected from any of these positions, so I haven't given up hope. Life is feeling very dull right now, and I suspect it will only get duller when the second wave of the pandemic hits in the fall. But then I remember that I have the option of eating something other than dhaal baat for dinner and suddenly feel like life isn't so bad.
Branden Johnson
MA 2018, FSU