The UROP Experience at FSU History: Working on a website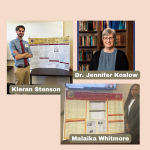 Malaika Whitmore and Kieran Stenson both participated in the UROP project centered on the website 'The History of Race Relations Tallahassee,' designed by Dr. Jennifer Koslow. The website contains both exhibits and archival material for people to explore the history of Florida State University and race relations in Tallahassee.
Inspired by the letter of the Black Faculty to Black students written in the summer of 2020 in the wake of George Floyd's murder and resultant protests, faculty, staff, and students from Florida State University's History Department and Libraries pooled their talents to develop this public resource. Faculty and staff worked on collecting, preserving, and interpreting the history of civil rights in some capacity prior to working specifically on FSU and Tallahassee's history.
Both Kieran and Malaika each were put in charge of reading through one year of the Florida Flambeau. Whenever they found relevant materials, they shared them in a google document. Throughout the semester, students and mentor met every other week to talk about their findings. The training involved thinking about ways in which ideas about race relations appeared in the newspaper both in articles, letters to the editor, and advertisements.
Dr. Koslow also taught the students how to use Omeka, an online publishing platform created by computer scientists, archivists, and historians. This allowed Kieran and Malaika to enter their materials into the website directly.
Dr. Koslow has worked with UROP students since 2011. Previous projects have focused on Smokey Hollow, an African-American community in Tallahassee. This is the second group of UROP students that worked on the HRRT project.
Tell us about yourself!
Kieran: My major is History. I've been interested in history for a long time, and I love the human stories that can be found in the past. Understanding history also helps me appreciate and comprehend the world we live in today. 
Malaika: My major is biochemistry and my interest in history comes from wanting to understand the reasons for present day relations.
How did you find out about UROP and what made you apply?
Kieran: I found out about UROP by stumbling across its page on the FSU website. I wanted to apply because the opportunity to work on a research project, while still an undergraduate seemed like a very valuable and unique experience.
Malaika: I found out about UROP through an FSU newsletter through my process of transferring schools. I wanted the opportunity to expose myself to different disciplines and gain knowledge to apply to wherever my career leads me.
What is your project about?
Kieran: The project generally is about building an online archive of race-related artifacts and primary sources from Florida State's and Tallahassee's history. I examined the student newspaper for 1962, which was the year FSU formally integrated. My UROP poster project specifically was about how Florida State students responded to the University of Mississippi race riots in 1962, and what this can tell us about FSU student attitudes and beliefs at the time. I received some training from Dr. Koslow about how to analyze, index, and upload artifacts I found to our website. While there are other students and faculty working on the project, I did my research alone.  
Malaika: The project is about this history between FSU students and the rest of Tallahassee when it came to racial relations. My task was to read every issue of the student newspaper for a year and look for discussions about civil rights activities both on campus and in the community. I specifically investigated the year of 1963, which was the year after FSU formally integrated. While there were other students working on the project, we all focused on a different year.
Why did you select this project?
Kieran: I wanted to work on the History of Race Relations Tallahassee project with Dr. Koslow because I have learned to appreciate the value of archives and easy access to historical resources as a researcher—so the chance to help build an online archive while also learning about local history seemed like a great opportunity.  
What type of research are you doing? And do you want to continue doing research?  
Kieran: The research I did for this project was a mix of qualitative and quantitative—and generally revolved around finding, cataloging, and analyzing sources. I want to continue doing research because it offers many academic and professional benefits.  
Malaika: Historical archiving. I do want to continue doing research in the future because it's been eye-opening to all the information waiting to be compiled and shared with others.
What was the most challenging part of the UROP project?  
Kieran: The most challenging part of my project was managing my time while also working on other commitments like my classes and internship.  
Malaika: The most challenging part of UROP was personal time management and a lot of unforeseen life events.
 What is your favorite part about the UROP experience?  
Kieran: I love how UROP forces you to abandon your comfort zone and try things that are new or challenging. Having been a part of UROP for two semesters now, I feel a lot of pride in the work that I have accomplished and the new skills I have developed.  
Malaika: My favorite part about the UROP experience was the symposium and seeing everyone's research and hearing the excitement that they had when speaking about their projects.
What is your advice for students who are interested in UROP?   
Kieran: Go for it. Even if you don't think research is your thing—go for it. UROP teaches students so many valuable professional and academic skills and offers the opportunity to work with and learn from experienced FSU faculty and researchers. It is a great program that anyone can benefit from.  
Malaika: Take the leap and apply, working on any project will be beneficial and overall helpful in rounding out your experience at FSU.