The UROP Experience at FSU History: Building Undergraduate Courses
---
The UROP Experience at FSU History: Building Undergraduate Courses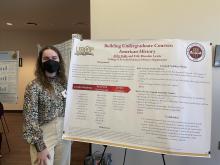 One of the outstanding features at FSU is the opportunity for undergraduate students to do hands-on research. You can do this through the Undergraduate Research Opportunity Program. The program allows students to do directed research, while supporting faculty and graduate students in their academic work. UROP mentors submit their projects to a central database, and interested freshmen and sophomores then choose from among the offerings.
Erik Braeden Lewis, a doctoral candidate in the History department, submitted a UROP project in 2021. Lewis asked students to work with him on creating two history course syllabi, one for early American history and one for world history. For Erik, UROP offered the chance to hone his mentoring skills in a low-stakes environment.
Abby Felde and Trey Woodall opted to work with him. Abby is a first-year student majoring in Viola Performance, while Trey, on the pre-law track, is a History major with a minor in Philosophy. Abby saw UROP as an opportunity to do archival research in an area outside of music, while Trey saw the chance to learn about an important aspect of being a History professor. Both students are "big into history" and leaned toward humanities-based research.
Trey had been part of a Freshmen Interest Group (FIG) in his first year, and his FIG leader had made him aware of UROP. In Abby's case, it was the music professor she most talked to while reviewing university offers, who suggested she pursue UROP. Both applied to four different projects and were accepted by half of them. Trey and Abby emphasized that it was important to select a mentor with whom they harmonized, and they were intrigued by the opportunity to find out how to construct a university course.
Erik asked Abby to work on the American history survey course and Trey to oversee the World History course. Erik provided them with foundational resources and discussed the themes to emphasize in the courses. Both were already familiar with data-based research. Initially, Abby and Trey identified textbooks and reviewed sample syllabi to learn how a range of professors had organized the material and how those choices had influenced the historical narratives in the books and courses.
Erik asked Trey and Abby to develop syllabi for a 15-week semester, addressing a new topic each week. For every unit, they select a chapter from a textbook and three different journal articles: one providing a broad overview of the topic; one dealing with the themes of gender, women, and family; and finally, one that struck them as being interesting and fun. Additionally, they identified a complementary primary source.
Erik meets with Abby and Trey once a month to review their work and preview the next tasks. Abby and Trey summarize each source and explain how it fits into the broad framework of the course that they are working on. The US survey to 1877 that Abby is working on allows her to go into depth in her topics, Trey in working on a world history survey from ca. 3,000 BCE to 1500 CE needs to be broader in his research.
Abby and Trey both meet once a week with their UROP cohort to discuss their individual projects. The UROP meetings help them evaluate how the research skills that they are acquiring can be helpful in the future. It also introduces them to further research opportunities at FSU. Both Abby and Trey are planning on doing an Honors in the Major project. In Trey's case, he is thinking of focusing on the U.S. in the 1920s. "I definitely want to work some more with a faculty member."
Time management was a topic Erik, Abby, and Trey spoke on. Erik designed the studentship to be eight work hours a week. Both Abby and Trey do most of their UROP work over the weekend. "Finding a balance is very important," says Abby. "I designated my weekdays to my regular coursework, I sit down on the weekend to do the project," explained Trey.
Abby's favorite part of doing UROP is to be able to dig more deeply into a topic she cares about. "I took AP US History in high school but that covered American history much more generally. This research project has allowed me to find out what it was like to be a woman during a specific period, and how race relations changed over time."
For Trey "researching world history beyond what is normally taught in the high school or college classroom, enabled me to see how much history is actually out there and how the small snapshots that are selected for students fit into the broader picture. I was able to research areas that are usually not covered in regular world history courses."
Both Abby and Trey have the same advice for students interested in doing UROP: read through the project list carefully, talk to the mentors, and decide on a project that you care about. Additionally, make sure that you and the UROP mentor jive, that you feel that you can work with them.