Teaching English in Korea: Angel Purganan (BA 2021)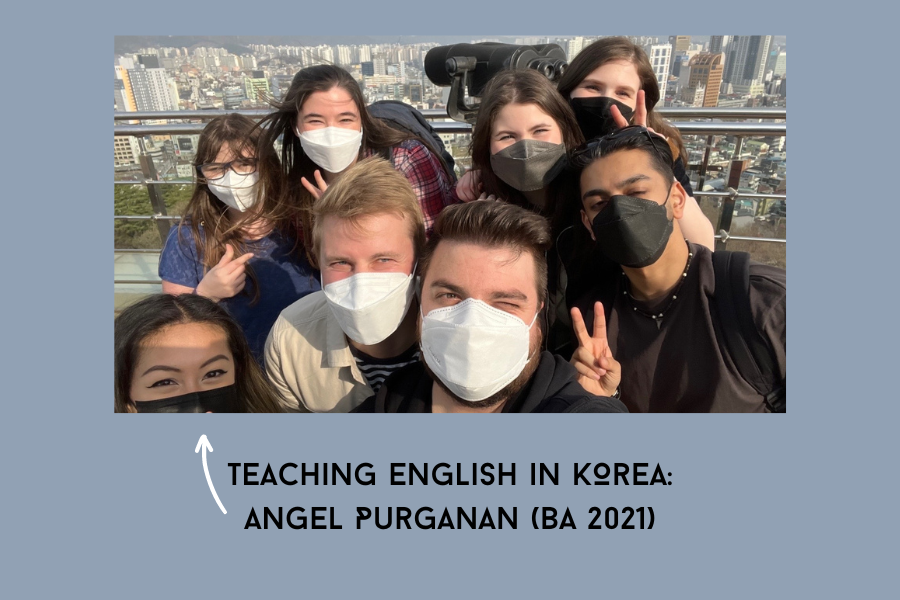 Like many other students that attended FSU in 2020, many of my study plans, and even graduation plans, were either postponed or cancelled altogether because of the difficult circumstances of the pandemic. In the spring of that year, I had made plans to go abroad during the summer semester through funding from the Social Science Scholars program with the College of Social Sciences and Public Policy. But because of COVID-19, I didn't get the chance to do so. Although parting ways with my initial plans was extremely difficult, it allowed me to take advantage of local resources to open up a more diverse selection of post-graduate employment opportunities overseas.
Having to entirely re-allocate the grant money from Social Science Scholars into other avenues to complete my leadership project for the program, I decided to use a portion of the funding to acquire my TEFL (Teaching English as a Foreign Language) certificate through the FSU Center for Intensive English Studies. When I first enrolled in the course, I did not have definitive plans to teach abroad after graduation. Initially I only wanted the certification in case I ever got the chance to teach English in a new country. But my professor, Dr. Ah-young Kim, informed our class about the benefits of the EPIK Program in Korea and I began to consider it as a possible employment option after graduating.
EPIK stands for "English Program in Korea". This is one of two primary routes that one can take to teach English in Korea. EPIK is a government-run program that places English language teachers from English-speaking countries in the Korean public school system through the Korean Ministry of Education. The application process for EPIK is generally a lengthier and more competitive process than the second application route, hagwons. Unlike the government-run EPIK program, hagwons are for-profit, private educational institutions that often specialize in a specific subject area that Korean students can receive extra guidance on beyond their traditional education. In comparison to EPIK, the hagwon application process can be less demanding but in turn, most hagwons tend to offer fewer vacation days and demand more working hours from their teachers.
As an Asian-American, I had always been interested in living in an Asian country long-term. When I was younger, I was very interested in travelling to Korea in particular. I followed a lot of Korean travel vloggers and gamers on YouTube as a kid. Eventually, my interest in Korea expanded beyond pop culture as I began to learn more about Korean history and its current geopolitical affairs through the college courses I took on Asian history and international affairs. So when I discovered that I could have a chance at employment in the country upon receiving my TEFL certificate, I was eager to start the application process.
I began my application by working with an EPIK recruitment agency called Korean Horizons after I graduated in the spring of 2021. This agency is one of a group of agencies that work to guide EPIK hopefuls through the lengthy application process. Through Korean Horizons, I was able to receive extra services such as resume consulting and mock interview practice. In this stage of the application process, I was advised on how to stand out as an EPIK applicant and how I could highlight my previous professional and community service experiences to bolster my application. In addition to elaborating on my 120-hour TEFL certificate, I was encouraged to talk more about my experiences working with Boys Town North Florida as a tutor, volunteering with PeaceJam Southeast with the FSU Center for Leadership & Social Change, and mentoring band students at a local Tallahassee high school. These many opportunities I worked at on or near FSU's campus highly reinforced my competitiveness as an applicant. My EPIK interviewer was particularly appreciative of how I had experience with instructing kids from many different age groups and backgrounds. Since applicants do not know what grade level they will be teaching when applying, I personally found that being familiar with the learning styles of a variety of ages allowed me to speak with confidence about my ability to manage a class, regardless what age.
Upon receiving my acceptance to the EPIK program in the winter of 2021, I was actually contacted by my Korean Horizons recruiter to discuss a "less traditional" EPIK placement. As I mentioned previously, most EPIK teachers are placed in Korean public schools. However, since my recruiter was informed of the online teaching experience I had acquired while volunteering during COVID, he mentioned that there was an opening at a government-run English center in the metropolitan city of Gwangju that offers their classes entirely online. As someone who is comfortable working in front of a computer all day, I eagerly took the position. So, I arrived in Korea in the beginning of February of 2022, completed my government-mandated quarantine and my EPIK Orientation, and was moved into my Gwangju apartment within a month.
A typical day at my English center has a few differences from a traditional EPIK placement. For one thing, I have my own personal office and teach all of my classes from my desktop setup through a software similar to Zoom. During the school year, I teach English lessons to Korean students ranging from 3rd grade all the way through high school through this remote setting. My Korean co-teacher will be in the classroom in-person managing the webcam and microphone that faces the students while I am presenting the lesson to them from a TV screen or projector. In the afternoon, my center also provides an online after-school English program and 1-on-1 English conversation practice that students can participate in from the comfort of their own homes.
Luckily, because of the remote nature of my work, I have not had the same struggles of dealing with the spread of COVID-19 in schools. However, Korea's general COVID-19 policies has affected my experience moving to and living in the country. To board my flight to Korea, I was required to have a negative PCR test result within 48 hours of my boarding time. I also had to undergo a mandatory quarantine upon arrival to the country and everyone is still mandated to wear masks. Outside of COVID-19, I have encountered some of the more typical challenges that one faces when moving to a different country, such as having to navigate through language/cultural barriers, acquiring and establishing certain documentation like cellphone or banking contracts, and building a new support system of friends.
Despite these challenges, however, I have had a blast living in Korea. Although I moved to Gwangju only six months ago, I have already had many opportunities to venture outside of my comfort zone and explore new places and meet great people. One of my most memorable moments in Korea so far has been attending my first ever music festival. I'm super grateful to have moved here during a time when COVID-19 policies have loosened enough to allow for larger events like festivals and concerts. Prior to my move, Korea was known for having some of the most elaborate COVID-19 policies and there are still many restrictions in place as of now. But luckily, travelling around the country has become a lot easier these days so there are many opportunities to engage with the country and its culture.
Moving to Korea has been simultaneously the most challenging and most rewarding experience I have had in my life. If I had to give a piece of advice to students that might be interested in teaching English in Korea or in another country, I would definitely say: seek cross-cultural exposure! One of the biggest challenges expats of any profession face when moving to a different country is the culture shock, which refers to the adjustment a person feels when subject to a new way of living in an unfamiliar setting. This presents itself differently in different people depending on where you're from, where you're planning on living, and your previous life experiences. There are many opportunities at FSU that will engage your cross-cultural communication skills and your overall cultural adaptability. Participating in a global exchange program through the FSU Center for Global and Multicultural Engagement and studying Arabic through the Department of Modern Languages and Linguistics were just a couple of resources I was able to utilize during my time as an FSU student that enhanced my cultural awareness and prepared me for the potential culture shock I would face upon moving.
Along the same lines, if I were to go back in time and give advice to myself prior to graduating from FSU, I would say, "Live in the moment". I think that completing the final year of my undergraduate career in the middle of a pandemic was incredibly disillusioning for me, as it was for many other students that experienced the same. I wish I had spent more time enjoying my time as an undergraduate student before the pandemic instead of worrying about what my future would look like after graduating. Now that I'm living a new life in a new country, I am learning to soak in every moment and make lots of memories that I can be proud of and look back on. I think the me from a few years ago would definitely be proud to see how far I've come, both mentally and geographically!