Talking about "AMH 3930: Racial Violence in Modern America" with Dr. Meghan Martinez
---
Talking about "AMH 3930: Racial Violence in Modern America" with Dr. Meghan Martinez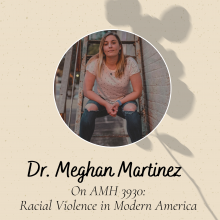 Dr. Meghan Martinez completed her bachelor's degree at Florida State University. Originally an English major, she had planned to become an English teacher. In one of her English classes, she read the works of Booker T. Washington and W.E.B. Du Bois. At the same time, she was also taking AMH2097 taught by Dr. Pamela Robbins. "Taking that class really opened my eyes to the reality of American history and the reality of racism in American history," Dr. Martinez explained. "That semester completely changed my outlook and viewpoint on what I wanted to study and wanted to do." Dr. Martinez continued her graduate studies at FSU, completing her masters and doctorate degree in African American history, with her work focusing on the history of racial violence and inequality in the US and its legacies. 
Since joining the FSU History Department faculty, Dr. Martinez has not only taught established courses like AMH2020 'The History of the US since 1877' and AMH2097 'Race, Ethnicity, and Nationality in the US,' but has also put together her own course: 'Racial Violence in the US.' "Putting courses together is like writing a book," describes Dr. Martinez. "There's a long period of research and then you have to find out how everything connects together…I try to let history speak for itself." Her course explores the history of racial violence against African Americans from the civil war to the present. The reality is that African Americans in the United States were not truly liberated after the civil war, and racial violence has influenced the struggles of black communities to this day. and has deeply engrained itself into society. "We cover patterns of violence perpetrated against black communities in the United States and we talk about how that violence inhibits black communities from thriving in America, and how violence is used to suppress opportunities for black communities," Dr. Martinez explains.
Teaching a course that focuses on the history of racial violence and its legacies comes with a range of challenges. One has been finding primary sources from black voices instead of relying only on white perspectives. A second has been introducing students to a new narrative about their country's history. Some people were reluctant to engage with a history they had never heard before. Students asked why she had created this course, and why she "hates America."  Dr. Martinez explained, "I devoted my life to America…to be a patriot to me means holding people accountable and striving to make America a better place."
Many students would ask questions in class about things happening in the present. "That's what makes a history class matter, if you can understand how the past affects the present. … [S]ometimes we have to talk about the past before we can make that connection to the present," Dr. Martinez stated. "As students have more information about American history, it allows for more elevated conversations about the present". This led Dr. Martinez to come up with a segment she calls "Today in Racism." Students can send in a news story and freely talk about present issues, such as black women getting fired for wearing certain hairstyles in the workplace.
When asked why it is important to keep reexamining history, Dr. Martinez explained that our history affects us powerfully today: "If people understood the reality of our country's history, and if people understood the facts, then they would also … be voices for change and move us towards a better place as a country." Meghan Martinez uses a topical example in her class - the issue of reparations. Conversations about reparations are often limited because many people see them only in the context of the past, but do not understand what it means today, and why it is still being discussed. Only when people understand the connections between past and present, can they understand contemporary conversations about reparations.
This is one reason why race/ethnicity courses are relevant, no matter what major a student is in: "The reason why we value a liberal arts education is because it informs everyone's experience as a human, no matter what your job is." Being able to work with people of different backgrounds and understand their experiences is a crucial career skill. That goes for jobs across the whole spectrum. Education about race and ethnicity needs to be a part of every student's university experience, whether they will pursue a STEM- or humanities-based job. One of the most effective ways to combat racism and advocate for positive change in the world is through education. Dr. Martinez engages with history both inside and outside the classroom, including her professional Instagram account, @drmegmartinez, through which she continues these important conversations.
Other race/ ethnicity courses taught by Dr. Martinez: AMH2097 Race, Ethnicity, and Nationality in the US.