The Story Behind the Statue: Honoring the Firsts of Florida State
---
The Story Behind the Statue: Honoring the Firsts of Florida State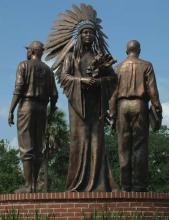 In 1962, nearly a decade after the landmark Supreme court case Brown v. Board of Education, Florida State University officially changed its admittance policy and opened its doors to African American students. In 2002, on the anniversary of this pivotal moment, the sitting University President Talbot D'Alemberte commissioned a commemorative monument. The Integration Statue was completed and unveiled near Legacy Walk in January of 2004. It depicts three of the institution's first African American students symbolizing "Books, Bats, and Beauty."
Maxwell Courtney was the "Books." He was the first Black graduate from FSU in 1965.  Maxwell went on to consult for the Smithsonian Institution before passing away in 1975. "Bats" and "Beauty" were embodied by siblings Fred and Doby Flowers. Fred earned both his bachelor's and master's degree at the university. He became Florida State's first African American athlete as a pitcher for the Seminole baseball team in 1970. That same fall, his sister Doby was crowned FSU's first Black Homecoming Princess. During her time as a student, 1967 to 1973, Doby too earned two degrees from Florida State. Both of the Flowers siblings were born in Tallahassee and continue to have a successful law practice in the city.
While these seminal Seminoles set the tone for a legacy of accomplishment at FSU, their successes did not come without adversity. They never faced violence during their time as students at FSU. Yet they still attended a southern university at a time wrought with intense racial hostility and discrimination. Despite being crowned princess, Ms. Flowers was excluded from many of the honors that came with that title. Likewise, though he excelled as a scholar and an athlete, Fred Flowers felt as if missed out on the college social experience as one of only 11 black students on campus at the time. Still, by prospering and persevering against the challenges of this era, these three, as well as others, paved the way for the safety and success of future African American students. Doby Flowers expressed this pride and hope at the statue's unveiling: "It is very rare that one gets to make a contribution on behalf of so many that will always be recalled in the annals of history. And, it is even rarer that the actions of young idealists are memorialized through such a public work of art that is so grand and powerful."
Today, Florida State University is a diverse institution that prides itself on inclusivity and equal opportunities. The university now hold ones of the highest graduation rates among black students in the country. Moreover, we see the legacy of FSU's firsts through the recent success of many of the University's African American students. FSU has come quite a long way since its integration and continues to strive towards a more well-represented and high-achieving campus.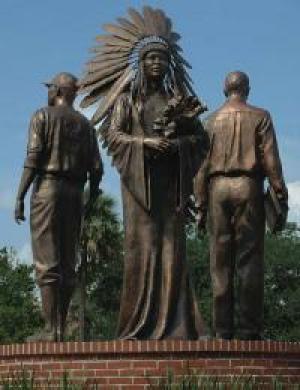 Photo credit: W. Stanley "Sandy" Proctor
Read more about the integration statue and its history below:
https://50years.integration.fsu.edu/yesterday/their-story
http://myweb.fsu.edu/jkoslow/studentprojects/pubhisfall06website/integrationstatue.html