#SeniorSeminar: Benjamin & "Rewriting History: The Significance of Roman Origin Stories in the Augustan Age"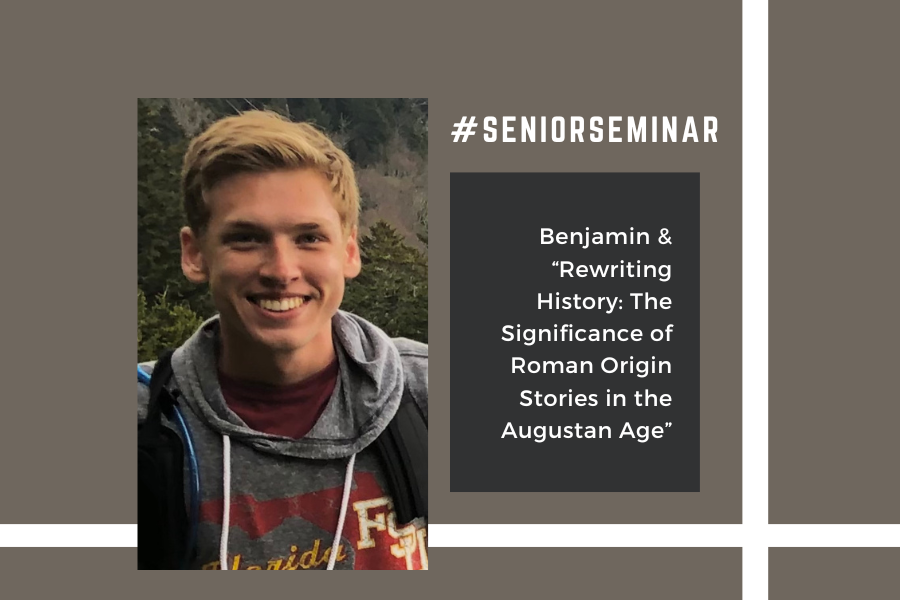 Hi, I am Ben, I am in my final semester at FSU with a double major in History and Classical Civilizations. After graduation, I am planning to teach Latin and History at the high school level.
Why did you choose this senior seminar class? 
I primarily chose the Refugees Throughout History course with Dr. Scholz because I had previously taken a class with him and had enjoyed his teaching style.  
What is your project about? 
My final project, Rewriting History: The Significance of Roman Origin Stories in the Augustan Age, was composed to bring to light the reasons why certain Roman authors, primarily of the 1st century B.C.E., chose to include Roman origin stories in their writings. I focused on the works that followed the refugee narrative of the Trojan War and its aftermath. One of the focal points of my paper was Rome's attempts to move away from ancient stories that connected them to the Greeks. The other focus was on Augustan Age propaganda, especially why authors in the circle of the emperor Augustus were keen to write such stories.
How did you decide on your senior thesis topic?  
A little less than a year before I actually took the seminar, my academic advisor made me aware that Dr. Scholz would soon be teaching an undergraduate seminar on refugees. Because of my Classics background, the idea of writing a thesis paper on the Trojans who fled their fallen city and eventually spawned the Romans came to mind. I contacted Dr. Scholz, asking him if a paper on this topic would be feasible. He said that it would be and even mentioned that we would be starting the class by reading an excerpt from Vergil's Aeneid, which recounts the flight from the fallen city of Troy by Aeneas, a Trojan whom the Romans considered the founder of their people.
How easy was it to get started with the project?
Once I began the research process, it was relatively easy to get things going. The idea for my senior seminar project had been circulating in my head for some time, so I already had a general understanding of what I needed to do to get the project done. Moreover, because I had a good amount of Classics knowledge coming into this, I was quickly able to find several extremely helpful primary and secondary sources which backed up my thesis and its points. 
What sources are you using for your project and why?
I began by gleaning information from several sections in my main secondary sources, Cary & Scullard's A History of Rome, and Ward, Heichelheim, and Yeo's A History of the Roman People. This helped me to back up my argument about the Romans' anti-Greek sentiment. Mary Beard's SPQR was also very helpful for adding the thoughts of a highly respected expert in the field of Classics. The paper itself relied heavily on two primary sources: Vergil's Aeneid and Ovid's Metamorphoses, both of which were Roman origin story narratives. 
What was the biggest surprise you uncovered while you were doing research? 
I was surprised by how well I was able to illuminate and substantiate my argument about the Romans and their attempts to cut connections with origin stories that tied them to the Greeks. Admittedly, I had not expected it to be as important a part of my paper as it ended up being.  
How did you stay on top of things?
I was able to manage the large amount of research and writing that comes with a senior seminar by creating a work schedule and adjusting it when needed. If I fell behind on my research or writing by a day because of unforeseen circumstances, I would strive to make it up by putting in a little more time the next day. With a month and a half left in the semester, I was working on my paper every day. The research portion of the paper took up most of the time, but it paid off as it made writing the paper so much easier.  
How hard was it writing such a long paper?
Of course, a 20–25-page paper is incredibly daunting on the face of things, especially as my longest paper up until that point was a ten-page senior thesis I had written in high school. When it came to writing the paper, I found that it was easier than I thought. Mainly, because of the amount of research that I had compiled. A strategy that I found most helpful was not thinking of the paper as a 20–25-page behemoth, but as four to five different small papers put together. This relieved stress and helped me to concentrate my thoughts and focus on one section (argument) at a time, which also helped to keep my thoughts from becoming jumbled. 
Overall, would you say the process of completing your project was more fun or stressful?
While there is no denying that the project was quite stressful at times, I did find it to be fun and extremely fulfilling. I enjoyed researching the primary and secondary sources, especially analyzing Vergil and Ovid. Moreover, my classmates and Dr. Scholz were all extremely knowledgeable and kind, which made class time very enjoyable. An essential part of the seminar was class discussion. We all had to stay engaged during the class, as we would frequently break up into groups and discuss the readings for the week and questions posed by Dr. Scholz in class. Additionally, having a strong support system in my parents helped me to stay on track at the end of the semester when I began to feel overwhelmed on several occasions.  
What advice would you give to students who are about to take their senior seminar? 
My biggest piece of advice to those taking a senior seminar is to not shirk the assigned readings. Stay on top of them and do not wait until the last minute to read them. On days that I was not as prepared as I should have been, I felt much less confident in how I presented my thoughts in class. It makes it so much harder to stay engaged in class, and it also hurts your other classmates as you do not have as much (worthwhile) input. In fact, this goes for any class that one might take. At the end of the day, it really does not take that long to stay caught up on assigned readings as long as you set a schedule and pace yourself.