Revisiting Grad School - Professors' Edition: Dr. Sarah Eyerly (FSU Department of Musicology)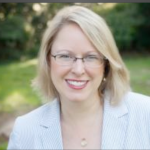 Dr. Sarah Eyerly is the Curtis Mayes Orpheus associate professor at the Department of Musicology. She is also the director of the Early Music program and coordinator of Musicology. She received a BA in music from Pennsylvania State University in 1996, as well as a MM in historical performance from Mannes College of Music in 1999. Dr. Eyerly obtained a graduate certificate in historical performances from the Koninklijk Conservatorium in The Hague, the Netherlands. She graduated with both her MA and PhD in musicology and criticism from the University of California, Davis in 2004 and 2007, respectively.
How do you describe yourself as a scholar?
I struggle to define what my area is. My research interest stretches into many academic fields. Technically, I'm a music historian in the Department of Musicology. But I also identify with the academic community of early Americanists, ethnohistory, Native American, and indigenous studies, as well as sound studies and geo-humanity studies. I work with geographers; a lot of my work falls into the field of geography.
Here at FSU College of Music, I teach the doctoral seminar on sound studies, which is designed to fill the gap between performance training and the digital humanities. I want doctoral students to have experience in a variety of sound technologies as they produce soundscapes for their research and need to be competent in ways to share that research. Students do quite a bit of writing; they have to construct a narrative around their sound maps and give them meanings. We also do some podcasts that are featured in the morning on WFSU, through which students can learn about how to sound design to present historical research.
What kind of historical dimension does your research have?
Archival work is the foundation for everything I do as both a performer and a scholar in the field of early music, which is reconstructing past traditions of early music by using the methods of historical research. I draw on material history, cultural records, and archaeological research to reconstruct music as it may have been heard and experienced in the past. I try to understand why people made music the way that they did and what it meant to them.
Music is a facet of sound, but music does not exist in a vacuum or on its own. Past sensory experiences are really important for us to understand these traditions. I've begun work on historic soundscape composition as a technique for processing how different sonic environments sounded in the past, sound mapping, and sound reconstruction.
How was your experience going into graduate school?
One of the difficulties for me was to find a place to go to graduate school. For many decades, music history, in terms of historical research in music, was separated from music performance. I wanted to do both things; both were important to how I wanted to work as a historian. There were only a few programs that supported that idea.
I found a wonderful program in UC Davis, where there was a great group of lively scholars and a wonderful early music program so that I could work within both of those areas and mesh them together in a creative way. I remember experiencing a sort of serendipity. I think of graduate school as a tremendously creative time, when I had the space in my life to train, build my knowledge and skills as a scholar and performer, and lay the foundation for all the things I could accomplish going forward.
How much time did you spend in graduate school?
I spent more time than some because I first got an MM in historical performance from a conservatory in New York called Mannes College of Music. Then I went to the Netherlands and got a certificate in Baroque singing at the Baroque Conservatory in The Hague. That took three years. Then I decided to train as a historian. I had to obtain an MA degree in history first, but as it was an incorporated program, I went directly into PhD after that. That took six years. All in all, I was in graduate school for nine years. But it was a creative time in my life, and I look back on it fondly.
What was the most important advice you received in your PhD program?
Philip Glass, a famous and influential composer, came to visit our program in UC Davis. Someone asked him, "whom shall we as students start networking with?" Glass said, "look around you, look at the other students with you in this room, these are your colleagues. It's the people in this room, the people in your generation and your field who are going be your network. Don't worry about me and all the people I know and the networks I have, those are not going to be the people that will grow with you throughout your profession, and who are going to feel your creativity, and be doing all these amazing things with you."
In other words, he told us to look for answers among our peers. He suggested doing a project with them, in order to move forward in our profession. It really has been like that: it was these people—other historians in my generation—who have been tremendously helpful and the most important to building my career. I've moved toward collaborative research. The more people's expertise and knowledge you put together, the greater the reward, the more you can achieve. Seek out those networks around you.
Why did you switch over from just focusing on performance to combining that with research?
When I was three years old, I told my parents I wanted to become an opera singer. That's what I pursued relentlessly. All I ever wanted to do was to sing. However, after going through some extensive training as an opera singer, then switching more to Baroque music, I came to understand that was a very hard career path. There are very few people who can rise to the top and make enough money to have a decent life. There are many compromises to be made if you want to dedicate yourself to music performance fulltime.
I realized I didn't want to make those compromises, I wanted to have a family and job security, and I decided to go back for a doctorate in musicology. Many people told me that was a foolish thing to do, because musicology also had a tight job market. They suggested I should go into speech therapy, which was more practical and could provide job security. I applied to a speech therapy program and got in. At the same time, I received a Fulbright to go to the Netherlands. After that year, I decided to put 110% into my doctorate. The academic job market is really difficult, but it can be done with a plan and a lot of dedication to make sure your work stands out.
How did your performing or nonacademic experiences enrich your academic career?
There was a two-year period between returning from the Netherlands and starting my program at UC Davis. I moved to Los Angeles and worked full time as an executive assistant at various companies in downtown LA. It made me realize what my priorities were, and I never want to do that type of work again. When I came back to graduate school, it fueled my passion and the realization that this was now my fulltime work. If I wanted to make it happen, I had to treat it as such. I keep reminding myself to be grateful for the things I get to do in my job now, where I can be curious about historical experiences of humanity. I wouldn't have had that perspective if I hadn't taken those two years off. Everyone has their own individual life path; all of those things contribute to who you are. Don't avoid those things because you can build upon them.
How has your research focus evolved over time?
Most of my research focus extensively on the archival records of the Moravian church in both Europe and in North America. My research focuses extensively on the archival records of the Moravian church in both Europe and in North America. For my doctoral dissertation, I traveled to the central church archives in a small town called Herrnhut in Germany that was founded by German Lutherans and refugees from Bohemia and Moravia in the 18th century. I studied how hymn singing was used as a form of glossolalia, channeling the voice of God. Moravians believed that God could speak through you in the form of a hymn—literally to sing through your body in a way that precomposed music with agency could not do.
I studied the complex improvisation—which was based on patterns and not random—how you can communicate to people since it's a very specialized technique to improvise text in music. I then began to wonder what was happening on this side of the Atlantic because the Moravian church had the largest missionary network of any protestant church in the 18th century. There was a huge network in the Americas all the way from the coast of Labrador down to South America throughout the Caribbean. I wasn't sure which specific questions I wanted to ask, but I knew I wanted to highlight the experiences of people in the past with music and sound. I approached archives as a treasure trove, and they just led me toward questions and stories.
In the end, it took me ten years to write the book I wanted, which I initially thought was just a simple revision of my dissertation but ended up becoming a completely new book. The book is called Moravian Soundscapes. It was published in 2020 by the Indiana University Press. There are parts in the book that come from my interests in the dissertation, like the composition of hymnody, but the project expanded outward to become two things: a written book and an extensive companion website which includes a number of different sound reconstructions, sound mapping, historical sound composition, reconstructing hymns in the Mohican language and performing them here at FSU with the student choir.
What were some things that you discovered during your research that really made an impression on you?
I grew up in Pennsylvania, and I found out that my family had actually been involved in these church communities in the 18th century. I did not know that before embarking on this project. But in the extensive archival records, I've found that my family, the Eyerlys, had come here from Germany in 1753 to be missionaries as part of the Moravian church in eastern Pennsylvania. I really began to understand much more the history of the place I call home. I wrote the book in double narrative, one about my personal journey and the places where I had lived, and also a historical narrative about sound and sound history as part of these communities. I wanted to write that book especially for the people of Pennsylvania to understand the long history of the land that they are living in. It stretches back to thousands of years with the Native Americans before European settlers arrived there.
How do you help students who also have a difficult time aligning themselves to a specific academic discipline?
I encourage my students to think of their research as organic; to consider the methodologies, disciplinary trajectories, and ideas that best fit their projects. That might shift from project to project, but ask yourself in every project, what questions do I want to ask? What methodologies best fit this research? It's okay and it's normal if your ideas and interests evolve. Many of those various disciplines you are interested in can enrich your research. Lots of journaling and writing can help you find your own voice, as well as presenting your research to communities and a wider audience, because it can get you to ask questions for yourself and rethink what you want to do in your project.
If you could, what would you want to share with your pre-graduate school self?
I wish I could have known how precious that time was and how different it would be from the rest of my life. You have set aside time for yourself to learn and grow as a person and a scholar. Graduate school is the only time, other than as a child, where you can get taken care of, and you get to learn in tremendous depth and very quickly. Grad school was like a window that closed down quickly, because life became cluttered with many commitments and people soon enough. Take that time really for yourself and devote yourself to learning.