A Request for a Faculty Multimedia Shelf by FSU History Alumna Grace Hoffman
---
A Request for a Faculty Multimedia Shelf by FSU History Alumna Grace Hoffman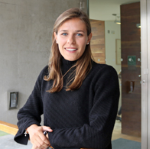 Way back in April, Florida State University alumna Grace Hoffman (BA 2015) reached out to the History Department asking if we had any lectures or podcasts by faculty on our website that she could watch. Unfortunately, we did not. Grace's question, however, prompted us to begin assembling a
'Faculty Multimedia Shelf.'
Now you can watch and listen to our faculty.
Grace

Hoffman

, a graduate from the FSU History Department, is in her final year of her PhD in history from Trinity College Dublin, where she previously earned her M.Phil degree.
Her current research focuses on Ireland's 1641 Rebellion.
Grace
is using depositions, an unparalleled source in early modern Europe. These depositions contain over 8,000 eyewitness and hearsay accounts of the 1641 Irish rebellion. She explores the insults, name-calling, and verbal abuse recorded to uncover on-the-ground motivations and social interactions.
Grace

was previously an early career researcher at the Trinity Long Room Hub Arts & Humanities Research Institute, focusing on research excellence, interdisciplinary work and public humanities.