Refugees and the Age of Revolution - FSU History Alumnus Dr. Bryan Banks talked to Jeffrey Henley
---
Refugees and the Age of Revolution - FSU History Alumnus Dr. Bryan Banks talked to Jeffrey Henley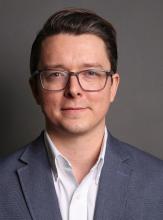 FSU alumnus Dr. Bryan Banks was in Tallahassee in late February for the 50th Annual Consortium on the Revolutionary Era Conference and took time to speak with us about his time at FSU and his career since graduating.  Dr. Banks received both his Master's (2011 with Dr. Rafe Blaufarb) and Ph.D. (2014 with Dr. Darrin McMahon) in History at Florida State University.  Dr. Banks chose Florida State as the result of a meeting he had with Dr. Blaufarb at a café in Paris while on an undergraduate exchange program at the University of Versailles.  Based on Dr. Blaufarb's reputation, as well as Dr. McMahon's, and the resources available through the Institute on Napoleon and the French Revolution at FSU, Dr. Banks felt this was the right place to pursue his graduate studies.
During his time in the History Department at FSU, Dr. Banks was active in the History Graduate Student Association serving as treasurer and president for one year terms each.  He was also a tutor for the Athletics Department and worked either as a GA or TA in the History Department.  Dr. Banks describes himself as "kind of a work horse" which allowed him to complete his degrees fairly quickly.  He said he was "determined to keep pushing forward for better or worse."  This attitude also allowed Dr. Banks to press on and start getting teaching experience not long after completing his Ph.D.
Dr. Banks is currently an Assistant Professor in the Department of History and Geography at Columbus State University in Columbus, GA.  While he is a specialist in Early Modern and Modern European History for the department and teaches classes aligned with his specialty, Dr. Banks also teaches World History surveys.  He "wears two caps for the department", as he puts it.  Last Spring, he introduced a new course on the Age of Revolutions and this Fall he will be teaching a senior seminar course on Historiography featuring the historiography of the French Revolution.  Prior to Columbus State, Dr. Banks taught at SUNY-Adirondack, Georgia State University, and Florida Atlantic University.
In 2015, Dr. Banks, along with another FSU alum, Dr. Cindy Ermus, founded the website Age of Revolutions (www.ageofrevolutions.com) as an outlet to foster conference-type conversations without the extensive travel or high costs of constantly attending conferences.  While the website has featured works mostly on the American, French, and Haitian Revolutions, Dr. Banks said "If it had anything to do with revolutions, we were okay to bring it to the audience."  Since its launch, Dr. Banks said the site has been a great success with "over 300,000 individual viewers to the website" and "we've had people from every continent save Antarctica publish on the website."  Regarding who is visiting and publishing on the site, he said "it's people who are pursuing doctoral degrees or are faculty somewhere or museum professionals working in public history, but always scholarly.  That's kind of what our platform does, I suppose, is provide a space for apparently erudite individuals to get their research out and answer that so what question."
As for upcoming projects, Dr. Banks is working on developing a podcast with a colleague at Columbus State in the Sociology Department.  The podcast will center on refugees, in the beginning particularly on Vietnamese refugees, using interviews with the refugees and with members of refugee settlement communities in an effort to bring their stories to light and show they are not perpetual victims, but can thrive and hopefully humanize their stories.  He hopes to have the podcast debut in mid-summer 2020.  Dr. Banks is also working on a book on the Huguenot refugees of eighteenth-century France.  He hopes to have the manuscript completed and to his editors by this summer as well.
In closing, Dr. Banks offered advice regarding continuing education for students pursuing degrees at all levels.  He said "my most important piece of advice is prepare for lots of different trajectories.  I think I applied for 180 different jobs in my last year at the doctorate (level) and the year after and the year after because I bounced around quite a bit.  I started looking in the private sector. I started looking in public history. I started looking in lots of different areas and I think the thing that I realized very quickly is that the skills you're developing now are applicable to a thousand different career paths."  He went on to say it is important to be doing things in your coursework to prepare for some of these things later - rather than having to scramble at the end to catch up.  Dr. Banks emphasized fulfillment as being the ultimate goal in a career path.  "I know people from the FSU History Department who don't work in academia anymore and I have conversations about the work they do and it sounds fascinating. They might not have the same kind of student-centered jobs that I do or they might not have time to conduct research anymore, but I'm seeing them be fulfilled.  That's the ultimate goal, right? Plain and simple. Do not let anybody shame you for not finding a unicorn of an academic job.  It's just about you fulfilling yourself and as long as you're doing that, you're doing good."