Our First Dig: Noah and Ethan Dubroff on Cetamura Del Chianti, Summer 2022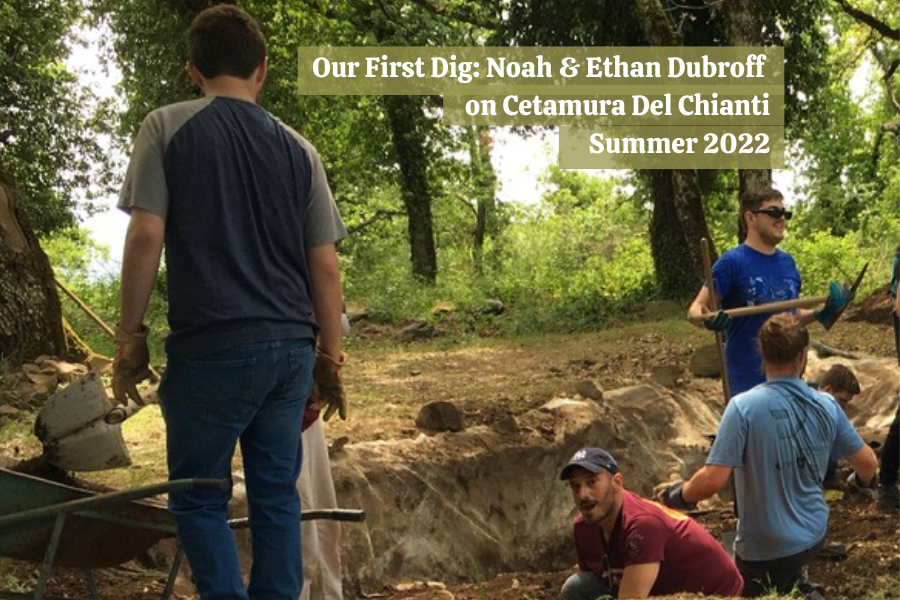 Ethan and Noah Dubroff are both currently double-majoring in History and Classical Archeology. They have a life-long passion for history. This past summer, they participated in the "Archaeology in Tuscany" program run by FSU International Programs. This allowed them to work at the Cetamura del Chianti archeological dig for four weeks. Here they tell us about their summer abroad experiences.
What got you interested in history and archeology?
Noah: I got interested in history early on in life. My mom would take me on these history trips up north where I learned about our nation's history and developed an interest both in history itself and the artifacts that stood testament to it.
Ethan: I've been interested in history since I was a little kid, from when I read a book about Greek mythology – not Percy Jackson! Afterwards, I began reading more history books and started watching documentaries about history and archaeology.
Where and what did you do during the time on the archeological dig?
Noah: I was at Cetamura del Chianti with Dr. DeGrummond, from our very own FSU Classics Department. Cetamura is a complicated historical site, with Etruscan ruins, evidence of a Roman Villa, and even a medieval Italian castle, and during our dig we opened up three trenches – all of which I worked on.
Ethan: Most days I was on site at Cetamura, where I mainly excavated artifacts, while some days I would go to the lab to clean and sort our finds.
What sort of training did you receive? 
Noah: On the site, I received training in both digging technique and Italian archaeological documentation. Additionally, I was taught some small things, particular shapes and forms to watch out for, that indicated ceramic slag, a surprisingly rock-like artifact that could at times be easy to overlook.
Ethan: On the site, I learned how to brush properly, what to look for when digging, and how to carefully handle fragile artifacts. At the lab, I learned how to identify different periods of pottery, how to clean ancient pottery, and how to handle organic materials like bone or charcoal.
What did a regular day look like?
Ethan: A regular day would begin early in the morning, as I would get ready to head out at 8:00 AM. We would drive to the site, and as soon as we got there, we would go up the hill – a rough, craggy path that was somewhat difficult to ascend. At the top, I would wait to be assigned to an excavation pit and start work there. We would continue until 11:00 am, when we would have a snack break, and then continue until lunch at 1:00 PM, and have about half an hour to rest. Afterwards, we would continue until 5:00 PM, and begin to clean up the site. When that was finished, we would descend the hill, head back to the cars, and drive back to the commune of Radda. Dinner was served at 7:00 PM (the food was fantastic), and after that I had free time.
Noah: The day started early. Once I got to the site, I'd head to my assigned trench and carefully begin digging there. Normally we found an abundance of rooftile fragments from the Etruscan and Roman times, the style of which is still in use across Chianti to this very day. Additionally, we tended to uncover a large amount of pottery sherds – I personally found most of a medieval pot one day.
What surprised you about your summer experience?
Ethan: The most surprising part of my summer experience was how quickly I adapted to staying in a foreign country. While I have left the country before when I was younger, that was always with my immediate family, and this was the first time that I had gone without my parents. It was a little scary at first, being in a land where English was not commonly spoken, but after a few days I grew used to it.
Noah: Heading in, I was somewhat worried that the glamor of an archaeological dig might wear off for me early on, and that it might be merely a passing fancy. However, each day my love for the site only grew – I couldn't wait to get to the dig and find something else from the past.
What was the hardest part?
Noah: I think the hardest part was probably the hike up the mountain – Cetamura is relatively isolated, and it takes a steep hike to actually reach the site. That's a bit anti-climactic, but I was too enthusiastic to let anything else really bother me.
Ethan: The hardest part was going up the hill to the site of Cetamura! But seriously, the hardest part was identifying which little clumps of dirt contained historically significant artifacts or were just clods of dirt. I was originally challenged by this, as I had no experience with this at all before. As I got better at it, however, it became less and less of a struggle – unless I ran into what we called 'smart' rocks. Those looked nearly indistinguishable from actual pottery, so sometimes they ended up in a bag of finds regardless of their true nature.
What was the most rewarding aspect of working on the dig?
Noah: The most rewarding part, I think, was finding something. After years of reading about artifacts and finds, the opportunity to discover some for yourself is amazing - I remember, when one of my companions found a piece of bronze, I was ecstatic.
Ethan: The most rewarding aspect was when I found artifacts. The feeling of holding a piece of ancient history in your hands, of knowing that you were the one to rediscover it, is incredibly pleasing.
What advice would you give to other students who might be interested in doing something similar?
Noah: FSU offers a number of programs like this – do your homework and research them before you sign up, and make sure to watch deadlines. Research who is leading the trip – I had wanted to study under Dr. DeGrummond, one of the world's leading Etruscan scholars, so this was a great experience for me.
Also: don't be afraid of hard work and be ready for the physical labor and steel toe boots – two pairs of socks are a definite must, and blister bandages are recommended too.
Ethan: First off, if you have to hike to the location, wear two pairs of socks. Otherwise, you won't be able to walk straight after day one. Two, be prepared to learn from those around you, and ask for help if you need it.
How does having this experience help with your career goals?
Ethan: This experience is invaluable to anyone seeking to pursue a career in archaeology simply because it is a real work experience. While you can take classes all you like at a university, practical experience is truly priceless for working in the field.
Noah: This gives me some hands-on experience working with artifacts. After this, I know more fully than before what is involved with the organization and preservation of artifacts, and how vitally important it is to be methodical in every aspect of working with artifacts. One wrong decision could result in unreliable information that will taint scholarship surrounding the site for years.