Notes From The Workfront: Stephanie Laffer, PhD 2010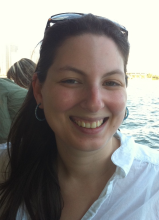 When I graduated from Florida State University in the Spring of 2010, I had a plan: I was going to use my degree in British History to get a full-time job teaching and researching in my field of expertise. The first step along that path was the adjunct job I had lined up for the summer: teaching "EUH 3530 England, the Empire, and the Commonwealth" at FSU. But, of course, life rarely ever follows the path we imagine it will. Little did I know that teaching the course on British history was the last time I would use my field of expertise as a significant part of my career. I have used the skills, tools, and knowledge gained as a part of my educational experience in every facet of my career since, just not in the ways I assumed I would.
Right now, I work as a Customer Support Training Manager for Promethean, an educational technology company that creates front of classroom devices. The path that I took to get to this point was circuitous. Let me explain how I got there. It all began when I got my BA from the George Washington University as a double major in History and Political Science in 2002. I had a degree, but I didn't have a clue what I wanted to do. I worked in retail as an assistant manager, and after a busy Christmas season that year, realized that I did not want to do this for the rest of my life. I also realized that I wanted to go to graduate school. After being accepted to FSU, I began my graduate career in British History under the direction of one of the newest professors in the department, Dr. Charles Upchurch, in August 2003.
When I first began the program, I was an archival assistant at the Institute on World War II and the Human Experience as a part of my assistantship. Working with veterans' letters home and accessioning their personal items into the collection, I gained a new appreciation for how ordinary people are a part of history and a new way of thinking about the profession. For the first time, I got to see the background of being a historian and began to appreciate the research and archival side of the profession more fully. I even felt like I may have found a direction for my future career. But as it turned out, the archival side of the profession was not where my eventual passion would lie.
One of the most important moments in my graduate career occurred when I took Teaching College History with Dr. Jonathan Grant. As a part of the class, we had to give a sample lecture to a group of our peers. Most of the lectures were great, and the teaching styles were fluent. Mine was not. Teaching did not come naturally to me as I struggled with shyness and felt awkward in front of students. Despite this, I was the grading assistant for a course on the United States from the Civil War to the Present the following semester. Through that role, I was able to grow my confidence in instructional skills and knowledge of the course material.
In 2005, I graduated with my master's degree, and I became an Instructor of Record (IoR) for survey-level history classes. Working as an IoR was significant for my future career in two major ways. The first was that while I wanted to teach the second half of World History, as it fit best with my major field as British historian, I was assigned to teach U.S. History from 1865 to the present instead. This led to the second: being an IoR helped my career trajectory because, for the first time, I got to design a class from start to finish. This taught me valuable lessons about instructional design.
I did get to teach World History, first on campus in Tallahassee and later at the London Study Centre. Teaching in London allowed me to hone a different set of skills—the ability to teach a small group of students rather than the large lecture-only style I generally taught on campus in Florida. Just imagine the opportunity for a British historian—I lived around the corner from the British Museum and taught students in London using their surroundings to enliven the topics we were studying. At the same time, I did archival research for my dissertation. The combination of the two made for a phenomenal experience I will never forget. By the end of my time in London, I was convinced that this was the direction my career would take.
Of course, as I've already mentioned, my personal history would prove me very wrong. After I graduated in 2010, the Dean of Miami International University of Art and Design was looking for a historian to teach General Education courses and sent a job posting that went out on the graduate list serve. I applied, was offered, and accepted the job and moved to Miami. The main reason why I was hired was simple: I could teach both United States and World History, and I had the proper credentials for a school that was going through a re-accreditation process. Ironically, this was solely a teaching job—there was no opportunity to do any research as the university operated on a quarterly system. While I was happy to be employed, I thought I had made a mistake. I was teaching students who had no interest in learning history, did not understand why they needed to learn history, or even why they had to take General Education courses. Yet, it was exactly this audience that would lead to me finding my passion as an educator: making topics accessible to those students who believe that there is no value in learning them.
Throughout my years at MIU, my responsibilities increased from solely teaching General Education history courses to overseeing the University's curriculum committee, redesigning course content, and developing new courses. In my position as a full-time instructor, as well as in the administrative duties that I took on, I eventually found a purpose for my career. I realized that I enjoyed the challenge of changing someone's conception of a topic that they found boring into one which would have purpose and compliment their chosen career.
Working at a university that was focused on the arts and had only a small staff of general education instructors also afforded me opportunities that I otherwise would not have had at a larger university. After being chosen as Faculty Member of the Year and because I was able to work well with students and colleagues, MIU's leadership recognized that I could be "utilized" to bring light to subjects that, shall we say, were only tangentially related to my degree. Like at FSU, I taught classes outside of my main area of expertise. For example, any course that either required advanced research or had the word "history" in the title became part of my repertoire, whether it was a history of animation or a graduate thesis-writing course. Most of my students at MIU were non-traditional learners as there was a large international student population and many students who were also pursuing a second career. Working with these students changed my perspective—and challenged me to find new ways to explain historical events in a way that would draw on their life experiences and include them in the conversation. This skill at making connections and illuminating the lesser-known details of a topic is something that I still use in my career today.
My move to Miami had an impact on more than just my career—I also met my husband while I was there. While I originally expected that I would work for MIU for a couple of years and then find another opportunity at a traditional university with teaching and research expectations, I stayed there for another nine years, growing both personally and professionally. I completely changed my teaching style to be more student-focused, and we bought our first home. After almost a decade at MIU, my career took another unexpected turn—my full-time position was cut in the fall of 2018—and I was asked to remain as an adjunct instructor. There are few times more trying then when you have to look for another job, but I had overcome obstacles both personally as well as professionally before, and I knew that I had the experience and passion to teach. I was confident that a potential employer would be able to see that.
My husband and I were looking for a change of both scenery and jobs. Although it was not ideal, I saw a job posting for a yearly contract to be an instructor of history at the University of West Georgia. Once again, my previous experience of teaching multiple survey level courses led to my being hired to teach both halves of World and American history. Unfortunately, the year I worked for UWG also coincided with the start of Covid-19, and my position was cut at the end of the contract due to budgetary constraints.
Once more, I was without a full-time position. Luckily, during my time as an adjunct at the end of my time at MIU, I had begun teaching history for Independence University, a career-focused online-only university. My position at IU was also in general education, and I was able to use the expertise I had developed at MIU to teach students who had very little interest in history. While at UWG, I continued teaching for IU. WHen my contract was not renewed at UWG, I was offered a new, hybrid role at IU as both an instructor in general education and as a Lead Lab Instructor in a new program that the school was launching to help At-Risk students succeed in general education courses. This new role opened a new career path for me—and the one that I am still on today.
At IU, my job focused not only on instructing students, but also on instructing faculty within the program. As part of my role, I had to onboard new instructors, create new documentation for the program as it continued to grow, and provide coaching and supplementary help for instructors who were not meeting our standards. For the first time in my career, I was moving away from teaching history, but still using the skills I had learned in instructional design and teaching to further my career development. I enjoyed my role at IU and thought I had found the perfect position to blend my growing skill sets. I enjoyed the faculty development aspect, but I could still teach history too.
Unfortunately, IU chose to close in the Summer of 2021. For the third time in three years, I was without a full-time job in academia, and I made the decision that my career would be better served by leaving the profession. I realized that I could continue to embrace my passion for making topics accessible - and for instruction in general - in a corporate setting as a corporate trainer. So I began applying for those types of roles. A month after IU closed, a new opportunity arose: to be a Corporate Trainer, Coach and Quality Analyst at Promethean's Contact Center in Alpharetta, Georgia.
In my current role, I do not teach history—in fact, the word history only appears in my work in the term "case history." But the skills I acquired over the past decade of history instruction are still valuable for me in my new career direction. My day-to-day role focuses on instructing new hires (so I am still introducing topics to people who may not have relevant background or knowledge), creating procedural documentation (using the analytical expertise I developed while completing my dissertation), and even building out our Learning Management System (putting the instructional design training I first acquired as an instructor for FSU to good use).
While my career path has not followed the original plan I had for it when I graduated in 2010, I would not trade it for the one I then thought I wanted. My journey so far has been one of highs and lows, but it has also allowed me to see the value of my education as I employed different facets of it in every position I have held. I may not know what's next for me in terms of my career (and I certainly am not creating future plans for it), but I do know that wherever I choose to go next, my education at FSU will always be an asset.