Notes From The Workfront: FSU History Alumnus Travis Ritt (PhD 2010)
---
Notes From The Workfront: FSU History Alumnus Travis Ritt (PhD 2010)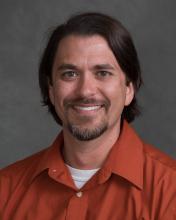 In my career, I have gotten the reputation of being a storyteller, and that is what I'm going to present to you here, my story. My route to Florida State's History department was an interesting one.  After graduating with a BA in History from the University of Miami with a focus on medieval history, I sent out a number of applications to graduate schools across the country and in Europe looking to continue my academic journey. I received denials from all of them. Not yet willing to leave academia, I entered into a MS ed program at Miami and served as an administrator for a number of years.  However, my heart was not in it and when my girlfriend of the time, now wife of 16 years, moved to Tallahassee to attend the FSU's School of Music, I decided to move with her. With no job prospects, and time on my hands, I felt it was time to re-enter academia and get back on my original plan.
I will never forget my first visit to campus. At the time, the department was in temporary quarters while Bellamy was refurbished. I walked in and was directed to the office of Paul Strait, the medievalist of the department.  As I sat down, he was very frank with me.  He told me, "You don't want to do this. You will never get a job in medieval history." My response was something along the lines of, "well, I don't have anything better to do, so I might as well try." And so with that auspicious beginning, my time in the department commenced. After some stumbling around, ("No, you don't want that field." "NO, don't do that!") I finally landed on focusing on eastern Spain, the Crown of Aragon, during the reign of Juame I el conquistador, during the height of the Reconquista. I learned a great lesson in all of this, listen to the advice of your mentors, but don't take no for a final answer. 
With the guidance of Paul, I completed and successfully defended my thesis in 2004. My appetite had been whetted though, and I knew I wanted to continue on to the PhD. However, there was one problem, Paul Strait had retired. Thankfully Peter Garretson stepped into the gap. At first my idea was to continue focusing on Spain, specifically  to look at naming conventions of converted Muslims (so called Moriscos) in the Alpujarras Mountains in the neighborhood of Granada. The idea was to examine cultural continuity in the region. However, after a research trip to the region it became apparent that this research would be a dead end, as these communities were very close-mouthed about their Islamic past, and there was no way I was going to get access to the documents I needed to examine. And so we went back to the drawing board. Peter had an idea that he had been toying with for some time, the author Washington Irving was the first American to systematically write about the history of the Middle East and Islam from a secular viewpoint, yet there had never been a thorough examination of these writings from a scholarly perspective. Unfortunately, I became dispirited with the direction of my research.  What I was doing started to look more like a dissertation on the formation of early American identity vis a vis looking at the "other." It just wasn't what I wanted to do.  And so I abandoned Irving, though I always imagined some day returning to him (more on that later) and in the process ended back where I had started: the Crown of Aragon. But this time I came at it from a different direction. Rather than looking at the Spanish Christian perspective, I flipped the script and examined how the Reconquista affected the conquered Muslim population, the mudejars. In doing my research, I took language classes in Arabic, self-taught myself Catalan, and reached back into my undergrad days to reawaken the Latin I had taken. In the end I had a dissertation I was proud of, and successfully defended. I also learned another lesson in all of this: flexibility is key. Yes, don't take no for that final answer, but be willing to be guided. Ultimately, trust your instincts, and if those instincts tell you it isn't working, then stop. It's not a sign of failure on your part or wasted time, it's a lesson learned and possible project for later in your career. 
But, now here I was, at the end.  There was no more schooling to do.  It was time to go out into the world.  As with my original search for a masters degree program, I blanketed the country, applying to every academic job that seemed even remotely related to my research. In the end, though, it was not the research and writing that helped me land my first job.  It was something else that the department afforded me the opportunity to do that was the deciding factor: the ability to teach as an instructor of record. During my 6 years in the PhD program, I had taught 4 different courses, from both halves of World history, to the more specialized Ancient and Medieval European history and the history of the Middle East. Now as a fully tenured professor, I have had the opportunity to sit on many hiring committees. One thing that I notice most is the teaching experience, or lack thereof, of many of our applicants.  Certainly, many of them have lines on their CV showing them to be a TA to one professor or another, but very few of them have the experience of creating, teaching, and evaluating the students of their own classes. This is where Florida State excels over so many other institutions. From large lecture halls to having the experience of teaching a handful of students in the London Program, I learned how to modify my style and content to fit each situation. I was also able to teach a variety of classes, from European to World history. Learning from each of these experiences and gaining confidence in teaching these different subjects is ultimately what made me employable. I will forever be grateful for this early opportunity to teach. Both of my full time teaching jobs have been at teaching colleges. Without the experience I gained in the department at FSU, both institutions would have looked over my application with barely a glance. Though I taught as an adjunct at other institutions during my time at FSU, once I graduated with my PhD, I never had to take part-time work again. While you might be thinking that the research university is the route you want to go, don't close off your options. I like research, but I love teaching, and it is FSU that opened up that path for me.   
Of course, it's not just the experience that employers look for, it's also how well you teach. I attribute the teaching mentorship of Jonathan Grant and Pam Robbins, as well as observing professors such as Jim Jones, Ed Wynot, Paul Strait and Peter Garretson in their natural element, the classroom, for helping me to develop the skills necessary to not only get the interview, but to also land the job. Admittedly, I also stole some jokes from these professors, and to this day, they tend to get more laughs than my own.  From them I not only learned what it takes to be a good teacher, but also how to have compassion and understanding for my students. 
Upon leaving Florida State, I went on to be a Visiting Assistant Professor at Seminole State College in Sanford, Florida. And though I will forever be grateful to my department there for the support they gave me and the opportunity to continue to hone my craft I needed something that would be more permanent. When the opportunity came to return to my native California, I jumped at it. Since 2011 I have been at Palomar College in San Marcos, California, earning tenure in 2015. Again, it was Florida State that prepared me perfectly for this job. It is a teaching position with a 5/5 load and content responsibility over World History and Western Civilization courses (an area I am in the process of rebranding more properly as European History). As the area specialist, not only am I responsible for teaching those classes, but also in hiring and evaluating adjuncts as well as developing new curriculum. To date I have been able to add a Middle Eastern history class and am in the process of creating both a new discipline, and the courses to go along with it, in Global Studies. I approach these curriculum responsibilities with the tools I learned from Jonathan Grant, my evaluation responsibilities from observing Pam Robbins, and my teaching responsibilities merging what I learned from all the above named individuals. In the course of my ten years at Palomar, I have been nominated for Distinguished Faculty (our Professor of the Year Award), nine times, earning the distinction of finalist five of those years. I attribute this recognition to the strong foundations in teaching that I learned at Florida State.
With my strong teaching foundations, I was able to expand beyond that role at Palomar and for three years I served my colleagues as Academic Senate President. In that role I had the opportunity to learn about many other aspects of running a College, while being in a strong position to advocate for the hiring of more faculty, which I was able to successfully do on a number of occasions. While a natural outgrowth of this position is to go into administration, my past experiences and passion brought me back to my classroom and my regular teaching position.
Being at a college whose focus is on teaching has meant for most of my ten years I have set aside any sort of active research agenda. However, just recently I was able to go on sabbatical (which I had the foresight to schedule during the midst of a pandemic). Though I was unable to go on any of my research trips, through the kindness of numerous archivists I have been able to accomplish more than I thought possible, which brings me back to that old dissertation topic.  My sabbatical made it possible for me to almost complete a revisioning of my old Washington Irving work. The book-length project examines two aspects of the career of Washington Irving: as a historian of Spain and as a diplomat. The encouragement of Peter Garretson all those years ago is what allowed me to bring this topic alive today. Though at the time I might have been discouraged that I felt the need to abandon my Irving project, in the end it gave me the jumpstart I needed later in my career to produce some solid scholarship.
The History Department at Florida State prepared me for my life in academia. Take advantage of every opportunity that the department affords to you. Yes, it may cause a delay in your research, or push your graduation off by a semester or two, but if what you want to do is teach at the collegiate level the extra work now is well worth the career that it can lead to.