Notes From The Workfront: FSU History Alumnus James Denham (PhD 1988)
---
Notes From The Workfront: FSU History Alumnus James Denham (PhD 1988)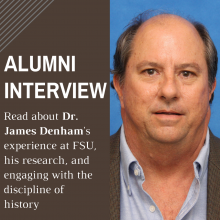 When Dr. James Denham started his higher education at FSU, he was not planning to pursue a graduate degree in History. He went on to graduate from FSU in 1988 after receiving his B.A., M.A., and Ph.D in History. Now a professor and director of the Lawton M. Chiles Jr. Center for Florida History at Florida Southern College, Denham considers his time at FSU foundational for sparking his interest in history and for preparing him for his career as a professor and a researcher. He is a historian of Florida and the South, with an emphasis on issues of law and criminal history.  FSU allowed him to dive into his research and find his passion for the discipline. Recently, Dr. Denham spoke with Marina Ortiz, a member of FSU History's social media team, to reflect upon his time as a FSU student and share his experience teaching at a small liberal arts school.
Denham's interest in history was the product of two things: curiosity and great teachers. The FSU course catalog excited him. He could not believe there were courses dedicated to subjects he had always been interested in: the Civil War, Old South, Reconstruction, Nazi Germany, and other classes on the eras of Washington, Jefferson, and Jackson.  Enthusiastic professors during his undergraduate experience further drew him towards a career as a historian. Though he had considered majoring in business or going to law school, Denham kept coming back to history. He admired his professors' care for their students and their ability to balance teaching with their own research. Their passion was infectious, and Denham fell in love with researching: "I soon discovered that the research was so much fun…reading old newspapers and court records and peoples' letters…I dove in with both feet".
His eagerness to research drove him throughout his graduate school years, excitedly visiting archives around the state of Florida and throwing himself into his work: "I just reveled in my research for my dissertation…I got so immersed in it." Writing on crime and punishment in Antebellum Florida, Denham made it a point to trek to every single courthouse that existed in the state before 1865. Studying at FSU facilitated this, since many of the courthouses from that era were close by. Rediscovering long-forgotten records was a rewarding experience for him, and Denham says he still finds ways to incorporate research from this time in his life into his more recent research projects.
Earning his degrees from FSU imparted not only diplomas and titles. Denham gained invaluable experience teaching as a graduate student as well as lasting memories. "[Teaching] was really what got me my first job. FSU offers that opportunity and that's really where you get jobs." In addition to the opportunity to teach and research, Denham says that he made great friends among his graduate school colleagues. "We had a really good group, and we had a lot of really good connections and we still keep in touch really well."
Key among his memories from his schooling were those involving Dr. James Jones. Jones inspired Denham to want to teach. "I'll never forget going to Jim Jones' class. I'd go in there and it seemed like five minutes later, the class would be over because it went so fast because it is so interesting."  He also noted the impact his advisor Bill Rogers had in shaping him into a professional historian: "He was a total social history person and was also a great writer and a great stylist. He taught me how to write." Although Denham fondly recalls his time researching and writing his dissertation, he remembers how instrumental afternoon softball games with peers were in helping him unwind and reset. "Thinking back on that, this is what really got me through my dissertation…in the afternoon about three o'clock, my brain was fried…but many afternoons we would get together and play softball." Collectively, these moments enhanced his graduate school experience and motivated him to earn his degree.
Since earning his doctorate in 1988, Denham has had a lot of experience both in applying for jobs and in hiring people to be his colleagues at Florida Southern. He notes that the job market has few positions in research universities. While some might see this as a negative, Denham sees this as overwhelmingly positive. "To me, the best-case scenario is to be at a really good private liberal arts school." Some benefits of working at a private school include competitive pay and great students, but one of Denham's favorite aspects of working at an institution like Florida Southern College is the ability to teach widely. Teaching a variety of topics allows Denham to explore areas of history outside of his specialty. This is exciting not only for him, but also for the students who get to share the joy of discovery with their professor.
Smaller schools also provide an environment for academics to get involved in the community and make an impact. Florida Southern College has allowed Denham to interact with his discipline in a way other than teaching or writing: "Engaging in your discipline in a way that engages the community [is] something that I really wanted to do and I like to do it, and it's really kind of stuck." Denham employed what he calls an "entrepreneurial spirit" to establish the Florida Lecture series, a program that hosts public talks featuring prominent historians. While the series is a great opportunity for FSC students, it is also a favorite among locals interested in learning more about history, particularly Florida history. The series encourages citizens to engage with history even if they have been out of the classroom for years.
In reflecting on his time since graduate school, Denham said he was lucky to have mentors and friends who helped him along the way. In particular Bertram Wyatt-Brown's research was an inspiration for him, and Wyatt-Brown's guidance (even though he was a University of Florida professor), supported him throughout his early career. His professors at Florida State, primarily Bill Rogers, Jim Jones, Joe Richardson, Leitch Wright and others were also instrumental in shaping him into the historian he is today. Denham has been busy the past few years with two book publications, returning to older research projects, his teaching at FSC, and the Florida Lecture Series. As an FSU History alumnus and seasoned historian, Denham has this advice for budding historians: "Don't pigeonhole yourself into one specific little niche." Denham encourages those interested in history to read and research widely and explore different avenues for engaging the discipline.