Notes From The Workfront: FSU History Alumnus Chris Juergens (PhD 2020)
---
Notes From The Workfront: FSU History Alumnus Chris Juergens (PhD 2020)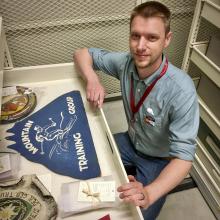 For graduate students going stir crazy in Tallahassee, my experiences can serve as a cautionary tale or a note of (chaotic) inspiration. After living in Tallahassee for three years, I was itching to get away. The climate was heaps and bounds too hot and humid for this northeasterner, and I missed the mountains and valleys of Upstate New York. I stuck around long enough to teach my own course (which was a ton of fun – and, of course, important for the CV), then ran for the literal hills. For the next couple of years, I graded online for the department and used that freedom of movement to apply for grants and fellowships, pursue archival research in the States and abroad, and live in the middle of nowhere.
While there are many benefits to staying "in the system" by working for the university, the allure of fulltime work became ever stronger. An opportunity came along to work in the private sector and leave graduate student stipends behind, so I took a leap of faith and moved to Colorado to pursue it – and that's how a doctoral student in History became an account manager for a European optical firm. I should note that my committee was skeptical of my unconventional path, but they were incredibly understanding and supportive, knowing full-well that today's (and yesterday's and yesteryear's and yesterdecade's) job market often requires seizing opportunity wherever it comes along – and that expanding skillsets to ones useful outside academia is never a bad thing. Nevertheless, I was determined not to leave academia behind entirely and was committed to seeing my project through. I managed to convince myself that I would have plenty of time in the evenings and on the weekends to continue working on the dissertation. My archival research was largely done, so there was no need to worry about the inflexibility of a fulltime job, I thought.
This was a gross miscalculation. Do not kid yourselves into thinking that you have enough brainpower or stamina left after a full workweek to sit down and write a dissertation. Before too long, burnout set in and writing progress often fell by the wayside. When I was reminded that there is a finite amount of time in which to finish the dissertation before having to retake the comprehensive exam, I used vacation time to lock myself into writing mode. The best dissertation, as the saying goes, is a done dissertation – and I was determined to wrap it up.
The timing was fortuitous in three ways: I was able to combine my dissertation defense with a conference presentation in Tallahassee, I found a dream job posting the morning after my defense, and all of this happened the last week of February, right before everyday life in America started to look very different. The virus prolonged the application and decision-making process considerably, but I was ecstatic to receive an offer to join History Colorado, the Colorado State Historical Society, as their first military history curator.
The fact that I had just received a PhD in Military History no doubt helped, but I think even more important to securing the job was the experience I gained working at FSU's Institute on World War II and the Human Experience. After taking a seminar with Kurt Piehler, I happily accepted an offer to work at the Institute as a summer intern. Learning the basics of databasing, processing collections, maintaining artifacts, and interacting with donors and researchers expanded my skillsets to archival and museum work. The experience was so engaging and fulfilling that I volunteered at the Institute as much as I could for my remaining time at FSU. Here too I benefitted from working with an advisor, Rafe Blaufarb, who understood and supported my detours to World War II, even as I was working on an Early Modern dissertation – in History, it pays to be thematically versatile.  
At History Colorado, my average workday involves doing many of the tasks I performed at the Institute. I am responsible for the museum's considerable military holdings, which includes cataloging, processing, and maintaining artifacts, while aiding researchers, answering inquiries from the public, and assisting with selection and interpretation of objects for exhibits. Naturally, especially during these strange times, there is a substantial digital component to the work as well, such as finding ways to maintain and expand engagement with the public virtually. It is exciting, varied, and fulfilling work – and is a perfect fit for the interests and skills I pursued at FSU.
Sometimes graduate school can feel like a conveyor belt, slowly shuffling you towards a very particular and traditional application of our degrees. Your advisors will be the first to tell you, though, to keep your eyes open for all opportunities to apply yourself and pursue your interests in History. I encourage you to branch out and broaden your skills and knowledge as much as you can, because you never know what chances may come along.
If you have any questions or would like to chat about museum work, please feel free to contact me at chris.juergens@state.co.us.