Notes From The Workfront: FSU History Alumna Patricia Singletary (BA 2018)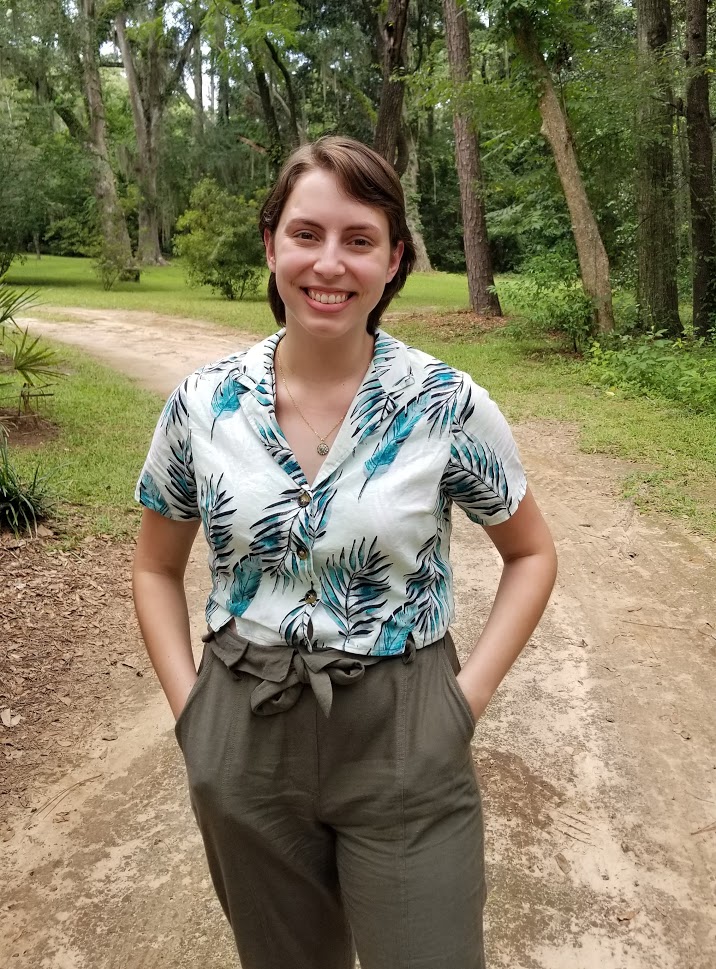 In Fall 2018, I graduated from Florida State University with a Bachelor's Degree in History and Women's Studies. Doing a double major allowed me to focus on women's history specifically and approach history from an intersectional perspective. This has greatly influenced the way I conduct research and work in the museum field.
Tallahassee has been my home for my entire life. Growing up, my parents took me to museums and historical sites whenever possible. These proved to be formative experiences as I decided I wanted to work in museums before I was even fifteen years old. I have volunteered or worked at the majority of museums in town, and started an internship at The Grove Museum in Spring 2018, only one year after it opened.
The Grove Museum is 10.5 acres of property with a historic house located on it known as the Call-Collins House. The site of The Grove is a former plantation and the original owner of the property was involved in the removal of indigenous people from parts of Florida and enslaved upwards of 200 people at the time of his death. The last owner of The Grove was Florida's 33rd Governor, LeRoy Collins. His wife, Mary Call Collins, was the great-granddaughter of the original owner, and LeRoy Collins was Governor of Florida during the modern-day civil rights movement of the 1950s and 1960s.
When I began as an intern, I was quickly versed in this history and told to read Anarchist's Guide to Historic House Museums, which greatly influenced how the history of the house was interpreted. Instead of focusing on one time period, I was trained to lead a tour that reviewed every owner of the home, including the two single women owners, and focused on the transition in Florida's history from slavery to civil rights.
In August 2018, I was hired to be a part-time Museum Educator. I stayed in that position until I was promoted to my current job in September 2019. As Program Coordinator, I oversee interpretation, programming, and education at The Grove Museum. I work closely with my coworkers to fulfill the mission of the museum, which is to engage the public in a dialogue about civil rights and American history.
How we accomplish this mission has changed dramatically since closing to the public in mid-March due to the COVID-19 pandemic. The spring is usually the season for school groups and big community events, but we had to shift our entire operation online. We began by using Facebook Live to host Nature Walks with our Executive Director and expanded from there. Facebook has been our main platform for virtual content as we began to produce online tours, behind the scenes videos, and digital series on different historical topics. On Instagram, we have done more lighthearted content, including recipe videos with one of our Museum Educators. Explore our different virtual offerings on our website: http://thegrovemuseum.com/virtual/.
I have also had to convert our usual summer internship program into a remote one. I had two interns who worked with us for eleven weeks, during which they met with local museum and archival professionals over Zoom, did readings on museum theory, and completed a research project. The Grove will be hosting a remote fall internship program as well. This will continue to take up a big portion of my time as I work to ensure that interns have a valuable experience and feel that they both learned new things and contribute to our mission.
Given current events, dialogue about complicated historical legacies has become even more necessary and, in my opinion, it is the job of museums to engage in hard history and start these conversations. Handmade History is a program I created to talk about different topics in women's history with the help of special guests from the community. We shifted this program to the virtual realm in May with Handmade History: Women in the Civil Rights Movement and will be hosting another one on Women and Government in September using Zoom. One of our Museum Educators, Miles, has created a brand-new program that did not exist before our closure. He has started the Grove Community Book Club. Learn more about what inspired Miles to make this program here: https://coca.tallahasseearts.org/blog/entry/coca-spotlight-linking-past-to-present
As we move into the fall, I will continue to supervise the internship program, oversee our social media content creation, and work with teachers on creating engaging virtual programs for their students since in-person field trips will not be possible.
If anything, I have said about The Grove or the work we do there has interested you, please reach out! I love talking with students about museums and I am more than happy to answer any questions you may have about the museum field in Tallahassee. Contact me at  patricia.singletary@dos.myflorida.com.