Notes From the Workfront: FSU History Alumna Lydia Malone (MA 2018)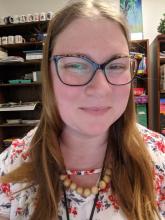 Upon graduation from the Historic Administration and Public History program at FSU (2018), I began working at the State Archives of Florida. I worked for a little over a year as an archivist in collections management before moving to the Museum of Florida History (MFH) team. My first job in the museum field was with the Knott House Museum, an off-site historic house managed by the Division of Historic Resources which shares an education team with MFH. I had worked there earlier, during the first part of my graduate studies, before leaving to focus on thesis completion and assistantship duties. I continued to volunteer regularly at both museum sites.
In my new role as a full-time museum educator, I also became co-coordinator of the Florida History Day (FHD) contest, an affiliate of National History Day. I had been a judge for FHD in years past, as well as a competitor in middle school. I loved having the opportunity to plan and execute such a large event for what usually amounts to over a thousand students, parents, and teachers converging on Tallahassee in May for a one-day contest and awards ceremony.
Planning for this event usually gets into full swing around February as counties begin hosting their regional contests and we make arrangements for those contest winners to compete in the capital. In a normal contest year, we would be coordinating between local hotels, Tallahassee Community College (whose campus is used for the contest), the civic center, and a handful of vendors. We'd also be in communication with those hundreds of students and their families through various channels as well as over two hundred volunteers and judges. Everything would culminate in a flurry of activity in early May: color-coded instruction pages, lanyards, buttons, walkie-talkies, coffee, and creamer. And lots and lots of adrenaline.
This year we had to completely rethink the event, as the global health situation rapidly forced academic contests to be cancelled or rescheduled or downsized dramatically. We pivoted to an entirely virtual contest in a matter of weeks and still managed to have judges rank over five hundred student projects. We're still processing what happened and have already begun thinking about the 2021 contest landscape.
I also work in tandem with other educators to create content for different audiences ranging from school-age to lifelong learners. We are planning virtual field trips as they are highly requested at the moment. Thus, we're retooling our in-house programming to the digital world. This allows us to use our research skills as we identify the background information on different time periods or objects to be presented, as well as the best learning models for various groups. Luckily, I feel my graduate studies prepared me to think in terms of both content creation and delivery options as we shift into a new service model.
In order to help our younger audiences engage with Florida history more successfully, I ended up writing and illustrating the book "Artie the Alligator Looks for a Moat." In summer 2019, the MFH education team created the first incarnation of Artie the Alligator as a tool for younger museum visitors to learn about alligator behaviors and the swamp, with a little celebratory cake thrown in for Artie's birthday.
When I came on board as a full-time educator in late 2019, one of my areas of responsibility included the Museum's annual summer reading program. This program is inspired by the Collaborative Summer Library Program, which aims to minimize "summer slump" in K-12 readers by compiling themed book lists and activities for libraries to use throughout the summer. This year's theme was "Imagine Your Story," which is generally an easy genre to explore, but at MFH we strive to focus on history and non-fiction when possible for our summer program.
During development, I thought of historic "Florida castles" that could be explored from a junior historic preservation viewpoint. However, I was unable to find a resource that already existed within the age ranges we target. I decided to use the established Artie character to explore sites of historic architecture, using his inquisitive nature to visit four sites around the state. A short information sheet was also included about the sites at the end of the story, as had been done in his previous adventure. Being the author and illustrator, I was able to focus on some of my favorite sites, as well as genuinely answer the question of what site is most like a castle from a child's perspective.
If you'd like to know more about my work, feel free to reach out to me at any time to chat about my experiences and how they could help you focus your career path. Email: L.Nabors.History@gmail.com