Notes From The Workfront: FSU History Alumna Julie Mishner (BA 2009)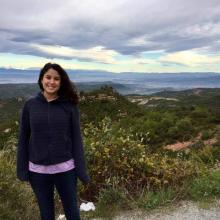 I'm currently a product manager for the plastic packaging division of Jabil, Inc., one of the largest electronics manufacturing services companies in the world. A lot happened between graduating and now, so bear with me. I tell this to a lot of students, recent grads and colleagues who find themselves second-guessing, and even hating what they're doing and feel like they're pigeon-holed.
I was inspired to study Middle Eastern History during a semester abroad at Tel Aviv University while I was still a student at USF. At the time, they didn't have a Middle Eastern Studies program, so I transferred to Florida State and graduated in '09 with a BA in Middle Eastern History and then MA in International Relations in the following year. After already having switched majors from Business to Education (admittedly, I just couldn't get through business calc) and still being unsatisfied, I was ecstatic that I finally found something I loved. I was so intrigued by early Islamic history, and I thoroughly enjoyed finding patterns of religious interpretations across time and geography in my history of Islamic reform movement classes. How do they build on one another? Where does the lineage of scholars diverge, and sects emerge? What led to the similarities that arose during contemporaneous scholars of Islam across the globe who never even crossed paths? (Mind blowing!) I loved learning about the oft overlooked intricacies and nuances of the human experience throughout history (shout out to Dr Hanley and Dr Liebeskind: thank you!). I even loved the history and origins of Semitic words (big shout out to Dr. Levenson) and the cultural impact on language development. I focused my studies heavily on sectarian conflict because that is what I found most interesting. When I graduated, I started an internship at the Institute of National Security Studies at Tel Aviv University assisting a professor with his book on the Six-Day War and soon after landed a job at an open source intelligence research company. I spent time researching and writing reports on the Arab-Israeli conflict as well as African pro-democracy movements.
At this point I'm feeling pretty good. Found my passion? Check. Found a job in my field? Check. During a recession? Double check. Life was figured out at 23.
2 years. That's how long it took me to realize that I did not want to work in my field, and I probably wasted my entire college years. Life was not figured out.  As it turns out, immersing yourself in conflict day in and day out can be terribly depressing (who knew?). Terrified that I had pigeon-holed myself into one field of academia, a daunting cloud of anxiety rushed over me.
I ended up leaving the research company and going to work as a consumer-packaged goods analyst for an Israeli boutique consulting startup called Signals Analytics. I didn't realize it at the time, but what I had done was to take inventory of my transferable skills and competencies and used that to pivot into an entirely new field.
In my new role at Signals, I worked on designing and conducting market research projects for large consumer packaged goods companies. My team collected and analyzed data points from disparate databases, and we were able to predict the next big products in food & beverage. We'd examine everything from patents and product launches to social media and clinical trials of functional ingredients. One project even led to a major soft drink acquisition. I enjoyed my new role for the same reasons I enjoyed studying history – I'm insatiably curious, I love learning and I enjoy spotting trends and patterns across data sources.
When I was ready to return to the US, one of my customers from Signals saw that I was moving back to Tampa and hired me a few months later. That's when I started at the corporate headquarters of Jabil in St Pete, FL.
So here we are in the timeline: it's April 2015; I am a market & competitive intelligence analyst for Jabil. My responsibility was to support the packaging business veterans by learning about their external environment, analyzing it and helping them make better strategic decisions. Remember: I have no business degree, no knowledge in plastic or packaging, and some knowledge consumer packaged goods from my previous role. I've now reached the pinnacle of fake it, till you make it mountain and wondered if my bosses even looked at my resume. Did they have hirers' remorse? My confidence plummeted. However, it turns out that companies don't always expect you to know everything on day one. There is a degree of compromise that every hiring manager must make, and therefore decide how much they want to invest in you. My bosses compromised on (and then invested in) my business and industry acumen in favor of my curiosity and drive to learn. I'm happy to say that 5 years later, I am now a Food & Beverage Packaging Product Manager in Jabil Packaging Solutions.
 A lot of people aren't really able to make the connection between a BA in history and how I got to where I am now, but it's quite clear to me in my head. I would say that studying history added a unique dimension that sets me apart from many of my colleagues.
If I had to put together a (non-exhaustive) list of skills & competencies I can attribute to studying history these are a few things I'd put on it:
The ability to think critically and the instinct to place everything into context

Understanding and hypothesizing on the potential business implications of change (and learning from history!)

How to design a research project, and especially how to find creative proxies for information that isn't readily available

Asking the right questions

History has taught me to have human empathy for individuals I will never meet or relate to

The importance of storytelling (!!!)

Developing a hypothesis and finding the right data and information to support it

Where/how to search for more information (believe me this is a skill that I swear I thought everyone should have in the Google-age. It's not.)

Deep appreciation for cultural differences, especially while working at global company

The instinct to ask for sources on every claim
Of course, I could go on.
I used to regret studying history, but as I reflect over the last ten years, I have learned to appreciate how much value it added to my life and how much it contributed to success in my career.