Notes From The Workfront: FSU History Alumna Dr. Lauren Thompson (PhD 2015)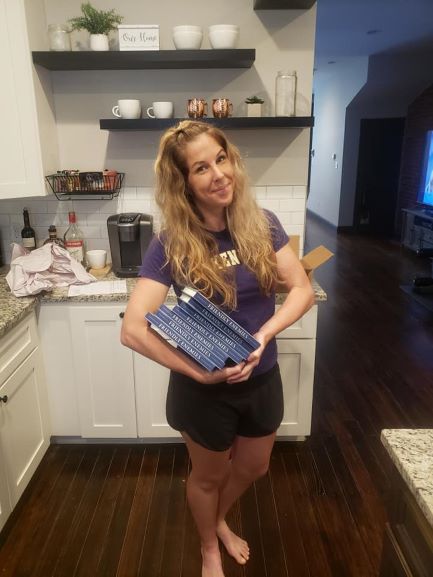 My name is Lauren Thompson and I am an Assistant Professor of History at McKendree University, a small liberal arts college located 20 miles east of St. Louis, Missouri. My book, entitled Friendly Enemies: Soldier Fraternization during the American Civil War, was published this summer by the University of Nebraska Press. I also published a chapter in a collection entitled A Forgotten Front: Florida during the Civil War Era (Tuscaloosa: Alabama University Press, 2018), a journal article in Civil War History, and a handful of book reviews in various journals. Recently, I received McKendree University's Dr. Martin Luther King, Jr. Humanitarian Award. With Dr. Maxine Jones as my Major Professor and the assistance of my dissertation committee members, I graduated with my PhD from FSU in May 2015
This summer as I celebrate the publication of my book and prepare to go up for tenure at my current University, I am looking back on these five years since leaving Tallahassee and wow – what a whirlwind! I can say, after spending the past 5 years as an Assistant Professor – I've done a lot. I've learned a lot. And, most of the things I spend most of my time on and feel most passionate about are not what I initially planned to do. What I envisioned as the tenure-track life and what it is, are two very different things. Here is some insight on my journey as an academic thus far – both what I've accomplished and experienced since leaving the 4th Floor of Bellamy.
When we are in graduate school we think – just keep swimming, one day you will land your tenure-track job. We put the tenure-track job on a pedestal. We assure ourselves, once we get that – all in the universe will be right. I made this mistake. Before I landed my TT job in 2017, I held two different Visiting Assistant Professorships. At both positions, I taught 4/4 loads, secured a book contract, and, of course, went back on the job market. I lived in four states in two years and that even gave me more hunger and drive to get to a permanent position and start my "adult" life. When I moved to St. Louis, Missouri in May 2017 to start my tenure-track job at McKendree University – I officially made it! I made it to the promised-land –goodbye pressure and anxiety! I may have been naïve or perhaps optimistic, but the real challenge had just begun. 
Yes, landing my TT job at McKendree gave me a salary, benefits, a nice office, and, most importantly, a chance to put down some roots and have a social life. But, when starting my job, guess what was waiting for me? Stress and pressure and anxiety. The only time I ever taught a 4/4 load was my first year. During my second and third years – I taught a 6/6 load. A few of those semesters were 5, or even 6 preps. I taught everything from University 101, the US History surveys – standard face to face, online, and honors variations, upper-level courses in African-American History, Civil War Era, American Revolution Era, Women's History, Economic History, Race & Ethnicity, and our junior methods seminar and senior thesis seminar. I supervised Honors Theses and Independent Studies. And, we do all our own advising because we are a department of two. Yep, two! I advise history majors and minors, gender and ethnic studies minors (oh yeah, I am the Director of the Ethnic and Gender Studies Program), and incoming freshmen over the summer. Students are always in my office – I am part-time historian, part-time life coach. I give advice and mentorship to students who are not even my majors, some I've never even had in a class. I am at basketball games, clarinet recitals, sorority bid days, and ice hockey tournaments. I wouldn't have it any other way – I love my students.  
Then, there is service. I did not have service requirements during my first year, but, during my 2nd and 3rd year, I serviced on the following committees: Academic Integrity Committee, Social Justice and Equity Committee, Faculty Senate, Student Conduct Board, All-In Campus Democracy Committee, and, the Chair of the Diversity Assessment Committee. I did volunteer myself for some of these because my passion lies in social justice and diversity. I also led teaching workshops on the following topics: inclusiveness in the classroom, teaching controversial subjects, and engaging teaching techniques- can you see the theme of teaching? And, I gave talks in our Wednesday speaker series (confederate monuments, microaggressions in the classroom, and history of disfranchisement in the US). I am currently the Co-Advisor of the Black Student Union and the Co-Advisor for University 101 where I make the core syllabus and curriculum for all our first-year courses. Oh, and don't forget the department, division, college, and full-faculty monthly meetings.
Oh yeah, and the book my dissertation became! Well, let me start by saying I had to leave the summers for the book work. During the academic year I would pursue smaller research endeavors like book reviews, conference papers, etc. Then, over the summer, I would begin what I like to call my "writing binge." I would map out the weeks, make myself weekly deadlines, and get to work. This was pressure. All historians working on a book can relate to this. Adding to the pressure was the realization that whatever isn't done by August 15 ain't getting done. I could kiss writing goodbye until next June.The summer of 2016 was about writing a book proposal, the summer of 2017 about changing my dissertation into a book, the summer of 2018 revising my manuscript based on reviewers' suggestions, and summer 2019 getting it ready for publication.During the fall 2019, I had no choice but to work on my copy edits, they couldn't wait until summer. When I wasn't on campus, I was copy-editing. And, this is when the "imposter syndrome" was at it's peak. I kept thinking "is this going to be good enough?" or "maybe I need to do more research?" I wasn't ready to let it go. Even though I worked on this project for a decade, I still felt like I could make it better. But, alas! Summer 2020 is upon us and my gratis copies just arrived – pop the champagne, we freaking did it!
What these reflections highlight, most importantly, is incredible growth - ultimately happiness. While I gained more preps and committee duties, I also gained confidence, assertiveness, and inner peace. I found myself feeling confident – yes, confident! I no longer have that nagging feeling that I constantly have to prove myself.I realize that I've done some pretty awesome stuff. With trying to prove yourself comes the fear of saying "no." As both graduate students and junior faculty, we want to impress our committees (dissertation/tenure) and gain their approval. So, we say "yes" to anything and everything out of fear of letting them down. We overthink everything and ruminate over how we could have said/done/wrote it better. I still get that way from time to time, but, I've reached a point where I know I've done some really great things and I can say "no" or make a mistake and guess what? Saying "no" or messing up does not negate all your accomplishments and people will still appreciate you. Most importantly, I feel a sense of inner peace. Maybe it is a combination of financial stability and having a sense of belonging at my school. Perhaps it's because I am one year away from tenure and know that what is waiting for me is not the "promised land 2.0" and even more work awaits me on the other side. But, what I really think it comes down to is I know without a shadow of a doubt, I am exactly where I was meant to be. And, juggling my courses, students, publications, committees, and personal life might seem like quite the adventure. But, I'm buckled in for the ride and I wouldn't have it any other way.