Notes from the Workfront: FSU History Alumna Dr. Erica Johnson Edwards (PhD 2012)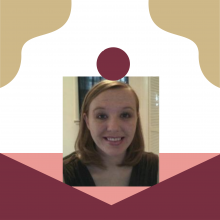 Originally from Oklahoma, I have moved around the American South for my education and career. I earned my BA in history at the University of Central Oklahoma (UCO) in 2005 and my MA from the University of Texas at Arlington (UTA) in 2007 before starting the doctoral program at FSU. I wrote my dissertation, "The Revolution from Within:  White Abolitionists and the Revolution in Saint-Domingue," under the direction of Dr. Rafe Blaufarb. Since graduation, I have taught at Gordon State College (GSC) and Francis Marion University (FMU).
One thing that helped me on the job market was that I expanded and diversified my teaching experiences during the final year of my doctoral studies by being an adjunct at Tallahassee Community College (TCC). As a TA at FSU for example, I had taught Latin American and World History surveys, but at TCC, I was able to teach European and American history surveys as well. This experience came in handy when I started my first tenure-track job in fall 2013 at GSC, a rural access institution in Georgia. In a smaller department with a 4/4 load, I was able to teach a variety of courses. In fact, I taught 13 different courses (online, hybrid, and face-to-face) in 4 years; I certainly had not expected that much course preparation! Despite that, I really enjoyed how closely I got to mentor history majors, many of which have stayed in touch and become my friends. Having been involved in the History Graduate Student Association at Florida State and Phi Alpha Theta (PAT) at UTA and UCO, it was natural for me to help Gordon State College charter a chapter of PAT and to advise the organization for my four years there.
Outside of my department, my administration gave me a great deal of challenging opportunities, especially for a non-tenured faculty member. In my second year there, I served on a task force charged with revamping general education assessment ahead of re-accreditation. I had to learn a lot very quickly, but I got to know faculty from across disciplines. While I had not volunteered for the role, I benefited from it greatly. In my third year at GSC, I became the director for the Center for Teaching and Learning. Although the position came with a course release, I still found myself working far more hours. Not only did I build a repository of materials for my campus' faculty, provide regular workshops and speakers, and organize an annual conference, I also participated in statewide networks of other teaching and learning specialists.
With so much teaching and service, it was hard to find time to research and write. It took me those first four years to revise my dissertation into a book manuscript. I definitely did not anticipate it taking that long. However, I still presented at conferences each year, which helped me tremendously with reshaping certain ideas and maintaining self-imposed deadlines. I also managed to publish some articles based upon seminar papers from my doctoral studies. I know I could not have done as much as I did without the support network I had, including not just family and old friends but amazing colleagues and new friends I made in graduate school and at GSC. Overall, my first position challenged me in surprising ways, but I am grateful for the experiences and friends I gained along the way.
Going on the job market in my fourth year at GSC was far different than my first time (nonetheless I have horror stories from both). Although the faculty at FSU did all they could to prepare me the first time (reading cover letters, writing amazing recommendations, and giving feedback on mock job talks), time, experience, and self-reflection made a significant difference the second time. I was wiser about where I applied, knowing where I was and was not willing to go and what positions and institutions seemed like the best fit for me. I had served on search committees at GSC, so I better understood the dynamics of it all. Most importantly, I truly understood that so much of the hiring process had nothing to do with me. I ended up with six on-campus interviews and two job offers. I was able to negotiate for my salary and years of service toward tenure.
I began my current tenure-track job at Francis Marion University in fall 2017. With quite a bit of perspective from my first position and a better grasp on time management, I am better able to balance my commitments at FMU and at home. I have a 3/4 load, so I still teach a variety of courses. Although I have taught 12 different courses in 3 years, only a handful are completely new to me. I continue to enjoy mentoring history majors, especially getting to serve on senior theses committees and helping with graduate school and job applications. I briefly advised the Phi Alpha Theta chapter, but recently decided to pursue different types of service. For example, I am a faculty senator and serve on the library and first year seminar committees. I also shifted my service commitments beyond the institution as well. I had been an editor of H-French-Colonial from 2015-2019, but I realized it was time to pass it on to newer scholars and that my passion and energy were put to better use as an editor for Age of Revolutions. As I have been able to focus more on publishing, I stopped doing as many book reviews to focus on articles, book chapters, and a new book-length project. I will submit my tenure packet in spring 2021, and I am optimistic about my future career path. I know the importance of mentoring, so I am more than happy to answer any questions via email at ejohnson@fmarion.edu.