Notes From The Workfront: FSU History Alumna Colleen Boyett (PhD 2014)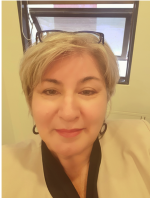 My journey to my doctorate was hard and atypical, but I have always known that this is what I have wanted, and as a goal the achievement of my Ph.D. never ceased to be on my radar. The three things that helped me to finally obtain it at the mature age of fifty-two included the solid foundation I gained from my experience in the military, my background as a K-12 educator, and the professional nurturing and the targeted and specialized support I received from each one of my professors and fellow graduate students in the History department at Florida State University. Since achieving my doctorate in 2014, I embarked on a journey in international education which has led to K-12 administrative posts in South Korea and India. It continues to be a tremendously rewarding career path, resulting in an expat life of adventure, competitive monetary remuneration, as well as new opportunities to publish.
As a young woman, I served as an Arabic linguist in the US Army, having had the great, good fortune to study at the Defense Language Institute in Monterey, CA. The military helped to instill discipline in my life, particularly regarding the importance of meeting deadlines, the value of good record-keeping, and the organization of my time. While my intent in enlisting was to gain tuition for college, these other lessons reverberated throughout my long educational journey to help me be successful. Following my time in the military, I achieved my BA and MA in history in an institution close to my home, while simultaneously teaching history and eventually, administering an International Baccalaureate program at my local high school. Mid-career I was awarded a Fulbright scholarship which allowed me to use my Arabic and conduct research into Bedouin schools in the Negev and Palestinian refugee schools operated by UNRWA in Jordan, which reinforced my desire to return to grad school for my doctorate. All of this occurred before I arrived in Tallahassee.
I began my FSU program of studies in 2007, at the age of forty-five, a decision I had made just before experiencing a tremendous personal loss: the death of my only child in a car accident. Those first few years of study at FSU were a blur, while I was burying myself in my graduate studies, which became my therapy, keeping me busy and focused on reading and research. My professors went out of their way to welcome me and other graduate students into their homes, to extend advice, lend a sympathetic ear, suggest supplemental readings, and write letters of recommendation. I am particularly grateful to my personal mentor, Dr. Peter Garretson, who provided me not only with his friendship and professional guidance, but also with the opportunity to be the personal assistant of a visiting scholar and retired ambassador from Egypt, while he was in residence for a semester at FSU. This allowed me to gain additional practice in Arabic, and to network on a level that would otherwise not have been possible. During this time, I also held down a full-time job and occasionally taught the Middle East history survey course on campus over my seven years in the program, a job for which I felt very prepared, considering my full professional life as a teacher prior to coming to FSU. To research my dissertation entitled 'Parameters of Power: The Quandary of Yemen Between the World Wars,' I went to Yemen working in the military archives in Sanaa, as well as in the UK at the National Archives and British Library.
Once I completed my doctorate in May of 2014, I took the credential and leveraged it for an administrative post overseas in education, focusing especially on Secondary (6-12) institutions. I have found that holding a Ph.D in history makes me desirable because I can research complex issues and summarize coherently in reports, a skill which is required for many executive jobs, including that of school principal, the position that I currently hold. It has also brought me the academic respect and credibility needed among my teacher, student, and parent communities, because it demonstrates my ability to commit to long-term projects and see them through. While living in South Korea, the fact that I held an earned doctorate meant that I was treated with a tremendous amount of respect, as the Confucian roots of scholarly study run particularly deep in that nation. Holding a doctorate also facilitates an easier time with the paperwork for my employment visa (particularly during this time of Covid) since a nation's first instinct is to ask if there is one of their own nationals who can perform a particular job. Establishing that I have completed a Ph.D. program means that the pool of people with whom I compete for my position is immediately reduced.
As surprising as it may sound, Korea also offered me an opportunity to use my knowledge of Arabic and Yemeni history. The school in which I was serving as an administrator was located on the small island of Jeju, in the far south of the country. With its proximity to mainland China, the visa laws were quite liberal, allowing tourists in for thirty days. Imagine MY surprise when it came to my attention one day that some 500 Yemeni refugees arrived at the island's small airport over a short period of time via Malaysia, looking to escape from war in their homeland. And you can imagine THEIR surprise to meet me, an American who spoke Arabic and who had lived in Yemen and who was intimately aware of the history of their homeland. I and my colleagues and many wonderful people were able to assist the refugees as they negotiated a foundation upon which they could build a new life by putting them in contact with people who could help them in obtain housing and jobs. I am still in touch with many of these refugees, and I count it as a privilege to have played a small role in this endeavor. I could never have imagined that such a circumstance would have occurred, allowing me to use so many of my research and linguistic skills from graduate school in a geographic location so far removed from either Tallahassee or Yemen.
My career as an international education administrator has now taken a new turn. For the last two years I have been the principal of a large International Baccalaureate program in India. While every day is different, I sometimes have the opportunity to counsel students who are working on lengthy research projects, such as their IB extended essays. I value being able to engage with students on a meaningful level by discussing their research, navigating JSTOR, and properly documenting their work. I have been asked to speak at Model United Nations conferences, where I have the opportunity to address my specialty, the political economy of the Middle East. I am tasked with creating the school calendar, which means I have to balance holidays in a way that represents the religious traditions of our diverse school community, including recognizing the historical importance of specific religious holidays for my Hindu and Muslim students. There is also the occasional encounter with students who come from households working in the diplomatic community representing nations where Arabic is the native tongue. My ability to speak the language and show appreciation for the history and culture of their home region allows for a deeper level of trust in the school I represent. There truly is not a week that goes by in which I don't draw upon a skill or bit of knowledge that I acquired in my program at FSU. And guess what? Since my arrival in Mumbai, I've become aware of another link to Yemen and my previous research through the Dawoodi Bohra community, an Ismaili Muslim sect which traces its roots to 12th century Yemen. The historical trade networks linked east Africa, India, and the Arabian peninsula, and there are innumerable records still to be researched, right here in my adopted home. I have also just had a three-volume work that I co-edited (along with some good friends I met at the annual AP World History reading) published this past December, so life is good! I don't think I will be slowing down any time soon.
I hope that my unusual path to my Ph.D. in History and subsequent work as a K-12 administrator will encourage others who might feel they are "too old" to return to graduate school, or those who have completed their program, but might be despairing the dearth of tenure-track positions at US universities. I have found that the skills I acquired through the study of history at FSU have much wider applications than I could ever have imagined.