Meet the History Club Officers: An Interview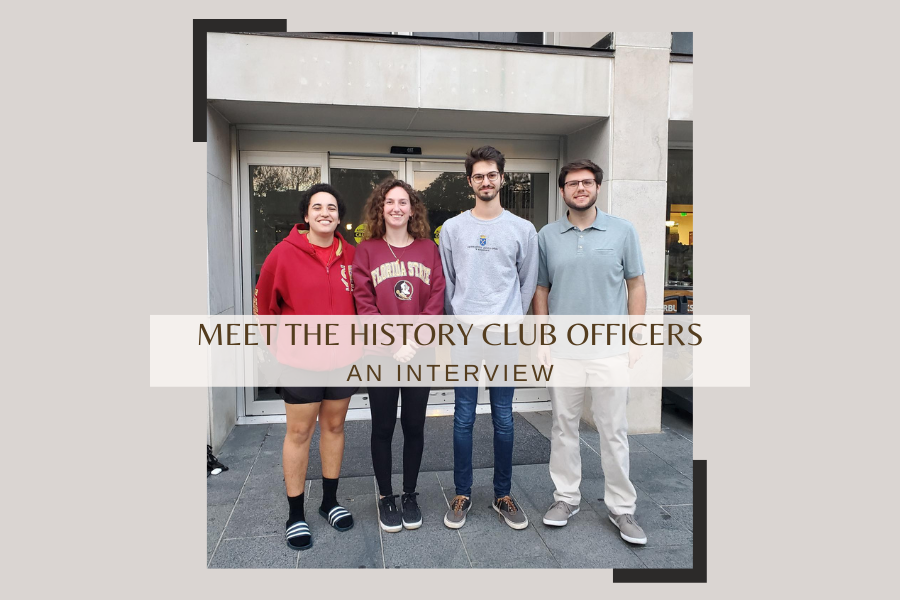 How did you get involved with the History Club?
Kieran: As a History major, I learned about the HC in my first semester at FSU. I went because I had not met any other History majors yet. Even though I was taking History classes, they were broad surveys, and there were not many History students in them. So I went, and the people I met were fun. I decided that I wanted to get more involved. When an executive board position opened, I ran for it.
Ava: I am a Social Science Education major. I am from Chicago originally, and while there were two other students from my high school who came to FSU with me, we have not hung out together. So, I thought that joining clubs would be a good way to meet other students. I had always been interested in History, and when I heard about the HC, I thought that would be a good place to make friends.
Maya: I am a History major. I started out as a Biomedical Engineering major, but during the summer before my junior year, I switched to History. My first semester as a History student, I saw on the department's website that there was a History Club, and I thought that joining the club would help me meet more students from my new major. So, I went to a meeting, and I did.
Bryce: I am a Social Science Education major. I came across the HC in the spring of 2021, my second semester at FSU. I was walking around Landis Green, and the History Club was tabling there. I talked to the president and founder of the club, Tyler, and went to watch a baseball game with the group. Initially, the meetings were online because of Covid, but when the club transitioned to in-person events, I went, enjoyed it, and have stayed ever since.
How did you get interested in History more generally?
Kieran: I used to not like history. It is very often a good teacher that opens your eyes to history. I had bad history teachers, who turned me off the subject. My love for history developed through geography. One of the few teachers I did like made us do geography quizzes. I wasn't good at them, but they made me realize that there is a whole world out there, many different areas and countries that I knew nothing about. Then I tried political science, but it was often somewhat depressing. I moved on to history and that felt like home. My favorite area of history is Eastern Europe. I am learning Polish at the moment, and I want to study abroad in Poland next year.
Maya: The spring semester before I switched to History, I took three hard science classes and also AMH2020 U.S. from 1870 with Dr. Meghan Martinez. I loved the class and felt that Dr. Martinez was the best history teacher I have had so far. So, when I decided to change majors, History seemed the natural choice. My favorite area of history is early 20th century European history; I specifically like looking at the changes that were happening because of the world wars. I also like more recent U.S. history.
Bryce: I got into history at a very early age when I was between 6 and 8 years old. In my elementary school, I would always go to the history section of the library. I started with picture books. I specifically liked the DK Eyewitness series of history books with their many pictures and descriptive captions. I liked looking at the people who had lived in very different centuries and thinking that they are people like us but that they had very different human experiences. From then on, I knew I wanted to go into history, and, from middle school on, I had really good teachers. My 8th grade U.S. history teacher was the best teacher I have had, and his example inspired me to pursue a career as a history teacher. I connected with my history teachers in high school, and they recommended the social science education program at FSU.
Ava: Growing up, I used to watch the History Channel with my grandfather. Every history documentary, I sat right next to him and watched it with him. I saw a lot of different shows – including those on the ancient aliens – but watching programs on the past made me want to learn more. My history teachers were very good too, they made class very interactive and fun, and those were the classes I looked forward to. That made me want to become a history teacher too.
How is history at college different from history in school?
Maya: It is more specific. The classes are on one specific topic or theme. That means we can go into greater depth. This semester I am taking a class on the Civil War Era (AMH4172). In high school, in my American history class, we spent a day on the Civil War. Given that this was such an important war that shaped our country and is still affecting us today, I am glad I get to learn about it for a whole semester.
Kieran: The interest level. People choose to take specific classes. Even if there is a requirement, there are many options to fulfill it. So people can choose the class that interests them most.
Ava: It can be more niche. If you don't want to engage with one type of history, there are many classes to pick from. Beyond the History department, there is Art History, Classics. So many choices.
Bryce: For me from the perspective of a future teacher, the professors here have spent years, decades even, studying their subjects. Even though grade school history teachers learn about their subject and try to know as much as they can, college professors are writing history. They know all the details, and they can go into great depth on why certain events happened in history. In high school, because of time constraints or because a teacher has to teach to a test, there isn't the option of going into depth.
What is the History Club like?
Kieran: The History Club is an interest club. It's for people who have an interest in history. That doesn't mean that it is aimed at people who spend all their free time on history. It is a place where people can meet each other, talk about history, talk about history at FSU, and have fun. The club is open to anyone.
Maya: It is a place where you can have conversations about history that you don't have in the classroom. Plus, as a group we visit the museums in the area. Especially for freshmen who are not from Tallahassee and who live on campus, we organize outings during which we show them different sights and go and eat different food from what's available at FSU. It is a club to have new experiences with and make new friends.
Bryce: That's a good point. A lot of students who are not from this area, don't know the role that the Tallahassee area has played in Florida history. We do outings to the Mission San Luis, the historic Florida Capital museum, and do trips to different parts of Tallahassee.
Kieran: Once you take someone who is open to history to a place where they can see history, touch history, then you have them hooked.
Ava: I know there is this big myth that people who like history are just nerds. But in the History Club, we have many different types of members, nerds too, but students from very different backgrounds who are passionate about many different kinds of history. That is always exciting to see.
I am from out of state, and I don't have a car, so for me going on outings with the HC to see the important sites of the area has been very exciting.
Maya: The club is very diverse – and as you can see, we the executive board are very diverse. We want the club to be the home for a diverse range of students who all like things to do with history.
How difficult is it to stay on top of your club duties and your other responsibilities?
Kieran: As long as we don't have unrealistic goals, it is doable. It is hard sometimes to think about arranging something for the club when you have a test coming up. But that's hard for every officer in every club.
Maya: We meet every other week as a club, and the officers try to meet the week in between to discuss our plans.
Bryce: We try and find a good mixture of activities for our members. While they all love history, most of them are coming straight from history lectures to the club meetings, so we want to offer them something a little different in our program. That's why we don't have too many lectures, even on interesting topics, as our members are a bit lecture-fatigued. We have game nights where we play historically themed board games. We have movie nights where we watch a movie that the members chose. And then we have outdoor activities, where we go to FSU sporting events or historical places in the area. We have regulars who come to every meeting, but it is always nice to have new people just come and stop by.
Kieran: In the club, people come to have fun and maybe talk about history …. not talk about history and maybe have fun.
Ava: Membership fluctuates between semesters and also within a semester, as people get busier towards final exams. Right now, we have between 15 and 20 people come to each meeting, and that's a good number.
Bryce: It is a good size. It's big enough to get a lot of different perspectives, and on game nights, we have enough players to play the games. But it is not too large that the group becomes unmanageable.
Ava: I agree, it's nice to have between 15 to 20 people show up for our regular meetings. But when there are fewer people present, we can have one-on-one conversations with our members and get their thoughts on things, and that is good too.
Maya: In bigger clubs, individual members are often overlooked. But that is not the case with ours. We do check in with our members and that provides a welcoming atmosphere.
What is the best thing about being a History major?
Bryce: I think the best thing is being able to take those focused classes. As an Education major, about 75% of my time is taken up with Education courses; but then I get to take a range of very unique history courses as well. Many cover topics that I never got to do in high school. For example, for one of my requirements, I took the History of Japan with Dr. Culver. That's not something I had ever studied in high school. It was a very informative class, the way it was organized and the material that Dr. Culver had selected for us.
Maya: Yes, agreed. To fulfill my History major, I need to take two classes each from U.S. history, European history, and non-western history plus two more classes of my choice. That allows for a huge range of topics. My first semester as a History major, I took a class on the history of Cuba, one on the history of Mexico, and one on modern Turkey. Right now, in my senior year, I am taking just American history courses. There is a lot of flexibility in choosing your courses.
Ava: Also, the students in the history classes. Once you get past the General Education courses, you have a community that is committed to history, that cares about the subject. You are surrounded by students who want to learn about things. People pay attention in class and take notes. That makes learning a very different experience.
Kieran: Also, I feel that the faculty has been great. I have not had anyone who was not fair in their approach to students. Professors explain their topics well, they are very approachable. The graduate students, too, that I have met, have been good to talk with. And, of course, Ms. Kozar, our academic advisor, is great to work with. The department has been great.
Any last words?
Maya: Joining the History Club is a good way to make friends.
Ava: Yes, we are open to everybody. We do a lot of hands-on stuff that's history related. But we don't talk about history all the time. We also learn about each other and from each other. It's a nice place to make friends.
Bryce: The club is open to students from every major. We welcome anyone who wants to come and hang out with us, go on some excursions, and have fun.