An Interview with Dr. Andrew Frank, director of the Native American and Indigenous Studies Center at FSU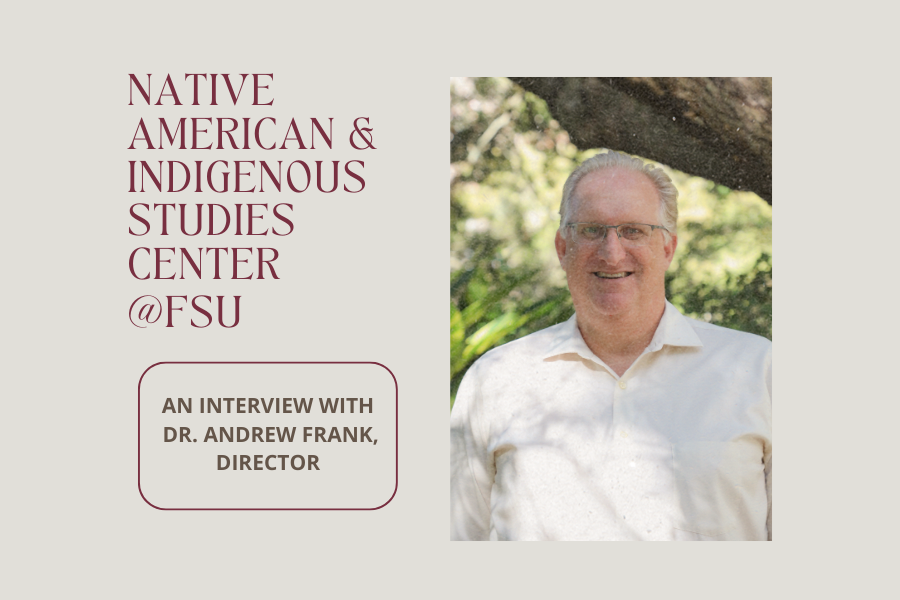 How did the idea of a Native American and Indigenous Studies Center at FSU come about?
When I was hired 16 years ago there were discussions of building a Native American Studies center, and we've tried a few times to stitch a curriculum or informal group of scholars together. It never amounted to much and as various faculty retired, the idea behind it disappeared. Our efforts were reborn with the university's Anti-Racism Task Force a few years ago. With the urging of a dozen or so faculty and the support of students, it recommended that the university create a NAIS center as it concluded that its absence was particularly glaring in light of the university's use of the Seminole name and likeness.
What does the center look like? Is it a physical space, a museum, a library, an office ... or more a collaborative intellectual construct?
Right now, the Center is an intellectual construct, but the university is renovating a physical space for us for use in the near future. The location, near Westcott on College Ave, will have research space and some exhibit space, and it will serve as a gateway to the university. Most importantly, I think, it will serve as a place to build community across campus and with our off-campus partners.
What is the mission of the center?
FSU's NAIS Center provides a physical and conceptual hub for community members who are committed to Native American and Indigenous research and artistic practice. The Center promotes and coordinates consultations with tribal nations and community leaders, educational efforts inside and outside of the classroom, and collaborative scholarship more broadly.
How does it compare to other NAIS centers in the country?
FSU's NAIS Center is distinctive in a few ways. First, it exists outside of an individual department or college. NAIS centers typically exist in History or Anthropology departments, although there are a few Native Studies programs that are stand alone. We will certainly have historians and anthropologists affiliated with the Center, but it is truly interdisciplinary. In this manner, it reflects one of the central cores of NAIS scholarship in that Indigenous knowledge does not always fit comfortably within modern academic disciplines. Our center reflects this interdisciplinarity in that we have affiliated faculty from six different colleges and this number will certainly grow as we become established. The Center is also distinctive in that we seek to be a center for Native American and Indigenous studies globally. Although we will have obligations to collaborate with the Seminole Tribe of Florida and educate our community about their culture and history, the center has affiliate faculty and students that study every continent and across the centuries.
What opportunities does it offer for undergraduate or graduate students?
We have a calendar of student-focused events. Some are cultural and some lean toward the academic. Regardless, they are open to the public. Graduate students are already presenting their research at monthly brownbag seminars, we are sponsoring public education efforts across campus, and we are cosponsoring various lectures in programs with other departments. We will also be launching a series of travel grants for graduate students and otherwise encouraging our students to visit and collaborate with Indigenous communities. I'd add that the center intends to create a NAIS certificate for undergraduate and graduate students but that is likely a year away.
Is it accessible to the general public? What outreach programs are you planning on hosting?
Events are open to the general public and to all students, faculty, and staff at FSU. Right now, we have two big events on the calendar. This November we are hosting the annual conference of the American Society for Ethnohistory and this April we are helping the Department of Religion host a conference on "More-than-human Religion: Indigeneity, Objects, and Ecologies." In between, we are working with several departments to cohost lectures and roundtables. When our physical location opens later this year, we will start adding more events to our calendar, including events to help revive a Native American and Indigenous student group as well as creating a public display of Seminole and Indigenous history and culture.
How do other academics participate in it, what do they do?
The Center reflects the wishes of our affiliated faculty and students. So right now, we are helping faculty and graduate students with various projects that they would like to do but lack the resources or time to plan. We are connecting them with other scholars as they plan grants, helping sponsor and advertise public lectures and conferences, and providing opportunities for them to share their work with one another. We are also helping connect faculty with Native American and Indigenous communities and individuals in an effort to produce collaborative work. I encourage faculty and students who want to be involved to contact me.
What is your vision for the future of the center?
I have two overlapping visions for the Center. The first is that it will be the intellectual and cultural home for the university's outreach with the Seminole Tribe of Florida and other Native American tribes in Florida and the south more generally. We will certainly work with other Indigenous individuals and communities, but it is essential that we work with tribes with homelands in Florida. As a result, we have already had constructive conversations with representatives of the Seminole Tribe, Seminole Nation, Muscogee Nation, Miccosukee Tribe of Indians of Florida, and Choctaw Nation. These conversations are just the start as relationships take time to build. I hope that we can move toward a time when these communities see FSU as a trustworthy partner. The other vision relates to our place in the academy. We are uniquely situated to become a national leader for NAIS research and artistic practice. This too takes time, but within five years I'd like to think that the NAIS Center can be a national leader in collaborative research and programming. In ten years, I'd like to think that the Center will be integrated into campus in such a way that it feels like it has always been here.
How much is your training as a historian shaping your vision for the center?
My training as a historian has always been interdisciplinary. I consider myself an ethnohistorian—a historian who is deeply informed by cultural anthropology, archaeology, and linguistics. I am not unique, as this framework is the basis for the rise of modern Native American historical scholarship. So, when I think about Indigenous issues, I am drawn to various disciplines. Now that the Center exists, my understanding of the breadth of approaches and questions has broadened even more. It has been an education, to say the least, and it is really exciting.
How did you get interested in the topic of Indigenous people? And specifically, the Seminoles?
I grew up in south Florida and in the shadow of the Seminole Tribe of Florida's Hollywood Reservation, but I never imagined this is where my interests would lead. I started our interested in issues related to early American slavery and the questions surrounding early manifestations of race, and slowly I realized that my questions were best answered in the history of Native Americas. I wrote my first book on race and family in Muscogee (Creek) history and then landed a position at Florida Atlantic University in south Florida. They had an amazing collection of documents related to the Seminoles, and I was presented with a series of opportunities to work with and otherwise be introduced to the Florida Seminoles.