Internship Experience: Tyler Roy, History Major
---
Internship Experience: Tyler Roy, History Major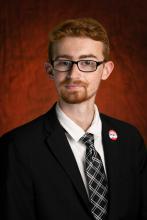 Tyler Roy is a senior majoring in History with a minor in Law and Philosophy. After joining FSU, Tyler participated in the Freshmen Leadership Institute, and worked for the Student Senate as chair of the PAC. Tyler founded the History Club at FSU and was its first president. He is planning on going to law school.
Where are you interning? Why?
I am interning at the Florida Capitol for the Office of the Senate Secretary. I chose this internship because it allows me to support and learn more about Florida's legislative process from the unique perspective of a nonpartisan employee.
What do you do? What does a day in the internship look like?
As a Reading/ Action Clerk for the Florida Senate I help organize and read the bills being considered during each Senate Session on the Senate floor. This fulfills a requirement in our Florida Constitution when considering bills. I also read the special messages for the Senate President and the Senate while in Session. Additionally, I help conduct Senate Chamber tours for school and lobbying groups. Lastly, as a part of the Senate Secretary's Office I help support the Senate Page Program. This program sees groups of high schoolers come to Tallahassee to support and learn about our state's legislative process.
A normal day in the position when the Senate isn't in session primarily entails me helping to oversee and support the Page Program until I'm called into the chamber to help with a chamber tour. But when there is session, then I can be in the Senate Chamber the entire day from 9:00 a.m. until 11:00 p.m.
How much training did you receive? What sort of training?
For this internship, I received training from the Senate Chamber Coordinator on how to read Senate and House bill titles, special messages, and amendments procedurally correctly so that all the vital information is announced when I'm reading on the floor.
Additionally, I received training on how to conduct Senate Chamber tours, how to operate the Senate's microphone system, how to operate the voting machine, and how to organize bills. All of this meant nearly a week of training.
What surprised you about your internship?
What surprised me most about this internship was how often I interacted with Florida's State Senators in the hallways and in the chamber. Through listening to their debates and seeing them interact with each other (and with myself), I was able to respect and humanize all of them regardless of the stories I would hear from friends or the news about them.
What was the hardest part about your internship?
The hardest part of this internship for me was having to wake up and get to work every morning, Monday to Friday, at 8 a.m. no matter how late I had to stay the day before. This was rough because in the last two weeks the Senate's sessions would run until eleven or twelve at night, and everyone would still have to come back energized to continue the process at 8 a.m. the next day.
What was the most rewarding aspect of your internship? What did you get out of the internship?
The most rewarding aspect of this internship was the opportunity to do impactful work every day. When I was in the chamber during session or conducting chamber tours, I could feel the importance of the legislative process because of how impressive the chamber is. When I wasn't in the chamber, I got to help teach high schoolers about our state's legislative process through the Senate Page Program in ways that kept them engaged and allowed me to teach the history of our state. I made a lot of great professional connections and took many incredible pictures with State Senators, the Stanley Cup, and even Dan Marino during my time in the internship.
What advice would you give yourself about this internship if you could go back in time? What advice would you give to other students?
The advice I would give myself if I could go back in time would be to make the most out of every workday by talking to everyone at the capitol to learn what brought them to their positions. I met so many inspiring and passionate people during my time there. An internship at the capitol is a truly incredible experience because session only lasts for 60 days, but during that time by listening to the debates and bills passed you'll feel more connected to and learn more about what's happening in Florida than you ever have before.