History as Theater: An interview with Emily Lu and Danielle Wirsansky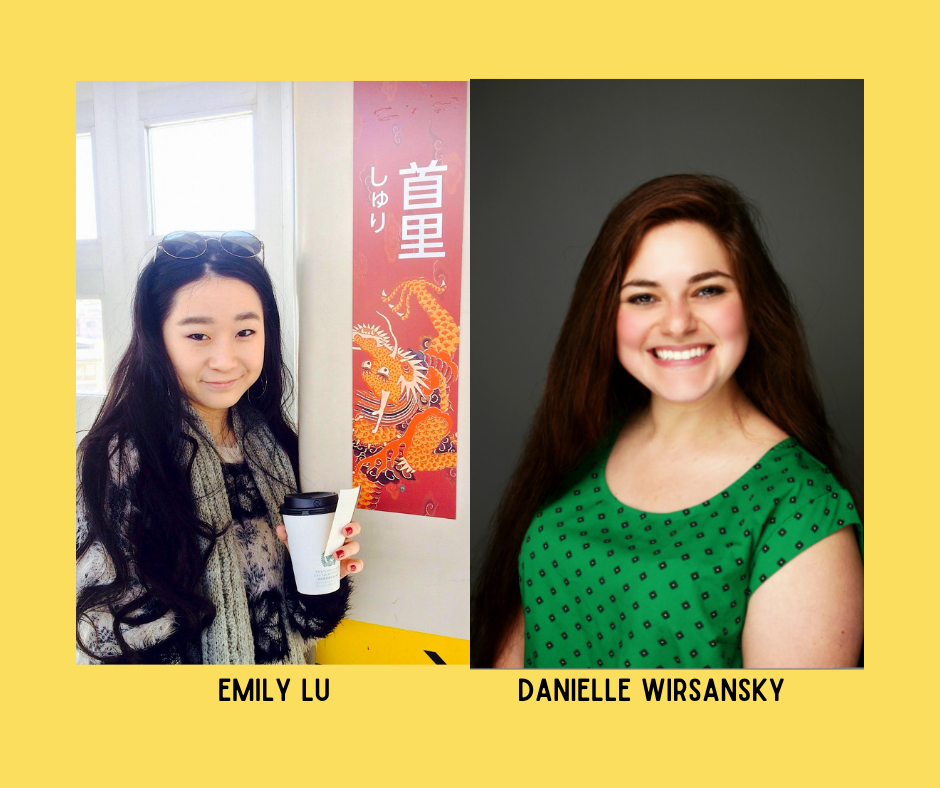 Recently, two FSU History graduate students, Emily Lu (EL) and Danielle Wirsansky (DW), worked together to put on a play during FSU's School of Theatre's Spring Fringe Festival. FSU History sat down with both to talk about their project.
Emily, how did you come up with the idea for this theater play?
EL: I wrote the script as a final project for a Japanese literature class that I took with Dr. Matt Mewhinney in Modern Languages. Because I have a BFA in Dramatic Writing, I decided to do something with my talent. I was inspired by the Japanese writers that we looked at in class.
Three of them stood out to me: Natsume Sōseki, Masaoka Shiki, Yosano Akiko, and I wanted to engage them in a dialogue. They all knew of each other in real life. They are Meiji period, late nineteenth-century, writers. When reading their work, I felt that there was a chemistry between them. Natsume Sōseki is seen as the father of modern Japanese literature. The title of my play is a play on words with one of his famous stories, Kokoro. It translates to 'Heart.' My play is called Kokonron 古今論 (A dialogue between the past and present).
It was when Danielle told me that her production company, White Mouse Productions (WMP), was collaborating with the FSU School of Theater this year for the Fringe Festival on campus and asked if I wanted to have my play performed, that we started working together.
Is this the first theater play that you wrote?
EL: I have written theater plays before. When I was at NYU, I wrote a full-length musical, and a one-act comedy play. But this is the first play I have written since undergrad. It is a short play. It runs for ca. 11 min. It is only ten pages long but creating the characters and developing a story line for such a short period was a challenge.
Because I am taking my inspiration from real-life Meiji Japan, I had a good foundation to work with. The play's characters are not the writers themselves, but their writing implements. Two calligraphy brushes and one fountain pen. They speak for their authors but are not the authors themselves. The brushes and pen are stuck in a limbo together, where they fall into banter over their lives, art, and philosophy. Unbeknownst to them, danger prowls in the dark. Their obsessions with absolute truth, fame, and glory impede them from seeking refuge, until a beacon of light makes itself known, and seeks to guide them home.
I study WWII Japan with Dr. Culver, and I wanted to set the play in that time period. I was interested in discussing the legacy of these writers. The idea for, and pacing of, the story came to me quite quickly.
Danielle, what made you want to produce this play?
DW: I am an ambassador for the Dramatists' Guild for the Panhandle region. The Dramatists' Guild is the international playwrights' union. Through that I run the Gulf Coast Playwright Circle. I had invited Emily to join that circle, and she read the play at a meeting. The theater company that I founded while at FSU, WMP, was doing open calls for the spring season, and Emily's play was selected for the Fringe Festival.
Why did you found MWP?
DW: I founded MWP in 2016 during the first semester of my MA. I had just graduated with a BA from FSU's Theater School. I was working on a public history group project that I wanted to turn into a play. The Student Theater Association had been shut down, and without an RSO, it was very difficult to reserve space or apply for resources to put on a show. Therefore, we founded MWP as a student theater company. It is the only one right now that produces a curated season every year.
We just finished our sixth year. I was the artistic director for two years, I am the marketing director right now, and next year I'll take over as managing director. My brother Liam, who is also an FSU graduate student, has been involved in the company too and currently serves as the Artistic Director.
This year we did three productions during the fall semester, and in spring we had eight shows. Some of the events were readings or shorter plays; not all were full-length theater productions. MWP is focused on producing plays that deal with social change. We prefer new works or scripts produced by students.
Some of our plays have large casts. For my Public History MA capstone project, I wrote a musical that included more than 20 people. Because of the constraints we face in getting access to the performance space, we only do more elaborate sets for special occasions. But when we do, we draw on students or members of the community to help us design sets.
How difficult was it to put on Emily's play?
DW: We made sure that the actors understood the play's context in Japanese history. That allowed them to portray the story convincingly. Additionally, we took some time to work through how to present the different writing implements. Part of the story is that the writing tools want to get up and move on their own, but they cannot. We made costumes out of hula hoops, tubes, which made it very awkward to move around in. The actors were not just miming the awkwardness, they were rolling around on the floor, trying to get up off the ground.
EL: In the play, I did specify that the actors should not just mime an obstruction to their mobility; the costumes helped us present that. I did not want an elaborate set. I wanted the audience to pay attention to the characters, their dialogue, and the plot and not be distracted visually.
DW: This was the very first FSU School of Theater fringe festival. We were in a small classroom for our show. We filled the space easily. We had planned on our audience sitting on the floor, but the room was full of chairs. We had to adjust the performance space a bit because of that, moving the action as far back as we could to allow for better vision. The audience had to lean in and move with the action to keep on top of the story; that helped get them more invested than if they had just sat back passively.
We did not have a scheduled Q&A after the performance, but members of the audience came up to us afterward to ask questions and tell us what they learned from the play. The audience might not understand every small detail of the play, but by being intrigued about the people, the place, the time, they will reach out to learn more. That is the great thing about producing history as play.
EL: I have always been interested by what is left unsaid in text. How to read between the lines. That is the message that I tried to put into the play. How can we understand each other better by reading between the lines? I believe that some things are better left unsaid.
This is very different from how historians write. We try to be accurate and specific. But in a play/ literature, it is often about the personal interpretation of a text. While I had three very specific Japanese authors in mind when I wrote the play, each viewer can draw connections to other people for themselves. Hence, my choice of using writing implements, which allows the audience to make/ render their own identifications. While I as the artist had specific intentions, it is for the audience to give it their own reading.
I am looking at literary and music sources in my research project. Danielle is using plays to teach history. I do want to encourage historians to branch out and use interdisciplinary tools to encourage dialogue. To use history in different ways.