On Hierarchies at Home & Research in Cuba: Dr. Anasa Hicks talked to Aleena Jackson
---
On Hierarchies at Home & Research in Cuba: Dr. Anasa Hicks talked to Aleena Jackson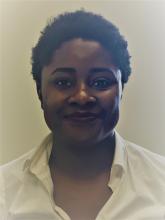 Dr. Anasa Hicks is an assistant professor in the History Department specializing in Latin American and Caribbean history. She completed her doctoral degree at New York University 2017, and her research focuses primarily on twentieth-century Cuba, women and gender, and labor studies. Hicks's current book project, Hierarchies at Home: A History of Domestic Service in Cuba from Abolition to Revolution, explores questions of race, gender, and ethnicity in an occupation rooted in Cuba's past as a slave society. In this interview, Professor Hicks talks about her upcoming book, experiences in academia, and advice for students interested in history.
For Hicks, the inspiration for Hierarchies at Home came from her own interests and a shortage of scholarship on the subject. She had always been interested in the lives of black women in Cuba but saw their role in domestic service mentioned only parenthetically in secondary sources.
Professor Hicks' work emphasizes the importance of contextualizing more humane aspects of history. "It's how most people understand their lives," she expresses, "They interpret history through their relationships."
When asked how she manages such a large undertaking, Dr. Hicks turns to a system of careful note-taking she developed during her graduate education. It helps her keep track of books she reads, along with research conducted in the archives. She believes that while researching, no stone should be left unturned: "Even if you don't think it's extremely relevant, still write that down because it might occur to you five years later."
Professor Hicks has traveled extensively to Cuba for her research over the last decade, and encourages students engaging in any field of study abroad to familiarize themselves with the country's language and customs. Her strategy for using oral history brings these factors into account by leading her initial research with open ended questions.
Along with work on her book, Dr. Hicks teaches history courses on Latin America and the Caribbean. Beyond the subject matter, Professor Hicks hopes to instill students with an ability to thinking critically and assess sources from their own perspective. For her students looking to get involved in academia, she offers some advice on finding an institution. When thinking about graduate options, students should be seeking out the best programs for their interests at schools that are willing to provide funding.
Towards the end of the interview, Dr. Hicks provided some reassurance for prospective graduate students based on her own experiences. "Something I learned is that a lot of graduate school and proposing your project is just bluffing," she says jokingly, "You have to willing to make a hypothesis about what you're going to find, even before you actually have." In this way, Professor Hicks urges students to pursue their research interests with an open mind, while giving themselves some slack in the process.
Dr. Hicks will be participating in an international conference organized by the Winthrop-King Institute for Contemporary French and Francophone Studies hosted here at FSU. Entitled "From Katrina to Michael: Disaster in the 21st-century Circum-Caribbean", the conference will take place Thursday, February 20th in the Student Services Building (SSB) and Friday, February 21st in FSU's Fine Arts Building (FAB). Visiting panelists will be exploring the cultural, economic, and political effects of disaster in the region. For a full schedule of the conference program, visit: https://fla.st/38yPrMo.