Happy Birthday FSU!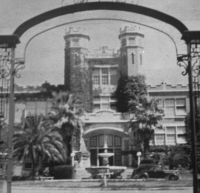 You think you know FSU?
History major Robert Gonzalez will take you on a brief tour of Florida State's history.
169 years ago, today, the Florida Legislature voted to establish two institutions of learning, the West and the East Florida Seminaries. The two seminaries were to be situated on either side of the Suwannee River. The 1851 law left the specific locations to the best offer. In 1854, to claim the west seminary for itself, the Tallahassee City Council constructed a new school building. Very late in 1856, Tallahassee's "Florida Institute" became one of the seminaries.
Over the next 50 years, the seminary morphed into Florida's first liberal arts college and then, early on in the twentieth century, into an all-white women's school. After WWII, a flood of men returned to Florida, straining the state's university system. In 1947, Florida went back to a coeducational system. The first African American undergraduate student was admitted in 1962.
Since then, FSU has expanded in size -  to about 1,600 acres, in scope – nearly 300 degree programs with 18 colleges and schools, and houses the National High Magnetic Field Laboratory. It also won 14 national athletic championships, and is the only college in the country with a Big Top circus tent. To cap it all – it is now a top 20 public university. Then as now the institution has striven to provide the very best in teaching, research, and achievement while fostering a community of free inquiry and diversity.