FSU History Alumnus Spotlight: Matthew Storey (MA 2017)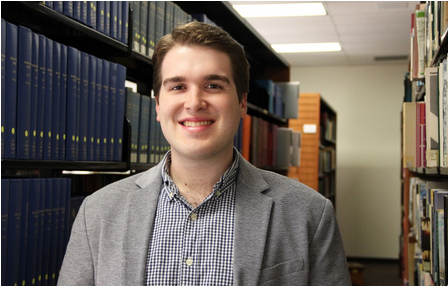 FSU's Public History program for graduate students is a great way to learn about the administrative and public aspects of history. It introduces students to the field of public history through classes outlining its origins, theories, and methods, as well as others like "Managing Archives," which delve into the responsibilities of archivists. Additionally, students complete an internship, which provides hands-on experience through working at museums, archives, or other spaces where public history is relevant. Matthew Storey joins us to discuss how his time gaining an MA at FSU prepared him for his job at the State Archives of Florida.
Matthew earned his BA from Mississippi State University and graduated from FSU with an MA in 2017. He chose to attend FSU for its Historical Administration and Public History Program (HAPH). His thesis centered on historical narratives and collective memory as it related to the Cold War in Florida. Soon after starting his MA, Matthew realized that his professional interest lay in public history.   
Today, at the State Archives of Florida, Matthew works as a reference archivist at the public reference desk, helping people connect with the information they are looking for. This can mean helping someone with their research or looking for specific legislative documents. Matthew explains that he seeks to "bridge the gap between the online catalog and a box [of archival documents] on the shelf," using his knowledge of the archive to streamline people's access to the source material. Matthew enjoys this variety in his work because he loves bouncing from topic to topic as he seeks to meet his clients' needs. "I'm one of those people with an 'interest du jour,' so [this aspect of the job] kind of supports some of those same reflexes for me." 
On top of helping with research, Matthew also does outreach for the archives by giving tours of the stacks, showcasing the archive's genealogical resources and showing patrons the immense amount of material it holds. Matthew explains that giving tours is one of the most enjoyable parts of the job, as he is able to witness the moment when patrons realize the wealth of information contained in the archive. "Those moments are really gratifying to me."
It was during the internship part of the Public History MA that Matthew decided to become an archivist. Matthew decided to intern at the State Archive of Florida. "That was … my first experience with an archive not as a researcher but on the other side of the research question." This put the archive option on his professional radar, and after he graduated, Matthew stayed in touch with people at the State Archives and applied for a part time job to get his foot in the door. His plan worked.  He has had his current job for four years now, a "neat opportunity to see professional aspects of public history."
"Everyday…," Matthew states, "I am applying researching skills and building experience in archival records and collections." The course material covered in the Public History MA program taught him about different kinds of records, how they are kept and organized.  "It takes significant knowledge to wrangle archival records," and satisfy the demands of the clients.
One challenge that Matthew encountered in his job was the public service aspect. Learning customer service skills was outside of his graduate training, so Matthew had to figure out "how do you mesh good customer service reflexes with the specific points of researching historical topics?" Matthew had to learn how to deal with multiple research questions at the same time and pivot his focus to fit the patrons' needs.  In "my own experience as a researcher at the State Archives … I sat and worked on my own single research question, very deeply and thoroughly." Now that he is on the other side, Matthew might get six or seven different research requests a day.
The biggest piece of advice Matthew has for graduate students, especially those interested in archival work, is to do your internship within an archive, or anywhere else involved in the keeping of historical records. "It isn't just the experience of doing the work," he explains, "but also seeing different types of specialties." Internships at the State Archives allow interns to work in its multiple departments. They work closely with photo specialists, audio specialists, collections management, and people who are doing the arrangement and description of records. Through this, one gets to see the other end of archival work, of all that happens to historical documents before a researcher opens a box full of neat folders.
 Matthew's other advice is to volunteer at historical societies and institutions that keep and maintain archival records to find out if you like archival work. In the process, "pay attention to electronic records, as they're more and more prevalent every day." It's a side of the profession that is equally important and might require different tool sets.
Matthew closes by explaining how much he enjoyed his time at FSU. "I definitely feel like my experiences [in the grad program] were valuable experiences. And those are tools that I'm still using today…I feel very well equipped for doing history professionally."