FSU History Alumnus Spotlight: James McAllister (MA 2016)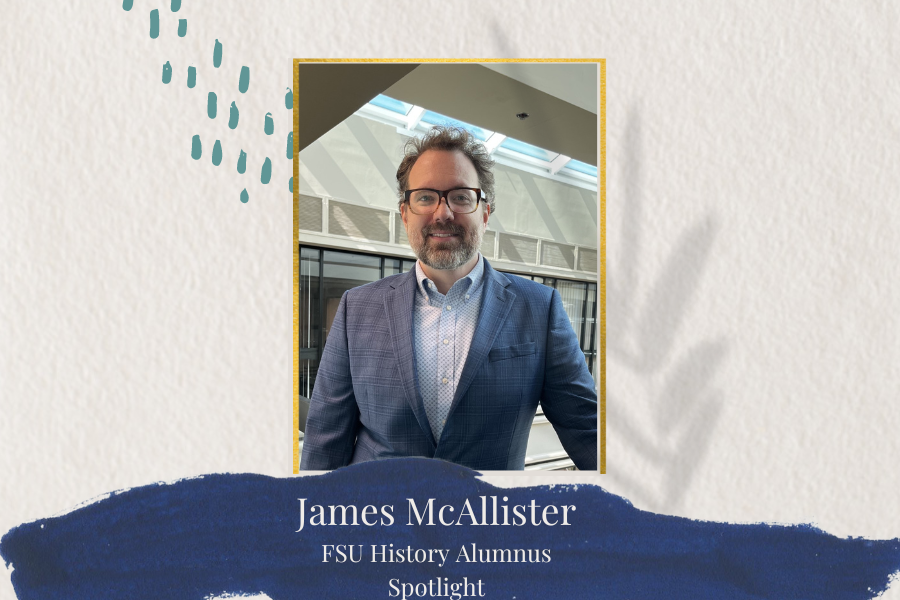 Working for a think tank or a research-focused organization is a great choice for students who want to have a job that uses the intellectual skills and knowledge they learned at university. James McAllister, currently a doctoral candidate in the History department, joins us to discuss his time at the Office of Program Policy Analysis and Government Accountability, which is the research arm of the Florida Legislature. James applied to OPPAGA while working in collection management at the Florida Capital Museum. OPPAGA circulates PolicyNotes, a newsletter that goes out to all legislative staff including the Museum, which listed the OPPAGA job, and after a series of interviews James was offered the position.
James earned his BA in Sociology in 2006, and then an MA from the History department in 2016. He currently is working on his dissertation under the guidance of Dr. Katherine Mooney, which centers around sexual assault committed by soldiers during the American Civil War, both on the Confederate and Union side.
James describes OPPAGA as a "non-partisan research organization" designed to conduct research for the Florida State Legislature. OPPAGA oversees four major areas: Criminal and Civil Justice, Education, Government Operations, and Health and Human Services. James works in the education section. During a typical day, he meets with other legislative policy analysts to collaborate on the research they're conducting, which includes interviews, surveys, or focus groups. When a project investigating the impact of legislation or a program audit is concluded, and a draft data product or report is drafted, the draft is reviewed to ensure that the draft accurately reflects the source data, and that the draft is written in an accessible manner.
One of James's favorite aspects of the job is that there is a such a wide variety of subject matter that he gets to deal with. "It isn't the same routine over and over… projects last four to six months and are always wildly different." One example is when OPPAGA had to research the routes of children who walked to school to determine how safe the children were. The research team had to go out to conduct interviews, survey the areas, and collect and convey the data in a clear and easy to understand manner. Another project asked OPPAGA to examine the academic and fiscal reporting requirements required by school districts, and how well they were complying with those requirements.
The job doesn't come without challenges, however, especially for those who are more used to working individually on their projects. "I went from coming from history and working, researching, and writing largely by myself, to working on projects with teams of people," James explains. Through this, though, James also realized the projects went so far beyond just himself; they were not "his" projects, but instead "the product of the organization as a whole." Overall, this became a positive thing for James as he learned that "when you're working with other who are just as good [as you], you learn to trust everyone."
James relies heavily on the research skills he learned as a graduate student. "It doesn't matter if you are researching British history, American history, or anything else… It's all the research skills you develop that are useful for this kind of work." James comments too that the general curiosity that history students have about how the contemporary world came about, will help them to develop skills such as critical thinking. He points to graduate classes in which "you are always asked to wrinkle your brain and challenged to think in new ways." James explains that his historian's skills help him to peel back assumption to get at what is really happening, something that is at the heart of the work he does for OPPAGA.
James' advice to those who are looking for job opportunities at research-based organizations like OPPAGA is to develop a range of soft skills, such as researching, analyzing, thinking critically, etc. Equally important is to know how to communicate your command of those skills to a future employer, and to adapt them to the job you're applying for. James suggests acquiring more expertise than what is required in graduate school—look at work beyond your field, become an expert at something like Microsoft Excel, "go beyond producing just your research." This can illustrate your versatility and ability to go beyond the routine requirements.
James also suggests looking out for paid internships. Institutions like OPPAGA often offer those, both during the school term and over the summer. An internship can help you figure out if doing that type of work or the specific organization in question are right for you.
James closed with us by emphasizing that his time in graduate school helped him not only on the job market, but also prompted him to change the way he thinks about the world around him. "I really enjoyed the classes at FSU, as well as the professors and the students, and without it, I would not have been prepared for this job."