FSU History Alumnus Spotlight: Chris Juergens (PhD 2020)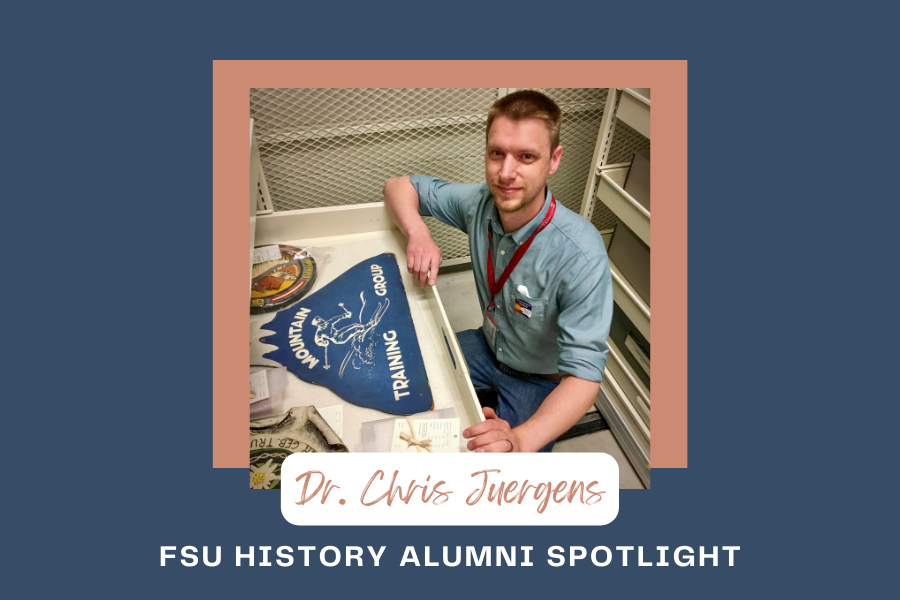 Chris Juergens defended his dissertation entitled: "Chasing Fabius: the Army of Hessen-Kassel in the Age of Revolutions" in February of 2020. His major professor was Dr. Rafe Blaufarb, but Chris also worked with Dr. Piehler in the World War II Institute. Chris currently works at the History Colorado Center in Denver as the Anschutz Curator of Military History.
Location was a key factor for Chris when he was looking for a job. While he was planning for his defense, he turned to Google to look for military history jobs in Colorado. He found a listing for a job working at the History Colorado Center. Although Chris did not have any formal training in public history, his time as a research assistant and volunteer at the WWII Institute met the demands of the job and helped to demonstrate prior experience.
Chris' job mainly focuses on managing the military collections at the History Colorado Center, where he oversees over 10,000 artifacts. His day-to-day responsibilities can be incredibly varied. On any given day, Chris can be in charge of either arranging tours of the facility, or running different programs that highlight its collections, or working with the public to help extend story-telling capacities. "It's always interesting because something new keeps coming along," Chris explains.
Chris' favorite part of his job is working with the public, because those who come are also those who are interested in the subject matter. Chris knows that they are passionate about the exhibits in the History Center. "It's really rewarding to hear how it connects to their own backgrounds. A huge benefit of my job is to interact with the public and see the impact of my work in a very real way."
The biggest challenge that Chris had to address was learning to be more flexible. Working at the History Colorado Center means pivoting into unexpected and spontaneous arenas of work because the daily routine is so varied. A second challenge was learning the skill set necessary for the job, such as how to maintain historical collections. In Chris' view, if you are interested in working in a museum or archive, "seize opportunities when they come along…because even beyond the walls of FSU there are a lot of opportunities for interning or gaining experience."
The internship at the WWII institute helped Chris develop the skills he needed to excel at his current job. He points specially to cataloguing items and working with donors, as well as learning how to display collections and organizing conferences. Therefore, Chris finds internships to be crucial to gaining practical experience.  He viewed every internship "as an opportunity to broaden skill sets and perspectives." Chris' other suggestion is to be flexible about volunteer work experiences. "Just working a few hours a week can help you gain serious skills and connections."
Chris indicates that there are a lot of opportunities in working in public history. "We need to rethink our perspectives about what 'doing history' is," Chris explains, because that definition is constantly evolving. Chris' advice for graduate students is to read literature beyond their immediate fields to understand many types of history. "Don't be afraid to try new things…take the course that maybe doesn't make sense for your current field and branch out and become aware of what other fields and subfields are doing."
Chris' second piece of advice is about attending conferences while in graduate school. "Start making connections at conferences as soon as possible, because these can become life-long contacts, even if you're not on an academic track." Chris explains that the historical community is almost like a small family, so it's important to take advantage of that and make connections because they can really pay off. "Get to know your career cohort," Chris advises.
If you love doing history and are flexible about how to do it, sums up Chris, then there are interesting opportunities and jobs out there that will immerse you in history and allow you to use your skills.