FSU History Alumnus Spotlight: Alexander Bowen, BA 2019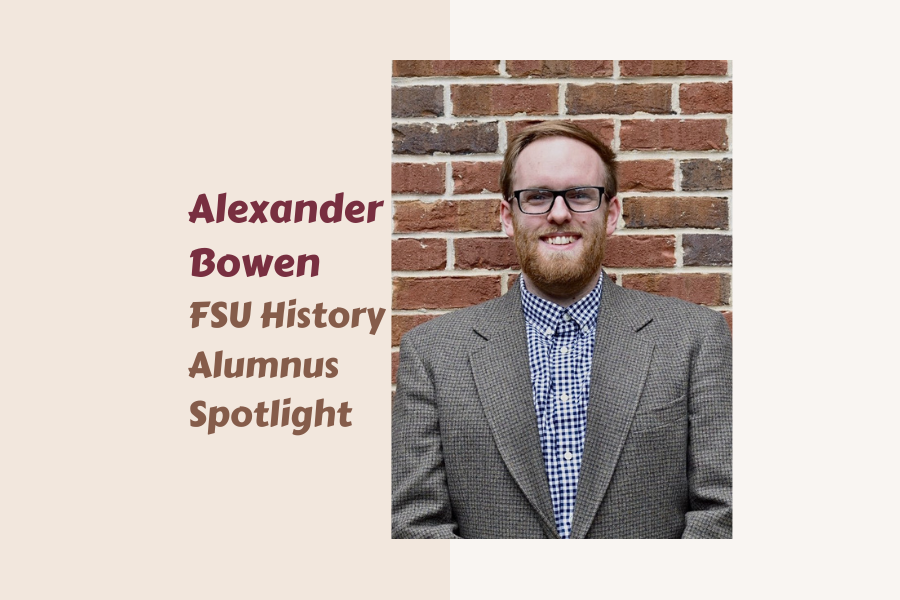 Tell us about yourself.
I'm from Lakeland, Florida. I arrived at Florida State in 2015 and graduated with my BA in History and Studio Arts in 2019. I originally came to FSU with the intention of becoming a graphic designer. By my sophomore year, between falling in love with the historical profession and taking classes under the wonderful faculty in the History department, I knew I wanted to become an historian and an educator. While at FSU, I completed an honor's thesis that examined why Florida decided to secede from the Union.
More recently, I have become interested in exploring how Florida's evolving economy after the Civil War impacted the planters in Middle Florida (Leon County in particular). I want to investigate how these antebellum elites helped create the Lost Cause myth in Florida, and how such false narratives influenced racial violence in the early 20th century at sites like Ocoee, Rosewood, Newberry, and Perry.
Tell us about your graduate school experience.
How different is undergrad from graduate school? How different is the MA from the PhD?
I entered the Master's program at Clemson because I felt I was not prepared as a scholar for the rigor of a PhD program. I also had an opportunity at Clemson to work with a well-respected historian of the U.S. South, Dr. Vernon Burton.
The Master's-level curriculum required a lot more reading and writing than I ever had to complete in undergrad. The adjustment was challenging at first, but by the end of my first month, I realized that I could handle the workload. I was also excited at how quickly I was growing as a historian and just enjoyed working at a higher level overall.
One of the biggest changes between being an undergrad and being a graduate student is that you are seen as a bona fide historian, or historian-in-training, even if you don't feel like it. Every graduate student experiences imposter syndrome at some point in time, but the reality is that the faculty who admitted you would not have done so if they didn't see your potential.
I recently completed my first full week in the PhD program at the University of Georgia. There is a major difference between being an MA student and being a PhD student: how much you are expected to engage with the field beyond your department. The majority of PhD students aim to enter higher education or become a figure in the profession in some way, and a huge part of that career trajectory is publishing and attending conferences. I'm in one seminar this semester that is entirely designed to teach students how to effectively research and write a publishable article. Simultaneously, our graduate coordinator sends us emails from various historical societies or journals asking for papers for a conference or their next periodical at least once a day. 
What does a typical day look like?
On an average day, I get to the graduate office around 10 in the morning. I usually don't have class until 2:20 at the earliest, so I use the time to get some reading or writing done and drop by my professors' office hours. Most days I have a seminar or colloquium that begins at 4 and ends around 6:30-7, then I go home to have dinner, read or write for an hour or two, then use the rest of the evening to decompress.
What is your favorite part of your program?
My favorite part about the graduate program at Georgia so far is how great the sense of community is between the graduate students and the faculty. First of all, we graduate students are always open to help one another whether someone's having a difficult time, we need to bounce ideas around, or if we all just need a break and want to talk about life in general. Secondly, the faculty definitely see us more as colleagues given that we all want to enter the History profession in some capacity, so they are more than willing to help out or offer advice. They have been in our position at some point in their careers.
 What was a major challenge you had to overcome?
The greatest challenge I had to overcome was writing my Master's thesis during the pandemic. Classes at Clemson were online from March 2020 until August 2021. Being away from my friends was difficult, especially when we all had deadlines to meet. The stress from isolation, my coursework, and trying to research for my thesis gave me major burnout, making it difficult get work done. Because of this and given the fact that the archives I needed to access were closed to visitors until March 2021, I ultimately decided to spend a third year at Clemson that was thankfully funded. The extra year was helpful in getting myself prepared for PhD applications and ensuring my thesis was quality.
History & Your Career
How did the skills you acquired in the History department help you in grad school?
Completing an honor's thesis with Dr. Katherine Mooney was a big help in preparing me for graduate study. Going into Clemson, I was confident in my abilities knowing I had finished a long research project and written a fifty-page thesis. Dr. Ed Gray's senior seminar was additionally helpful because I also had to complete a significant capstone essay and he showed me how to look at sources through different lenses. I will never forget reading Jill Lepore's Book of Ages in Dr. Gray's class because he demonstrated to us how it was not just a biography of Jane Franklin, Benjamin Franklin's sister, but spoke to what life was life for women in 18th century New England.
Advice
What advice would you give to others who are interested in going to graduate school?
Let me share advice both Dr. Mooney and Dr. Gray gave me while I was at FSU; you should be very confident you want to pursue a career in History if you're considering an advanced degree in the field. Graduate-level study is very time- and labor-intensive; you are always balancing assignments and your thesis against your personal life, which can be stressful.
If you love history and think you want to make a career out of it, consider completing a Master's first. That way you can test the waters without committing four or more years to the degree. If you decide you don't want to continue on to a PhD, then there are plenty of job opportunities both inside and outside the History field for people with Master's degrees.
The skills obtained in an History-M.A., particularly research skills, are indispensable and highly-attractive to many employers including government agencies like the FBI or CIA. If you finish a Master's and decide you do want to continue on to a PhD, then you can be confident that you have a few years of experience under your belt and a greater sense of what direction you want to head.
Another piece of advice I have for prospective graduate students also comes from Dr. Mooney: when choosing a topic to study, make sure it's something you are going to enjoy for a long time. Whether you're completing a Masters or a PhD, you will be enmeshed in your topic for multiple years. And this isn't confirmed to just your thesis/dissertation; if you are wise, you use your courses to research and complete chapters of capstone work.
What advice would you give yourself now – if you could go back in time?
If I could go back in time and speak to myself as a freshman at FSU, I would tell myself to commit to History from the beginning. Knowing what knowledge and writing experience it takes to be successful in graduate school (and to get into graduate school), I wish I had focused more of my attention in undergrad on becoming familiar with the historiography of the U.S. South and becoming a better writer. I believe the extra year to year-and-a-half of serious historical study would have helped me be better prepared for my Master's and possibly prepared me for a PhD sooner. With that being said, I don't regret completing a Studio Arts major as many of the graphic design skills I learned in that program have transferred over to my work as a historian.